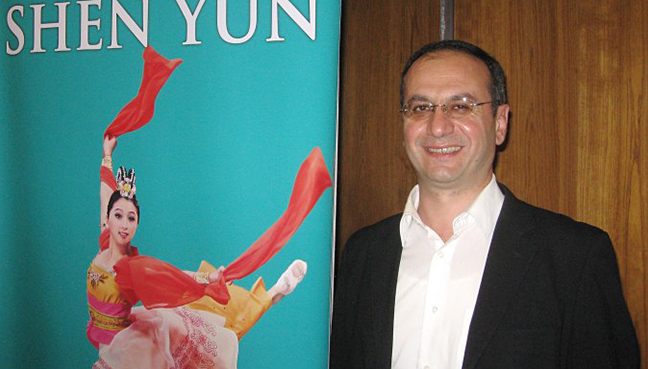 'You have to speak through your instrument' Says Shen Yun Performing Arts Orchestra Trombone Player
BY THE EPOCH TIMES
COSTA MESA, Calif.—Shen Yun Performing Arts is in the midst of its 2015 global tour. For the past month, four companies have been simultaneously touring throughout North America; one company has now jumped the Pacific Ocean and landed in Australia, and another will arrive in Europe later this month.
To get an idea of the impact this New York-based, classical Chinese dance and music company is having worldwide, just listen to the audience members.
One audience member from Phoenix, Ariz., said he saw advertisements for Shen Yun while he was on a business trip to New York. "There's quite a buzz," he said about the performance.
Shen Yun Performing Arts World Company recently completed six consecutive sold out performances in Costa Mesa, Calif. After one of the performances, audience members Dr. Catherine Maloof and Jody Lenihan said they were in Australia the prior week, and they saw advertisements for Shen Yun.
They were thrilled after watching. Mr. Lenihan said it was uplifting and spiritual. "There was just this amazing message that was transmitted so beautifully, and so clearly through the music and the dance." He continued, "It's consistent with the spiritual awakening [that] seems to be going on around the whole world. I just love to see this aspect of it. It's just another facet of that beautiful gem."
Shen Yun's mission is to revive the beauty and values of traditional Chinese culture through art. It's website explains, "Classical Chinese dance is a culture left to us by the ancients who came before us, its beauty should be riches shared by all of humanity, its purity should not be contaminated."
One major feature of Shen Yun is that each company includes a full, live, symphony orchestra with all-original pieces to complement each dance. The orchestra is able to seamlessly mix traditional Chinese and classical Western instruments.
"Accentuating the beauty of ancient Chinese instruments amidst the grandeur of a Western symphony, Shen Yun Symphony Orchestra is restoring the glorious heritage of ancient Chinese melodies, blazing a brand-new path in the world of classical music," according to its website.
Karen Khachatryan has been playing trombone for Shen Yun Performing Arts Orchestra since 2012. He received a PhD from Armenia's Yerevan State Conservatory, spent over 20 years with the Armenian Philharmonic Orchestra, and has performed concert tours in the United States, Germany, Russia, France, Turkey, and Japan.
For Dr. Khachatryan, working with Shen Yun is different. "Shen Yun combines classical Chinese and classical Western instruments," he said. "It's not that easy to combine." Instrumentalists for Shen Yun's orchestra need to grasp the styles of both Western and Eastern music, he says. "Also, at the same time, you have to play your instrument."
Dr. Khachatryan says performers need to speak through their instrument.
Perhaps that is the difference between an amateur and a professional performer; the latter becomes one with his or her instrument and learns to speak through it.
A great musician is a born musician, according to Dr. Khachatryan. You need to have talent and inborn quality, he says. If you don't have that great potential, "you can practice for hours a day, but you're going to stay at the same level," he said.
Another unique aspect of Shen Yun Performing Arts, according to Dr. Khachatryan, is how the company places special importance on the performers.
He said that no other performing arts company he has been with thinks about and accommodates its musicians and dancers like Shen Yun.
"The company is very unique," he said. "Everybody, every single person who's working in that, in this performance, is very important."
Shen Yun has graced the great stages and theater halls of the world in its nine years of existence. From the Dolby Theatre in Hollywood, home of the Oscars, to New York's Lincoln Center, Washington, D.C.'s Kennedy Center, and France's Palais des Congrès de Paris, among many others, Shen Yun has struck a chord, so to speak, with theatergoers the world over.