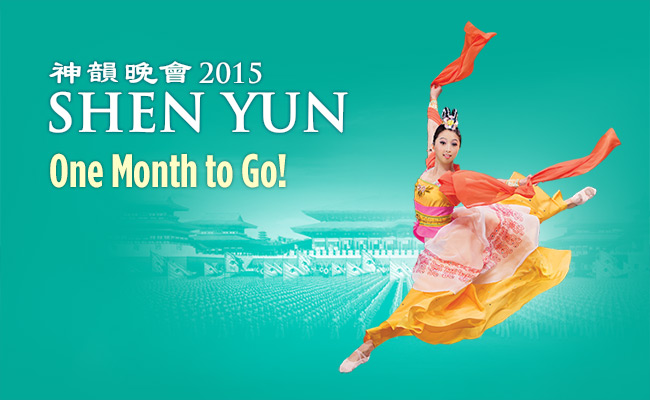 Last Chance to Catch Shen Yun 2015
END OF SEASON APPROACHING, INCLUDING 10 DAYS AT KENNEDY CENTER, DC
Have you met the noble man forced to become an outlaw? Or the monk who discovered a bowl of magical meat? How about the brush that paints anything into reality?
If not, then you'd better hurry—only a few weeks remain before the end of Shen Yun's 2015 season!
Shen Yun wraps up its hugely successful run in Taiwan with three performances in Chiayi April 11-12. Taiwanese audiences often includes leading artists, intellectuals, and other dignitaries, such as the Mayor of Taipei.
Over the last few weeks of the season, the Asia-Pacific tour will still continue to Japan and Korea, with performances in Nishinomiya City, Tokyo, Gunpo, Changwon, and Daegu. Part of an annual tradition, the company will stop by Honolulu on its way back to the United States for three final shows in Hawaii.
Over in Europe, only a handful of cities remain on schedule. On April 10-12 Shen Yun is in Paris' Palais des Congrès. Afterwards the company will visit Baden-Baden and Bremen in Germany, Salzburg in Austria, and finally Barcelona in Spain.
Back in the States, Shen Yun performers will be returning to one of their favorite theaters: the Kennedy Center Opera House in Washington, DC. The prestigious venue has regularly welcomed Shen Yun over the last five years. This year's reunion features a 10-show run April 17-26.
Among the remaining cities around North America are West Palm Beach, Florida; Nashville, Tennessee; and Kansas City, Missouri. The matinee at Philadelphia's Merriam Theater on Sunday, May 10, will mark the end of Shen Yun's 2015 world tour.
As you know, Shen Yun presents a completely new production every season, so this year's show will not be around for much longer. Once it is gone, it is gone forever, so be sure not to miss this opportunity!