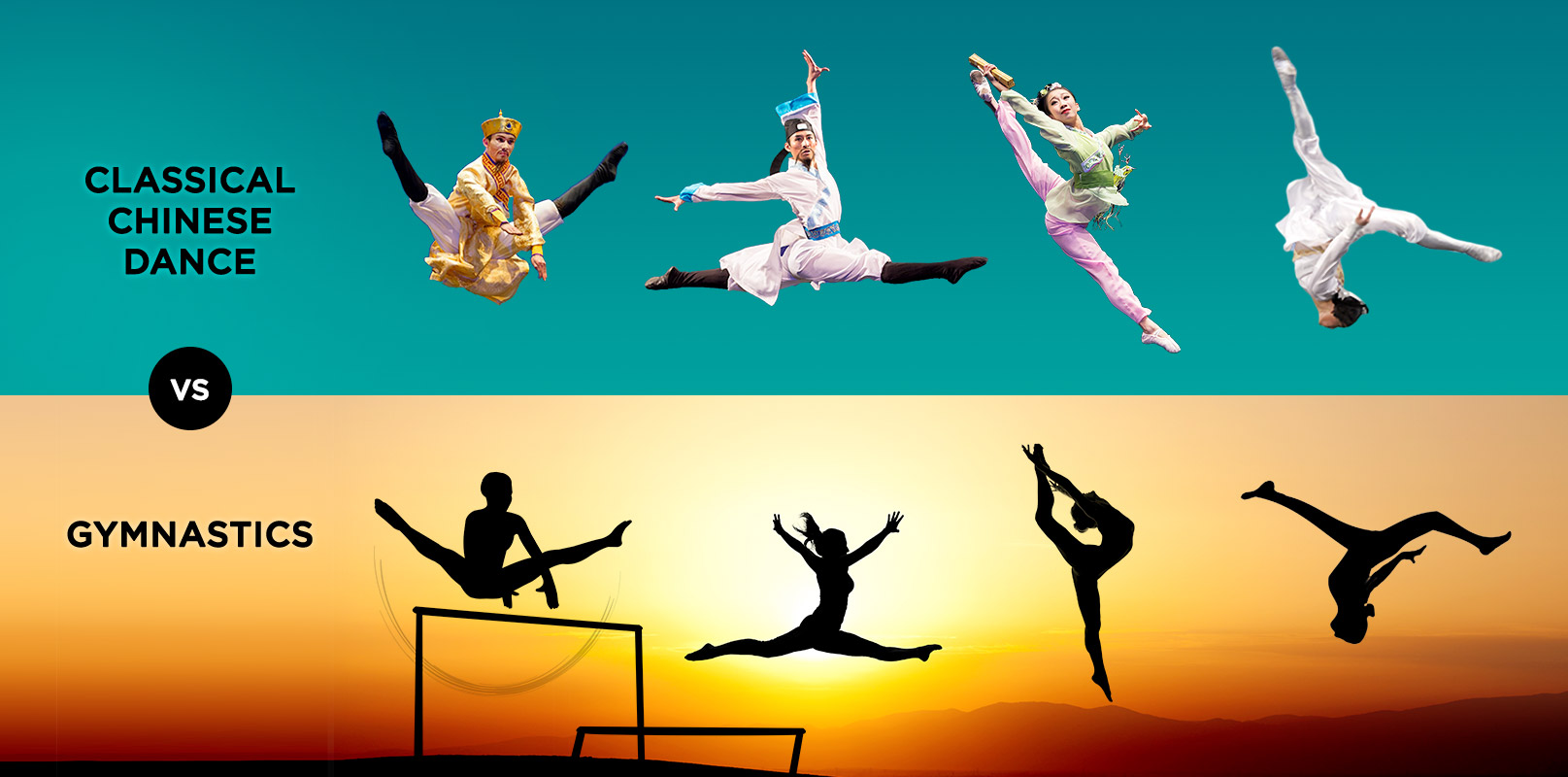 Classical Chinese Dance vs. Gymnastics
After audience members see Shen Yun dancers fly across the stage, they often say things like: "I loved the acrobatics," or "the flexibility reminded me of gymnastics." Truth be told, these moves come from neither gymnastics nor acrobatics. They actually all originate from classical Chinese dance, and they have an ancient history.
As classical Chinese dance developed over thousands of years, flipping and tumbling techniques became a major component of the dance form. Many of these technical moves evolved from Chinese martial arts and opera. In classical Chinese dance they are called tan zi gong, meaning, "skills performed on rugs or mats."
International Competition
Early gymnastics actually did not have such daring flips and twists. The first modern Olympic gymnastics competition was held in 1896 with simple vault, pommel horse, rings, and bar events. The first for women was in 1928, and included group calisthenics, rope climbing, and wall bars. For years afterwards, rhythmic gymnastics, balance beam, and bars still mainly consisted of aerobic and ballet movements.
In the late 1970s, along with China's "opening up" policies, Chinese contestants showcased their high-level flips at international competitions, thereby introducing them to the world. Afterwards, many of these technical moves were incorporated into gymnastics, especially floor routines, and popularized. In time, some of these moves were also adopted by other types of performing arts, including acrobatics, cheerleading, and even modern ballet.
Form and Spirit
Today, classical Chinese dance remains not only one of the most ancient, but also one of the most comprehensive dance systems in the world. Its abundant technical moves serve to enrich its dance vocabulary and expressivity.
These advanced technical moves—including flips, leaps, turns, spins, and dramatic control poses—are incorporated into dance pieces for emphasis and energy. This differs from gymnastics, where technical moves are the crux of competitions, and an athlete's objective is to meet scoring requirements while avoiding point deductions.
In classical Chinese dance, too, there are strict requirements for form and precision. But having form is far from enough. Classical Chinese dance isn't complete without the bearing, spirit, and emotional expression (yun) that permeate every movement. This is what drives the body into motion. And even every aerial, flip, or leap must be performed with purpose and meaning, and be within the soul of the dance.
Below is a partial list of technical moves that originated from classical Chinese dance but that you can now see in gymnastics as well:
Front tuck (前空翻)
Back tuck (後提)
Back twist (轉體 360)
Round off (踺子)
Aerial (蠻子)
Front aerial (前挺)
Layout step-out (拉拉提)
Walkover (前橋)
Straddle jump (雙飛燕)
Ring, or firebird jump (紫金冠跳)
Butterfly (旋子)
Straddle jump with full turn (變身雙飛燕)
Leg hold turn (搬腿轉)
Illusion (吊腰)
Turn on back in kip position (背轉)
And many others...
So when you see these amazing technical moves performed on the Shen Yun stage, remember—they're not from gymnastics or acrobatics but classical Chinese dance. Maybe one day when you're watching a gymnastics competition you'll say—"Hey, I love those classical Chinese dance moves!"