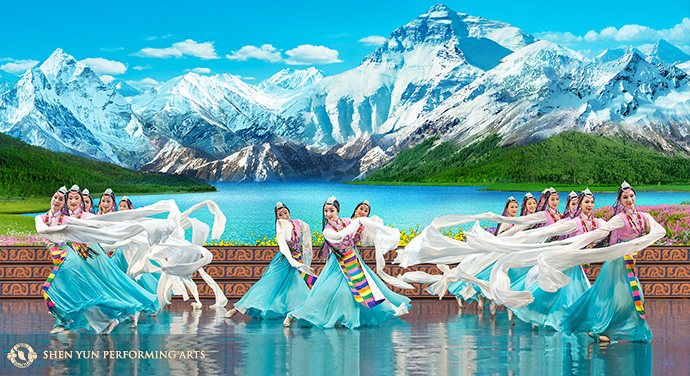 Chinese Ethnic and Folk Dance vs. Classical Chinese Dance
The hallmark of the Shen Yun program is classical Chinese dance. But in addition, each season we also have pieces featuring Chinese ethnic and folk dance styles. They radiate with energy and tend to have catchy rhythms, lovely costumes, and fun props. But do you know the real differences between these dance forms and classical Chinese dance?
Ethnic Dance
China has 56 officially recognized ethnic groups, including Mongolian, Tibetan, Manchu, Yi, Hmong, and Dai. Some of them can be further subdivided; the Yi, for example, consists of subgroups that speak in six mutually unintelligible languages.
From the steppes of the north to the subtropics of the south, from the coastal regions of the east to the deserts of the west, the different ethnic groups lead vastly different lifestyles. Many have thousands of years of heritage, including artistic traditions like dance.
Ethnic dances are rooted in daily life, seasonal celebrations, and worship rituals. Their movements embody the aesthetics and cherished values of their people.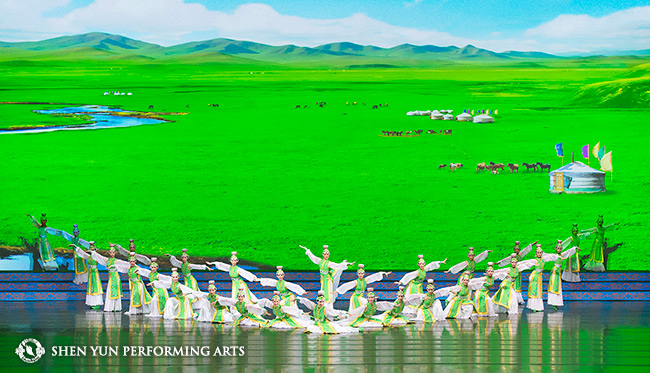 Take Mongolian ethnic dance. This style depicts the life of nomadic herdsmen who call the open grasslands home. Movements often imitate horse riding, hunting, milking livestock, and majestic eagles soaring overhead. Tableware—chopsticks, cups, and bowls— are common props because during traditional celebrations Mongolians would grab their utensils and dance to their heart's content, often as a sign of hospitality. Mongolian dance is characterized by vigor and pride, its movements dashing and unconstrained.
Folk Dance
Chinese folk dances come from the common traditions of China's largest ethnic group, the Han. And different folk dance styles are associated with the traditions of Han people living in different regions.
Historically, folk dances were often performed as part of harvest celebrations. Many dance elements come from farming and country life, such as "rolling up your sleeves" (wan xiu), "rabbit in the burrow" (tu er xuan wo), "digging steps" (wa bu), and "scattering seeds" (die zi er). Common props include handkerchiefs, ribbons, fans, and drums of all sizes.
Ethnic and folk dances were not conceived for professional theatrical performance. Rather, they are time-honored but non-systematic styles passed down generation by generation. In a Shen Yun performance, they add variety and diversity to the cultural experience.
Classical Chinese Dance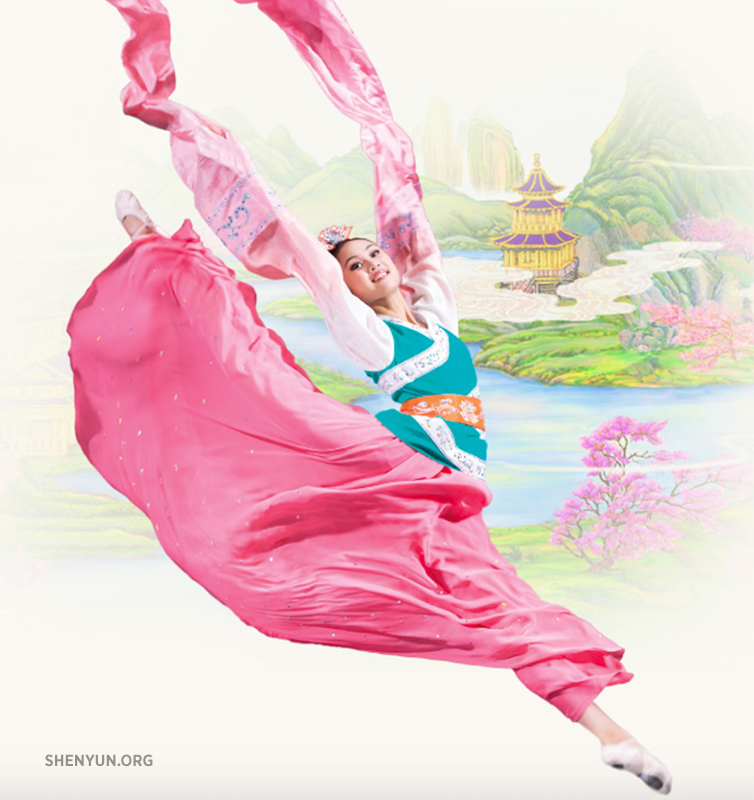 Classical Chinese dance is one of the most comprehensive and expressive dance forms in the world. It transcends regional, and even ethnic, differences. It includes systematic training in dance fundamentals as well as a wide range of difficult technical moves.
Classical Chinese dance has been refined and enriched over thousands of years. It was first performed inside the imperial court, from where it spread to the populace. During its early stages of development, classical Chinese dance was heavily influenced by Chinese martial arts and opera. Terminology for many poses and technical moves reveal their martial origin, for example, "sword hand" (jian zhi), "bow and arrow stance" (gong jian bu), "cavalry stance" (ma bu), and "wheel of wind and fire" (feng huo lun).
Requirements for professional performers are rigorous, including high-level flexibility, strength, and mastery of spinning, tumbling, and jumping maneuvers.
Many ethnic and folk dance styles, on the other hand, call for advanced skills with specific props, for example, spinning and twirling handkerchiefs in a folk dance, or balancing a stack of bowls on your head in a Mongolian dance, as well as stylistic mastery, such as the "three curves" requisite for postures in Dai ethnic dance.
The Full Gamut
Ethnic and folk dances tend to be joyous and celebratory in nature. They are fun and upbeat. Classical Chinese dance, by comparison, has a wider spectrum, expressing a range of emotions, portraying specific characters and complex plotlines. And in depicting legends across the dynasties, classical Chinese dance also conveys the profound morals and inner meaning embedded in them, bringing to life the incredible depth of five thousand years of civilization.
By incorporating ethnic and folk dances alongside the classical form and story-based dances, the performance is able to showcase an expansive scope of traditional Chinese culture.
To discover more about China's various ethnic and folk tradition, explore the links below.