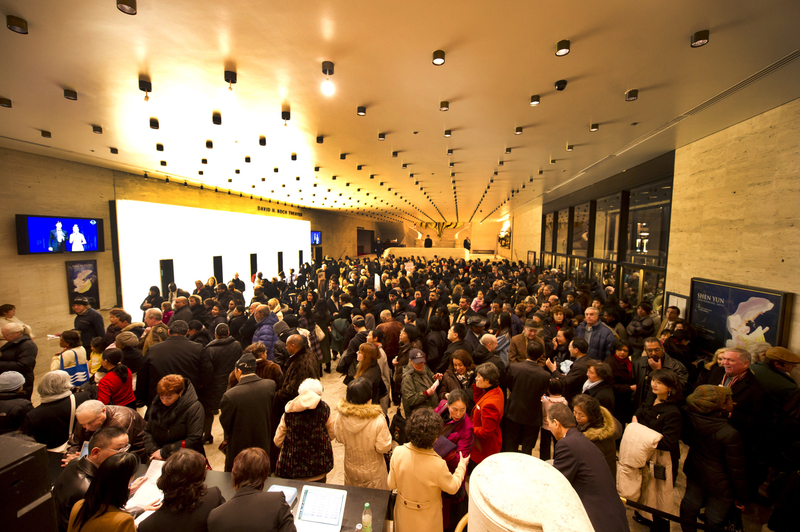 Shen Yun Concludes Lincoln Center Shows with Full House
Shen Yun New York Company's final shows in New York at the Lincoln Center's David H. Koch Theater were completely sold-out.
Said Ms. Chen, a staff member at the ticketing hotline, "The telephone has been ringing nonstop these days. Many people are calling to buy tickets to the show, but unfortunately for them the tickets are already all gone. They hang up very disappointed. Some are even hoping to buy tickets from others who won't be able to make it to the show."
On Saturday night (January 15), a crowd of ticketless hopefuls waited outside Lincoln Center with their fingers crossed.
House Manager at David H. Koch Theater Ms. Jacqueline Mooney said, "I can tell from these past two days that Shen Yun's box-office figures are very high. They had ten shows here, something we rarely see nowadays. We mainly have classical Western performances like opera and ballet here, and they usually do just one show. The current economic recession has seriously impacted performing arts companies. Many companies have had to downsize. A grand scale production like Shen Yun has become a rarity."
Shen Yun's Lincoln Center ticket prices did nothing to deter enthusiastic audience members. Saturday night, Shen Yun played to an almost full house, while on Sunday afternoon, tickets were completely sold out.
A Lincoln Center senior staff member of 45 years said, "Compared to other performances, Shen Yun's ticket prices are pretty high. Oddly, audience members all come out saying it was definitely worth the cost. Everyone leaves the theater with big grins on their faces."
Another Lincoln Center employee added, "Because of the economy, many top opera or ballet companies will sell cheaper tickets during certain seasons. Shen Yun never lowered its prices, but nevertheless had a great turnout. It's very remarkable!"
Lincoln Center is the largest performing arts center in the world, with over a dozen theaters and concert halls of all sizes and twelve world-class performing arts companies, including the Metropolitan Opera House, the Chamber Music Society of Lincoln Center, the New York Philharmonic, and the New York City Ballet, not to mention a relationship with the Julliard School, one of the top-ranked performing arts schools in the world. Since Shen Yun's arrival last Thursday, many artists from these companies have come to see the show. Among them were Philharmonic musicians and directors, Metropolitan Opera House performers, and students and teachers from Julliard. Many even returned to watch the show for a second time, wishing to share this once-in-a-lifetime experience with their friends and family, and to help spread Shen Yun's message to an even greater audience.
January 16, 2011