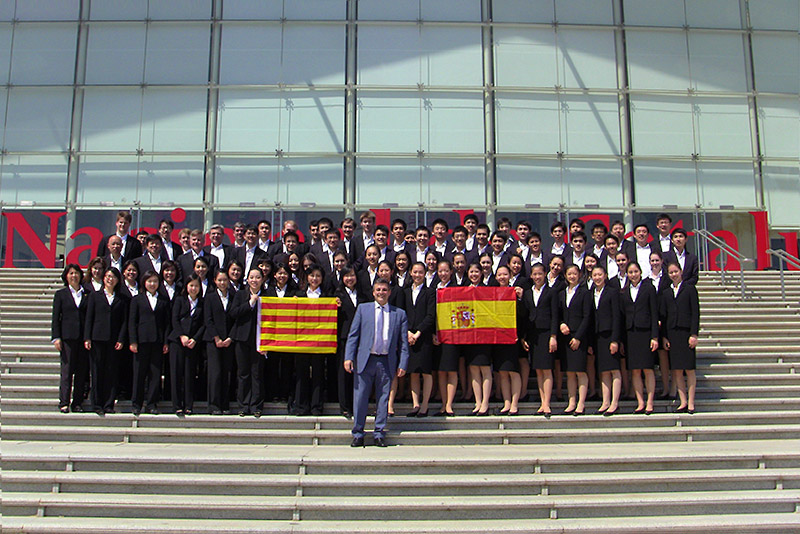 Hola Barcelona! Shen Yun Debuts in Spain
For the first time in its eight-year history, Shen Yun has performed in Spain. Shen Yun opened at Barcelona's Teatre Nacional de Catalunya Wednesday night, and is playing its final performance there Saturday afternoon.
Spain became the 31st country Shen Yun has performed in, leaving only a few unvisited countries in Europe, such as Portugal and Luxembourg.
Audience in the capital of Catalonia responded to Shen Yun with calls of "bravo!" not only during the curtain call, but also throughout the show, after performances like Lotuses in Bloom and Mei Xuan's erhu solo.
One of Spain's biggest newspapers, printed a raving review of Shen Yun's performance.
"The feminine beauty is hypnotizing, the ladies look like porcelain figurines," wrote El País. Meanwhile, "The masculinity is very dynamic. The jumps, flips, and spins show grand virtuosity."
And Spain's main television station, TeleCinco, previewed the performance with a four-minute clip during its prime-time spot (watch here).
Free Publicity
Prior to Shen Yun's arrival in Spain, the Barcelona Consulate of the People's Republic of China attempted to pressure the theater to cancel the Shen Yun performances. This was the latest in an ongoing series of attempts by Chinese Communist Party representatives to interfere with Shen Yun performances in Europe (more about this topic).
Spanish media responded with outrage at a foreign government trying to dictate what shows Spaniards should or should not be watching. The national newspaper El Mundo printed an article by China author Juan Pablo Cardenal exposing the interference attempts, and Spanish lawyer Carlos Iglesias has sued the P.R.C. consulate over them.
As it turned out, the consulate's unsuccessful efforts provided free publicity for Shen Yun, which ended up drawing full houses at the beautiful national theater.
And the Catalonians in attendance were happy to report they were not disappointed.
Among the notable audience members at opening night was Spain's iconic radio personality Luis del Olmo. In an interview with The Epoch Times following the performance, he began by congratulating the national theater for bringing Shen Yun to Spain.
"We have never seen a show like this before," he said. As an arts critic who has reviewed performances for decades, he said "I have no doubt in my mind that Shen Yun is the most important show I've ever watched in my life."
"Not only the performers, not only the orchestra, not only the tenor, not only the colors, the screen that appears in the background, which are images that fill our souls with light and joy," he went on, "the soul of the dancers and the performers... make this a page that will be long remembered here in Barcelona."
"Don't miss this show, because it is one in a million," said del Olmo. "My congratulations to the whole Shen Yun company and to all the audience members who came today to the great theater of Barcelona."