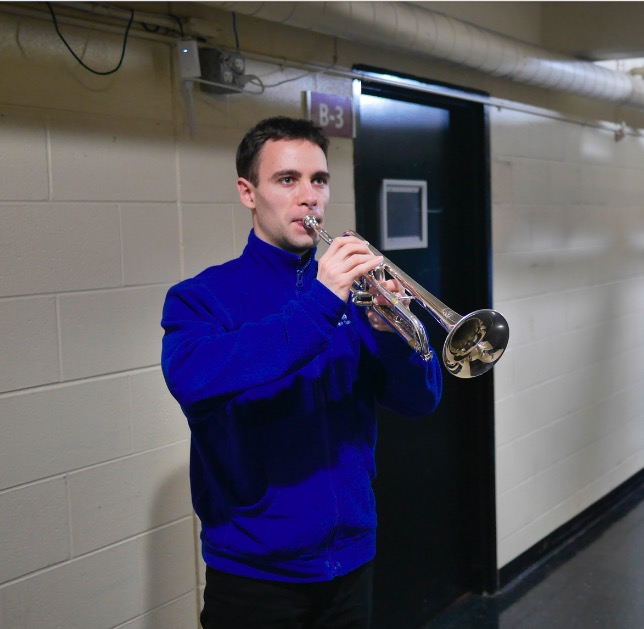 Our Tour Diary
Jan 27.
Chinese New Year is a time for thinking about family. And today, at a gas station in the middle of Ohio, a mac-n-cheese got me thinking about it too.
Growing up in Israel in the '80s, I used to crave some of the foods I had experienced while living for periods of time in America. My late grandmother, who was from California, would visit us maybe once a year and would always come with two suitcases: one for her clothes, and one full of American foods we couldn't get in Israel—Lucky Charms, marshmallows, Charleston Chews, taco shells, and boxes of mac-n-cheese.
Those Kraft macaroni boxes cost maybe 25 or 30 cents each, but they were precious to us, and we would save them for birthdays and other special occasions. So today, as I was standing outside a Pilot gas station eating a cup of hot mac-n-cheese, somewhat taking it for granted, my mind jumped to how we treasure things when they are limited, and how we treasure things once they are gone.
Which brings me back to the Chinese New Year. This image below, posted on Shen Yun's Facebook page, made someone in my group cry: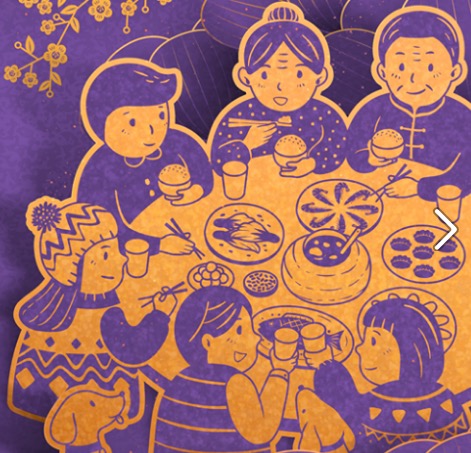 It's just a cute little image of a family gathered around the table for the New Year, three generations happily, if simply, enjoying each others' company. But for this person, the image was a reminder of moments no longer possible.
This is a reality for so many of my friends and colleagues. It's a type of persecution that won't make headlines: 'Dancer Cannot Join Family for Chinese New Year.' 'Cellist Not Allowed to Attend Daughter's Wedding.' But it hits close to home.
A few years ago, a performer was on tour with me when her father suddenly passed away in China. She had been particularly close to him, closer than almost anyone else in the world. She hadn't seen him in years, separated because, as a Falun Gong practitioner and a member of Shen Yun, she could not go back to China. If she were to go back, it would only to be arrested, interrogated, or worse. Neither could she go back for the funeral.
China today may seem very open and advanced. But those who rub the Chinese Communist regime the wrong way, sometimes just by meditating in a park or handing out a flyer, they experience the wrath of an old school dictatorship.
Perhaps this dual reality can be allegorically compared to West Germany and East Germany. For some, until that moment you experience what the regime is really like, you live in West Germany, part of the free world. You surf what you think is the Internet, you travel overseas, you enjoy your family, you shop, and you deal with the day-to-day that we all do.
On the other hand, if you live on the other side of the wall—and you may not even be sure how you ended up there but you did, perhaps by joining a performing arts group the government doesn't like—then you have Stasi agents following you around, listening to your phone conversations and hacking your email, keeping dossiers on your every move, and threatening your family and friends to stay away from you. If you escaped from the East side to the West side, going back for holidays is not an option.
In Shen Yun we have a dancer whose father was arrested, tortured to death, and his body thrown into a ditch; she was 15 months old. We have another dancer whose father was a prisoner of conscience for 12 years. We have a musician who nearly starved to death and saw "heads smashed like watermelons" during Mao's Cultural Revolution. There are many others.
By comparison, I guess, not being able to see your father one last time or join your aging grandparents for the holiday may not seem like much. But for many of our performers from China, at this time of year it still hurts.
Jan 26.
We finally finished our 10-show run in Detroit. The audience here was remarkably enthusiastic. And, as promised, here are some photos of the beautiful Detroit Opera House, courtesy of violinist Will Zhou (who you'll recall is also known for his go-kart talents, see Jan. 21):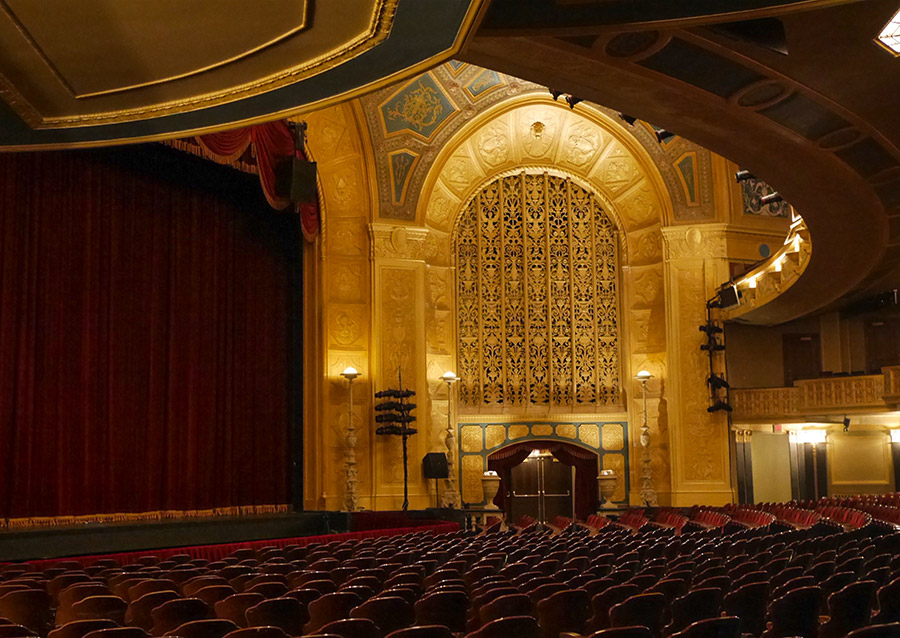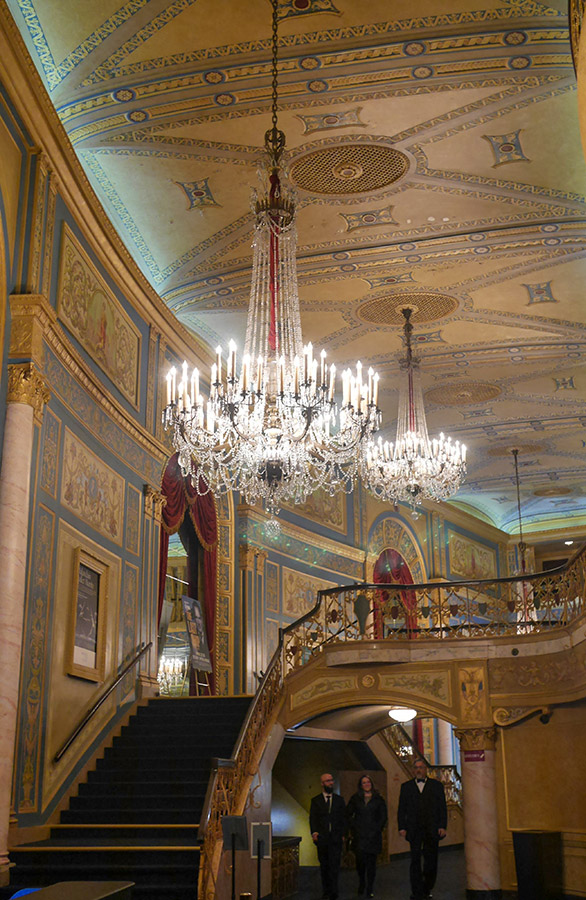 Jan 25.
Scheduling. Is it just me, or is it getting harder and harder to get two people to cross paths along the time-space continuum in some sort of pre-planned manner?
I have a friend in Detroit who works 10 minutes away from the theater. We've been trying to meet since I got here and every day something comes up. And here's a better example—a Shen Yun interview we've been trying to schedule.
Sometimes on tour we'll do interviews—usually morning talk shows or radio calls. The radio ones are my favorite: You don't need to do makeup or go anywhere; you don't need to dress up. More importantly, you don't have to talk in sound bites (TV) or fear the reporter (newspaper) will remember your words wrong and quote you as saying something silly. In radio, you have a conversation. The people interviewing are usually good talkers, inquisitive, and fun to chat with. Your words won't get distorted and you usually have at least 5-10 minutes to get into things.
So we had a radio interview scheduled. Or so I thought. A few simple emails back and forth and we landed on 2:30pm EST, 5:30pm PST. And if you start to see the problem, you're already one step ahead of me.
2:30pm comes around and I go into a quiet dressing room. I kick people out. I turn off the noisy radiator. I've got my water and I'm ready to go. Nothing. I look at my watch. Hmmm. A light bulb goes off (in my head this time). You know, I think they must have gotten it backwards—2:30pm EST is 11:30am PST. They must've meant 2:30pm PST, 5:30pm EST. Great, I'll do something else now and be back at 5:30pm.
5:30pm comes around. I've reclaimed the same dressing room. Put up a sign: "INTERVIEW IN PROGRESS. QUIET PLEASE." I knocked on the door of the singing soprano in the next room and politely asked if she could stop her mandatory professional training for about 15 minutes, you know, maybe go get dinner or something. I packed an early dinner for myself for later in case the interview goes long. I've got my water. I'm ready.
5:35pm. Nothing. 5:45pm. Nothing. I pick up the phone and... send a text message, because who calls anymore, right? Clearly not the radio station.
Oh, turns out they meant 5:30pm PST, 8:30pm EST.
Well, we have intermission at exactly 8:30pm, so maybe… No, no, that won't work.
Okay, it's rescheduled for Tuesday when we're in Evansville. That'll definitely be fine. Right?
Jan 24.
Today is Chinese New Year's Eve, or chuxi (除夕). What that means is that tonight, while we're on stages in Detroit, Pittsburgh, San Diego, and London, Chinese people (and East Asians more broadly) around the world will be starting their own celebrations.

What it also means is that today our phones will be ringing off the hook. (Do we still say that? Maybe buzzing off the lock screen?)

First thing in the morning you'll see people in the hotel lobby calling family back in China or Taiwan, where it's already nighttime and celebrations are underway. Then, throughout the day everyone—Chinese, non-Chinese married to Chinese, people who know a Chinese person—will be receiving text messages. Not really messages per se, more like Full Length Feature Film Greetings, complete with end credits scenes.

I've noticed these have gotten more sophisticated the last few years. It used to be a simple text: Happy Chinese New Year (guo nian hao). You could just copy-paste it and reply. Done. And repeat 47 times throughout the day.

Then it evolved into all kinds of riddles and clever rhymes involving a pig, rooster, platypus, or whatever the zodiac of the year was.

This year it's the mouse or rat (see excellent story by Alison Chen), so we can expect Chinese pun equivalents of: "It's time to play, the cat's away!" Or, "Wishing you a mice new year!" Or, "Hey, word of mouse has it you're going to have a great year!" And so on. It's a little better in Chinese.

And then there are the images. Gifs, videos, cartoons. Firecrackers, balloons, confetti. It seems like every year it's an implicit little game to outdo the previous year. I don't have time to research the perfect, original, never-before-seen animated hologramic Chinese New Year image—one has to blog, you know. So I still reply with the old 1.0: "guo nian hao!" hoping I get a pass as a lao wai (non-Chinese).

But if I get any amusing ones this year, I'll share them with you in a few days. In the meantime, have a nian gao—literally glutinous rice flower cake, but also literally "an elevated year!"

Happy Chinese New Year!
Jan 23.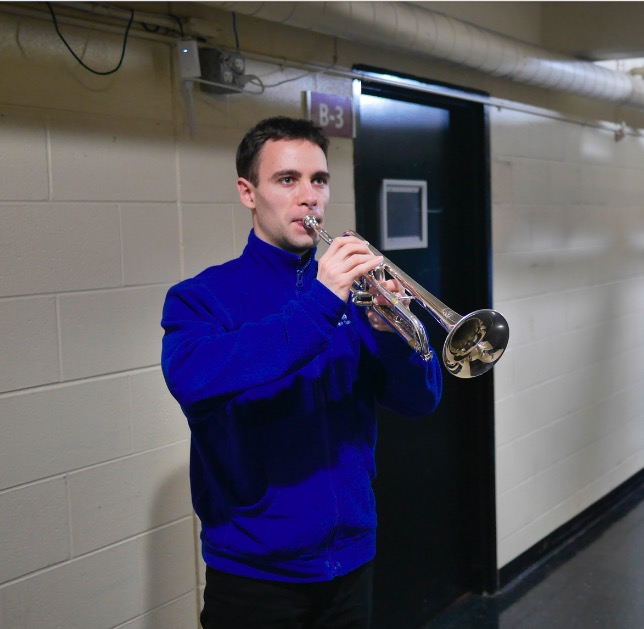 It's an hour before the show, and Aleksandr Antonov is standing in the hallway in the theater basement. His elbows are raised, his eyes are fixed somewhere in front neither close nor far, and his trumpet is pressed against his mouth. His fingers are moving almost as rapidly as his mind, but not a sound comes out.
Aleksandr, known to most as Sasha, grew up in Saint Petersburg, Russia. When he was 6, he started studying piano and three years later tested into an elite conservatory, where he studied for eight years. But by the time he turned 12, a teacher recommended he study another instrument and think about changing his major. Sasha picked the trumpet.
"I felt resentment initially," he says, "but now I feel gratitude to my teacher, because she directly contributed to my future. "
Being a trumpeter, his skills were in high demand in the orchestras back in Russia, and it was the trumpet that eventually led him to Shen Yun.
"This showed me that sometimes, even when you have to change something in your life, that, at the time, seems like a step back or an undesired action that is forced, much later it might turn out to be a good thing."
Sasha went on to earn a master's degree with honors in concert performance from the prestigious Saint Petersburg Conservatory in Russia. He won international competitions and served as principal trumpet for the Saint Petersburg State Symphony Orchestra. Then, he saw that Shen Yun had an opening. He decided to apply.
"Once I got to Shen Yun, I felt very comfortable as though this place has always been my home," he says. "I liked the people and the way I was treated and the way everyone treated each other. I found the atmosphere in Shen Yun is one of caring, help, benevolence, and understanding."
That doesn't mean he didn't have to work hard. Sasha arrived only two days before the beginning of tour and had only two rehearsals before opening night. It was a challenge, but with help from his brass section and conductor, he made it.
Now that he's been here for a few years, Sasha raves about the advantages of being part of this group, listing: "Unprecedented enormously big world tours," "meeting people from around the world in Shen Yun," and "high moral criteria among the members due to adhering to the moral principles and concepts of Falun Dafa."
This makes a difference to him on a daily basis. "It creates a rather similar inner field and life values among the people here, which brings a feeling of being in one family where everybody takes care of each other and is considerate of each other."
There were, of course, some things to get used to. But when you ask him about them, it's not what you might expect—lots of Chinese food, group meditation sessions, or long bus rides. It was more thinking as a group rather than as an individual, and the high professional standards such as a strict dress code and always being on time (if you're five minutes early, you're five minutes late). "For anybody coming to Shen Yun for the first time, these might be the things to get used to."
Sasha did a lot of research before joining the company, and felt he already knew quite a bit about Shen Yun. "I knew that Shen Yun is a great place, but once I came, the first day I was ensured that my high expectations were outdone."
He was as amazed by what he calls "the stunning management of all the production aspects in Shen Yun." Accommodations, transportation, and food are all seamlessly arranged for performers on tour, while at home he enjoys the gorgeous home facilities.
"All of these give the most comfortable conditions for both musicians and dancers to practice and work on the production."
Now, as the minutes tick away before the show, he stands in his blue Shen Yun zip-up, preparing for perhaps the most challenging passage for a musician in this year's performance. It's a blazingly fast trumpet solo.
Sasha often practices it by not really playing the instrument, only playing the valves with his fingers, imagining that he's playing, focusing on the precision of the fingering. Other times, he plays it bar by bar in a slow tempo to work out the complexity of the aspects in this solo.
"This is quite the atypical trumpet solo from the perspective of the world's classical repertoire, wherein the trumpet would be mostly loud and fanfare-like, sometimes technical enough though, but not that much," he says. "But this solo is more, I'd say, like a clarinet or flute solo. It involves a jumping melody and very fast texture."
There are some similarities in symphonic work that involve brilliant trumpet solos that are fast, or those highlighting dramatic moments and climaxes. In those classics, he says, "the trumpet often plays a role in loud entrances or solos, or as a harmonic enrichment function of the long notes and 'pedals'." But in Shen Yun music, the trumpet takes on additional roles.
"There are many more functions and duties put onto the trumpet that definitely make the Shen Yun trumpeter busier in comparison to playing classic symphonic works."
"The solos are more intricate, fast and jumping, and are often performed openly and transparently without much coverage of other instruments, which requires much more precision and accuracy."
And that is what this solo, which appears right before intermission, requires as well. And this passage, performed by a Russian trumpeter, matches in both exactness and explosiveness, the corresponding techniques of the Chinese dancers on stage.
Jan 22.
We're about to begin the second part of our 10-show run in Detroit, with a performance tonight, tomorrow afternoon, Friday night, two Saturday, and one Sunday before we leave. That having been said, we didn't perform Monday or Tuesday. And our show Sunday was an early matinee, so it'll be more than 72 hours between shows.
A couple days off may sound like a normal weekend, but on tour, when we're performing almost every day, two or three days with no shows feels like a long time. Traveling internationally there are often strings of several days without performing, what with intercontinental flights and all. But in North America there might only be a couple of these all tour, and it can feel a little awkward.
Performers are of course used to being both on and off stage. So I'm going to harass a few people during dinner and ask them if the two-day break presents any challenges:
Dancer Jack Han: It feels like we don't have a show today. And it feels like a new city.
Percussionist Brian Marple: With a two-day layoff, muscle memory gets a little fatty. The feel for the music isn't quite there at your fingertips as much, so you have to concentrate a lot more to get that same precision.
Dancer Betty Wang: I have to make sure to warm up very thoroughly, including all the little muscles. And also practice all the techniques we have for the show when we warm up, so we have confidence on stage.
Pianist Hui-Zhen Chen: Is there a difference? I'll have to tell you after I'm on stage.
Dancer Lily Wang: Laundry. Not being in the theater with access to the washing machines, I have two-days worth of dance laundry sitting around.
Flutist Helena Huang: It depends on whether you practiced or not. If you practiced properly, then it's no problem.
Bassoonist Steven Louie: A good musician is always prepared.
Concertmaster Tseyu Chang: Challenge? Yeah, the challenge is I actually feel like I want two more days off.
Dancer Ben Chen: It won't be hard to be energetic, but need to focus the mind on the right thing. With difficult techniques, for example on a two show day, by the time you get to the night performance you've already done it successfully in the afternoon, and you did it before each show while warming up. So you feel like you've just done it. It's more about getting back into the mental routine. Still, it's only two days—it's not like you left your car sitting there for the whole winter and you're trying to start it again.
And there you have it. We should be able to start this car no problem.
Jan 21.
Break day in Detroit today, ahead of five straight performance days. Eight of our guys, in the spirit of Motor City, headed out for some go-karting.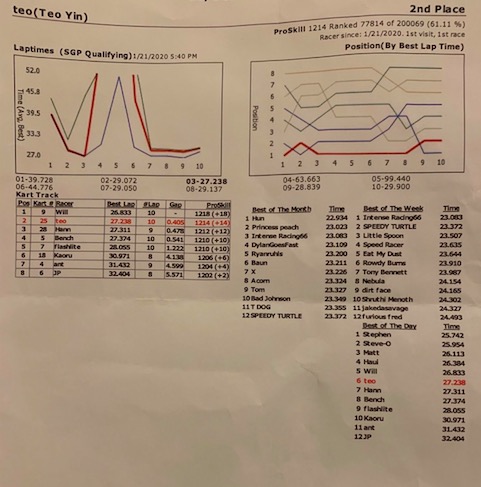 It was serious business, complete with safety gear, a formal briefing, and performance analytics sheets.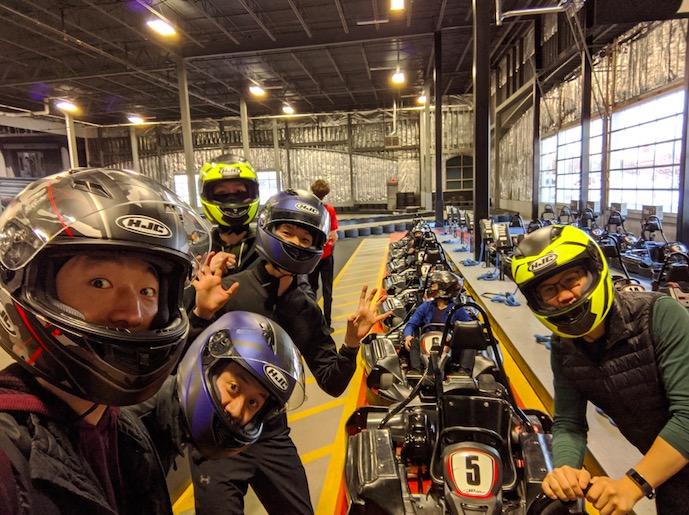 So what happens when a bunch of dancers with a need for speed use their agility, quick-reactions, and perfect timing to race? The one musician in the group wins.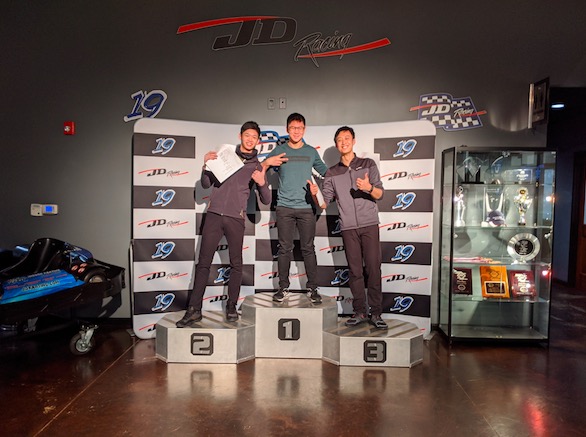 Violinist Will Zhou stands tall over (though just barely) dancers Teo Yin (second) and Jun Liang (third).
Jan 20.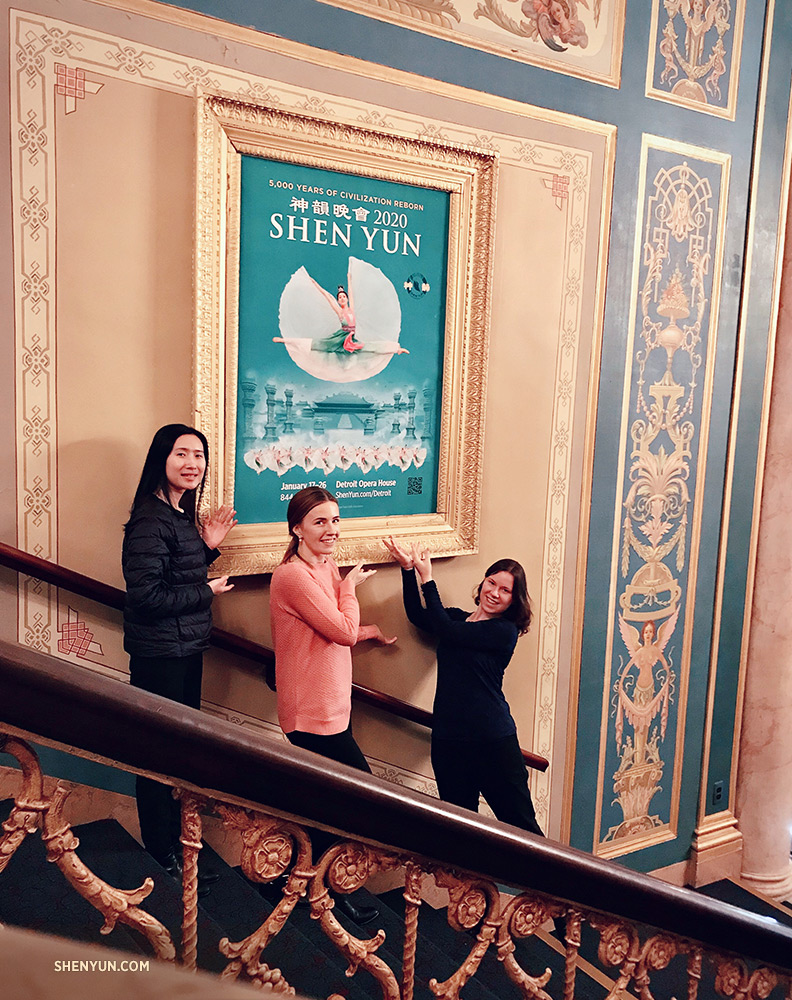 Here's one photo from the beautiful lobby of the timeless Detroit Opera House. From left): cellist Jasmine Jordan, violist Paulina Mazurkiewicz, and oboist Leen De Blauwe next to the exquisitely framed Shen Yun poster.
Do you think the Opera House paints its walls to match Shen Yun's poster background every year?
Jan 19.
Sometimes little moments show me the universe is kind.

This afternoon, I was shaving before the show. I always wait until the last minute because my beard grows so fast I have a five o'clock shadow by nine am. As I lather up, I have one spot left to cover. One last drop of shaving gel comes out of the can. That's it. I shake the can—it's empty. Half a year of using this can, and it quits after providing just the right amount one last time. And when did it quit? The first time all tour we have a trip to Target scheduled after the show.

A cynical me might have expected it to quit a few days ago, leaving me running up and down the halls brandishing a razor with a half-foamed face. Or it might quit tomorrow, the day after we go shopping without me even noticing I was running out. Or it could have just had one drop too few. Or one drop too many. Nope. It was just perfect. And it comes at a time when I've been consciously looking for the positive in things.

And this makes me think about what we choose to see and notice. I've heard people call a similar phenomenon the law of reciprocity—that what we think affects what happens around us; or the law of attraction—that negative or positive thoughts bring corresponding consequences.

I've heard psychologists explain this by saying it's the data your brain chooses to process; like how when you're thinking of buying a certain model car, you start seeing that car everywhere. Religious people talk about seeing God in everything. I've even heard entrepreneurs talk about how when they have an idea, people around them just start showing up with opportunities to make it happen.

But what about terrible things like slavery and genocide? What about the DMV, or how when you're in traffic and you move into a clear lane it immediately becomes the slowest one? What about Murphy's Law and, yes, even Fawlty's Law (see Jan. 15)?

Look—this is a blog, not a philosophy class. So give me a break. Clearly I don't have all the answers. I'm just saying that maybe sometimes, if we dial in, we can notice moments of the universe being just. Insta-karma, for example, is definitely a thing.

And sometimes those moments of kindness can be traced to actual people. The last couple of days, two people in my group did something kind for me. It was pretty small, and what they did doesn't really matter. But it was the way they did it that touched me. They did the whole thing quietly behind the scenes. I just happened, in a moment of sheer brilliance, to connect the dots on my own.

Not only did they not tell me they did it, they did it without even leaving that hint that we leave behind if we want someone to find out we did something nice for him but we want it to come across like we didn't want him to know because that's more noble, but we actually do want him to know, but don't want to show that we want him to know, you know? None of that. Just simply doing something nice for someone because it is the kind thing for a person to do.

And sometimes, shaving creams are people too.
Jan 18.

Good morning from Detroit. Here's how our day begins ahead of two shows. For all our audience members coming to the theater, and everyone else out there: drive safe and stay warm. Looking forward to seeing you inside the cosy theater.
Jan 17.
First performance in Detroit tonight. We will be here for about 10 days and doing 10 shows, the longest Detroit run I can remember. It's at the beautiful Detroit Opera House, with a lobby like the Palace of Versailles, box seats like Teatro alla Scala, and a backstage like Alcatraz. The dressing rooms, where soloists like our soprano stay, were indeed designed for the Sopranos—dimly lit, black leather armchairs with gold studs, pictures of the famiglia on the walls...
I kid. It's a beautiful theater built in 1922 that bridges Detroit's old glory and contemporary revival, complete with hipster coffee shops nearby. We'll try to get you some pictures.
We loaded in and did most of our setup yesterday. Some theaters just require more time. I won't bore you with the details but I will tell you it involved stairs. Lots and lots of stairs.
Today we will roll in to the theater in time for lunch, do some sound check and stage spacing in the afternoon, and get ready to greet the audience this evening. Maybe the lady from the mall (see yesterday's post) will be there.

Jan 16.
On the way from Mississauga to Detroit, one of our shortest trips of the year, we stopped at Twelve Oaks Mall in Novi, Michigan. This is a common tactic on localish commutes. If you need to check out of your hotel by 11, and can't check in to the next one before 3, and the journey is only a couple of hours... let's see, 11 plus three, carry the 1, go back to the 12-hour am/pm system, minus 2, add for traffic, it leaves... some time. So why not stop at a mall for lunch on the way.
It was here that I found something calling me: an unoccupied Shen Yun ticket sales booth.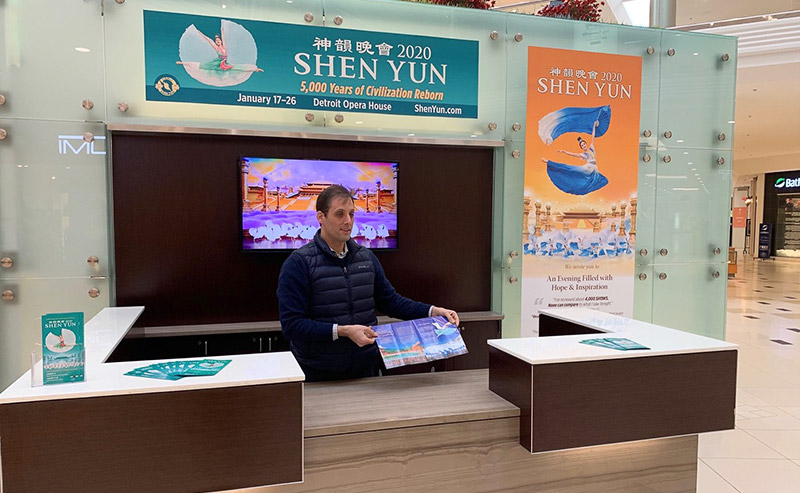 This one was very nice. It had a few oversized posters, flyers, and a screen playing the trailer on loop. But there was nobody there. So, not unlike Goldilocks, I went right in. There was a chair—not too soft, not too hard, just right. And a table, not too high and not too low.
No sooner had I settled in than a lady approached. Impeccably dressed and walking with an elegant gait, she seemed like the perfect theatergoer. "Excuse me," she said in what I will now recall as a British accent. "Do you happen to know where J.Crew is?" This was a recurring theme, as from the side the booth looked just like an information stall. I politely redirected people in the direction of the directory a few steps away.
One lady did say she has wanted to see this performance for years, asked about specific times, took a flyer, and said: "Maybe I'll see you there." Little did she know...
Then, three musicians came over, ready to challenge me. "Hi, sir, we would like to find out about this performance."
"Absolutely! Listen," I said, "I can get you a special deal! Orchestra level seats, very close to the stage. Great view of the conductor. Surround sound experience. Not only that, we can arrange for you free bus rides to the theater and back, a pre-show Chinese meal and a post-performance catered spread. You will even have an opportunity to mingle with some of the performers and stay with them at the same hotel!"
Somehow they didn't buy tickets, and I moved on to the food court.
Jan 15.
Yesterday was just a quick one and done in Grand Rapids. This also means just a brief stay at the hotel here before heading to Detroit this morning. I've noticed a cosmic law that there's an inverse correlation between how nice a hotel is and how long you stay there. Call it Fawlty's Law.
All the hotels we stay in these days are quite nice, but there's sometimes that one that is just so perfect it even has wireless phone charging, delectable omelets, and a decked out gym. So in a hotel so perfect like this, we might stay a max of two nights.
And it's in this combination of short hotel stays and one-day sojourns in a theater that it's easiest to lose things. Last night, during intermission, one of our violist's wallets (we have more than one violists, but each has only one wallet) was reported stolen. Just as everyone was about to quickly check their valuables, he found it.
It's so easy to lose things on tour. And if you're new to this skill, here are the top 8 ways, to get you started:
1. When you get to your hotel room, unpack your suitcase and stuff everything into all the different dresser drawers, nightstand drawers, desk drawers, and any possible compartment you find. The next morning, wake up late and check out in a hurry.
2. Hide your passport really, really, really well.
3. Go in to the empty audience in the afternoon, and get comfortable, taking off your hat and scarf and put them in the seat next to you. Remember them a week later.
4. Listen to music on your Apple Airpods while lying in bed. Then watch them disappear into the white fluffy pillows, never to be seen again.
5. When the bus stops at a gas station, take your phone charger and plug it in behind a vending machine. Then go to the bathroom and, because the line is too long, run back to get on the bus. If only buses had wireless charging.
6. Whenever you leave your hotel room, trust that the door will just close behind you on its own. Don't fret over pulling it after you, hearing the lock latch, testing it by pushing back, or anything else like that. Definitely leave your wallet somewhere visible.
7. As you run out the hotel in a daze in the early morning, grab your breakfast to go, a jacket, and put your hotel key somewhere. The vaguer the better.
8. Leave your dance shoes outside the hotel window ledge overnight to air out. This works best in Chicago.
(Thank you to dancer Betty Wang for contributing to this list! She contributed as a reporter, I mean, not based on personal experience. Personal, yes, but not things of her person.)
Actually, most of us will go entire tours in a row without losing anything. But then there are some people, and I won't name them here, we all know who they are, who have a knack for this skill. I have a list of these people, now where did I put it...
Jan 14.
Meet Gustavo Briceño. A violinist, this is his third year with Shen Yun. His wife, Gabriela Gonzalez- Briceño is a bassoonist with Shen Yun. And they tour the world together—in separate companies. Let me explain.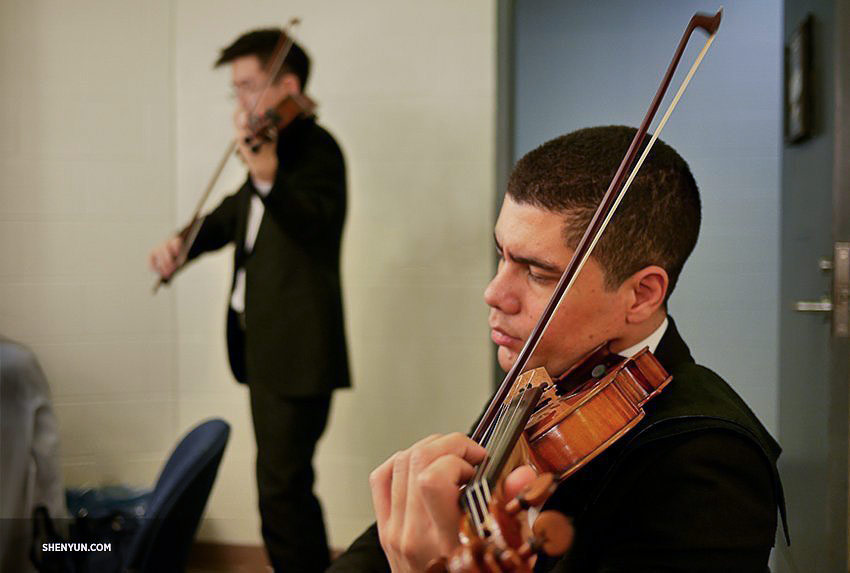 Gustavo and Gabriela are from Venezuela, where they had already embarked on distinguished musical careers before joining Shen Yun, together, in 2017.
As you probably know, Shen Yun currently has seven companies that tour the world at the same time. Gustavo has always been in our group—Shen Yun World Company. Gabriela is with the orchestra of Shen Yun International Company. We are in Grand Rapids Michigan. They are in Manchester, England. But they are always together.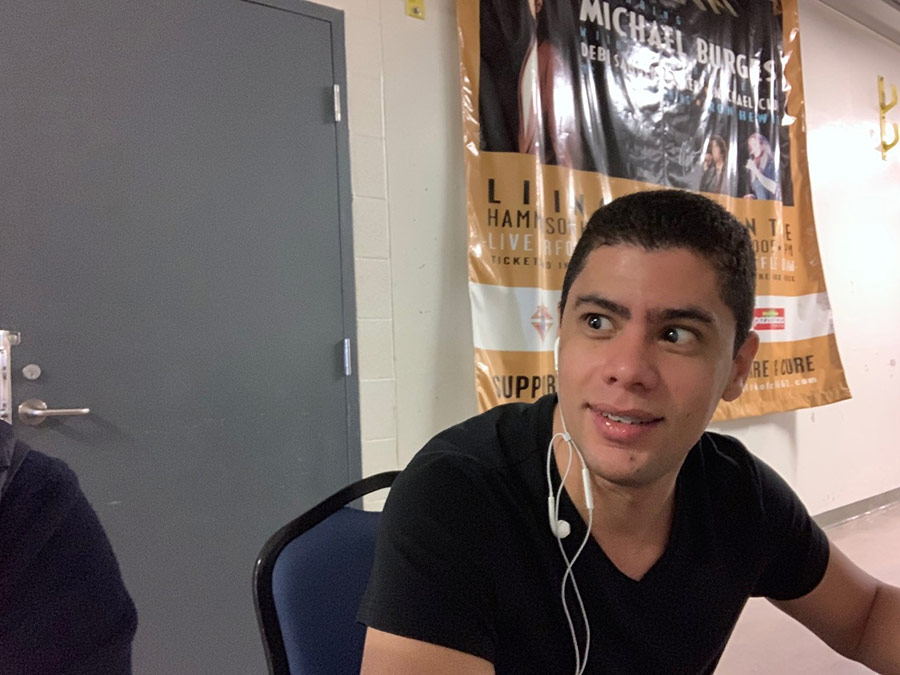 Here's a picture of Gustavo at lunch. This is what he does—his headphone is constantly plugged in to at least one ear. It's the same when he gets on the bus in the morning. It's the same when he's at the gym. It's the same when he's helping pack after a show.
He's not one of those people who is always listening to a podcast or classical music, or has headphones in just to avoid actual humans. He seems to just have a constant open phone line with his wife. In marriage, communication is everything, right?
And if you sit next to him at lunch, it doesn't feel like he's being anti-social. He's involved in the table conversation. It's just that he's having another parallel conversation in Spanish on his headset. It's just like his wife is there, by his side, keeping him company. Presumably somebody in her group's parallel world is writing a blog about her talking to Gustavo.
And if you're wondering why not just put both of them in the same group. Well, we have couples like that, too. Not that many, really, but a few. And if all of them were in each other's groups, it would be administratively difficult, if not impossible.
For example, Gabriela plays bassoon. But the bassoonist in our orchestra is married to one of the percussionists in this orchestra, so you would have to relocate both of them to another company to bring Gabriela here. It gets complicated super fast.
And then there's the argument that you can enjoy being together when you're home, and on tour you can focus on your art and performing. We're a big family anyway, and there's plenty of support and caring to go around.
Plus, in my experience, being away half the year is a good formula for a long, happy marriage: leave for tour right before you've worn out your welcome, return when you're sufficiently missed.
Or just talk on the phone a lot.
Jan 13.
Good to be back south of the border. We crossed over the Ambassador Bridge from Windsor, Ontario over the Detroit River and into Michigan. This is one of the busiest border crossings in North America, and security was particularly heavy today. Two more hours and one Japanese-Chinese buffet later, we arrived at our hotel in Grand Rapids. Tomorrow we have one of those intense setup-show-strike days. This might be our company's only one this year, though in the past we'd have them all the time.
This morning, when we drove off from the hotel in Canada, the local presenters and volunteers came to send us off. As our bright yellow bus rounded a corner and stopped at a red light, I spotted one Chinese man who was still standing there, looking at us, by then a few blocks away. He wasn't waving, as he had been a few moments prior, since we had already driven away. He was just literally seeing us off.
Chinese have this tradition that I found very touching the first time I experienced it. When they send someone off, let's say a guest at their home, they will stand there and watch the person drive off until the car disappears in the distance. This sometimes leads to a little goodbye dance, where the person drives away, then turns around to look back and wave, then keeps going, then stops the car and waves again, and then finally disappears. This same goodbye scene can be played out in other settings, too—if they walk someone to a subway station, for example, they will stand at the top step until the person disappears entirely underneath.
Maybe lots of other cultures do this, too. We've definitely seen or done this kind of thing at airports, right? And it's in movies at train stations or as a transatlantic ship leaves the port. And it's in novels, where friends walk each other out to the edge of the village, unwilling to part.
But I've never seen it performed so unfailingly, even on the mundane occasion of dropping a colleague off at home, as with my Chinese friends.
Which brings me back to the man in the blue jacket and black baseball cap watching up stopped at an eternal red light. He was part of the crew in charge of guarding our vehicles 24 hours a day. We've had this kind of security for our vehicles ever since someone, and we think we know who, tried sabotaging them in a series of tire slashing and fuel tank tampering some years back. From that day on, countless volunteers around the world, many of them Chinese people who don't speak any English, have sat in their parked cars all night long watching our buses. And we tour during the winter. In Canada.
They do it out of support for Shen Yun and what we do. They want no recognition. They take shifts, so we don't even ever see the overnight watchers. I've never, in all these years, heard even one of them complain. But I've seen their cold red noses and wind-dried cheeks as they've sent us off. And I saw the man just standing there alone. I tried waving at him, but he couldn't see me inside the bus. We were off to the next city, and he went back to his family and to catching up on missed work after a week's vacation spent guarding our buses, and not wanting to say goodbye.
Jan 12.
Sunday afternoon and we are right before our sixth and final performance in Mississauga. Many backstage hallways are decked with posters, often signed, of artists and companies who performed there. Some are historic—great legends that have barely been captured even on video, and others are more contemporary.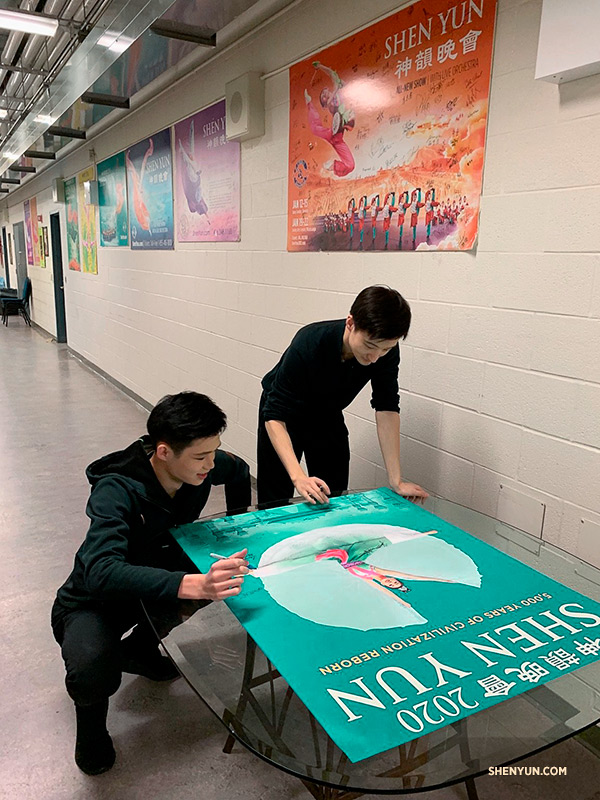 Here in Mississauga, it's like an homage to Shen Yun.
As you walk down the long hall that runs parallel to the back wall of the stage, one entire side is covered with Shen Yun posters from every year since we first performed here in 2012—each autographed by that year's entire company.
This leads to a little ritual as performers, usually in free moments after a meal, wander over to look at the signatures. They look for their own autographs. They look for friends in other groups. They're reminded of people they had toured with five, six, seven years ago. They find people who have since retired, or left and gone on to do other things. Blasts from the past, I suppose not unlike looking at class yearbooks.
And of course, there's the signing of the new poster. Some add a little flare—a mini drawing of their viola, or an amusing spot to sign a name, like on the pictured dancer's foot. Next year, another one of our groups will add theirs to the collection, on a poster yet-to-be determined, for a performance yet-to-be created.
Jan 11.
Alright, I have an answer for you to the question below (Jan. 9).
I'm writing to you from the dressing room here in Mississauga, Canada, typing quietly so as to not wake the napping conductor. We are between two performances on the standard Saturday doubleheader. This afternoon, I noticed the audience here had a great eye for detail—they were following all the little subtleties of the performance very closely and reacting instantly. It was a lot of fun.
Not to fall behind our audience, I paid particularly close attention to how the music and the dance matched in one story in the second half, and how the three characters—Taoist man, lady, and lady's father—aligned with three instruments—cello, violin, and viola. And yes, after following the dancers in the wings, tracking them upstage, looking and listening carefully, I have an answer. The viola is the father, the cello is the Taoist, and the violin is the lady.
Without placing a call to a composer (as that would be cheating) here's the evidence at my disposal:
We have already established that the light violin solo represents the young lady with the long braids. The concertmaster yesterday told me as much.
The young Taoist gentleman's theme, not quite a leitmotif but clearly recognizable, is played by the cello even after the trio is finished and the father recedes to the background for the duet between his daughter and the Taoist.
This leaves only the viola to represent the father. And, if you think about it, it makes perfect sense. The father is a character between the two young partners and their matching spiritual aspirations of seeking the Way. He is supportive, but he is mostly an intermediary who introduces and blesses them. And between the two string instruments of cello and violin, there is only the viola.
It only took me 15 shows to figure that out.
Jan 10.
(This post is a continuation of yesterday's topic, so if you haven't read that, you can scroll down to see that first and then come back.)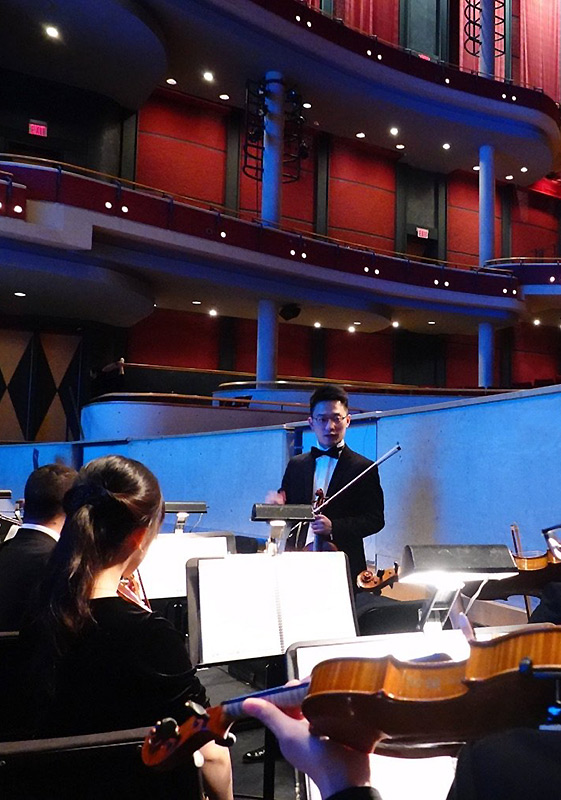 So, in exchange for me chiming in on the debate that started yesterday, the concertmaster has agreed to tell us a bit about what a concertmaster actually does. The role may be obvious to anyone who's played in a classical orchestra, especially in the strings section. But that's not the majority of us. So here's a brief overview:
The concertmaster is like a bridge between the conductor and the rest of the orchestra, starting with the strings. He communicates the conductor's wishes for interpreting the music and how it should sound.
The concertmaster sits to the immediate left of the conductor. That's why the position is also called "first chair." In Italy, the concertmaster is actually called la spalla, meaning shoulder. That's because the concertmaster is the person the conductor can, metaphorically and literally, lean on for support.
He or she—he in this case—is in charge of leading the string sections, or, more accurately, leading the first violin section.
In the early days of the symphony orchestra in Europe, there was even no separate conductor—the concertmaster would lead the orchestra.
The concertmaster typically plays all the violin solos in the performance.
The concertmaster often provides decisions about bowings for new music so that the entire string section plays in unison.
In symphony performances, like Shen Yun Symphony Orchestra, the concertmaster, usually Chia-Chi Lin or Astrid Martig, walks on stage after the rest of the orchestra but before the conductor, receiving a personalized round of applause.
The concertmaster leads orchestra tuning before a performance. This is not just a formality, but an important preparation for the show. If the concertmaster hears a section or an instrument out of tune, he can ask them to repeat the note and correct it.
And, right before the performance starts, in the final seconds before the curtain comes up, after the conductor's spotlight turns on and he stands up, the concertmaster and conductor shake hands. This is a sign of mutual respect between the conductor and the orchestra, with the concertmaster being a representative of all the musicians.
You can see why the concertmaster has to be one of the most skilled musicians in the orchestra, a leader and strong player with clear bow gestures, a violinist with good musicality and impeccable timing, and someone who can adjust and respond quickly, especially in a performance that involves synching with dancers on stage.
With Shen Yun's seven orchestras, we have seven concertmasters, each with a very different personal story. Our group's Tseyu Chang is now in his second year as concertmaster. Born in Taiwan, he has been with Shen Yun since its founding in 2006, and has played in well-over 1,400 performances as part of the dance production, as well as eight years with Shen Yun Symphony Orchestra, including at Carnegie Hall and other vaunted concert halls around the world.
Still, he wants to know our opinion—is the cello the Taoist and the viola the father, or the other way around? I'll have to watch and listen for it again tonight during the performance and get back to you.
Jan 9.
"Does the cello represent the man or the father?" our concertmaster asked me. It seems like he was in the middle of a debate with another musician, perhaps a cellist, and needed an arbiter.
"What are we talking about?" I asked.
"You know in the trio, between the young Taoist, the young lady with the handkerchiefs, and her father? The violin represents the lady, but there's a cello and a viola representing two men. So, who is who?"
Okay, so now I knew what he's referring to—in our second half we have a story in which a young Taoist, who is sort of like a friendly wizard, has a magical instrument that can make anything out of thin air. He amusingly uses it to get a young lady out of a tight spot. The two then discover they have a spiritual bond.
Along with her supportive father, a short trio ensues. The solo instruments are a cello, viola, and the violin, performed by our concertmaster.
But whose voices are the instruments sounding? The lighter violin is most certainly the nimble lady with long braids. But is the deeper cello the young Taoist, full of depth and introspective wisdom? Or perhaps it's the viola, an instrument in the middle range, that represents the Taoist and the balance he has found with the Way of the universe? In that case, maybe the cello represents the elderly father, its rich tones resonating with the depth of his life experience.
Or do neither represent either one nor the other, and like two or three sounds blending as one, they represent souls coming together in a moment of Taoist predestination?
I'll get back to you with some answers Saturday.
Jan 8.

Today, as we performed our first show in Mississauga, an interview I did right before tour with American Thought Leaders in New York was broadcast at the same time:
"Shen Yun Shatters Communist Party Narratives, Prompting Attacks by China's Regime—Leeshai Lemish"
Here it is, if you're interested. Apparently, some people didn't know Shen Yun wasn't Chinese government propaganda. Once they found out that the CCP is against us and has been try to sabotage us all this time, they decided they must see the show and went to buy tickets.
Jan 7.
I woke up early this morning and saw a leg on the wall. My roommate, a dancer, was upside down in his bed, his left leg stretched up flat against the wall and pointing at the ceiling; his right leg not sure where. He was fast asleep.
As I went to brush my teeth and wondered whether my toothbrush with its new battery was so loud it would wake him up, or maybe it wouldn't be as loud if I didn't use my mouth to imitate a guitar's whammy bar, I also pondered whether all dancers have unusual ways of sleeping. A couple text messages later, I have an answer for you:
No, but some do.
Most sleep quite normally, inserting themselves between the secure hotel sheets and, when the sheets are tucked too tight, trying not to pull a hamstring as they kick them loose. But some dancers are a bit more unique:
One of our principal dancers like to sleep facing up in a horizontal split, legs and arms stretched 180 degrees out to the side. As you'll see, the stretch-sleep is a common theme. 

A common variation of that is used by many dancers for napping: they get into a side split, then lie face down and stretch their arms out to the side as well. Most mortals cannot get even close to this position, let alone find it a relaxing way to doze off. 

Another popular one is a front split-sleep, head to knee. One dancer has been known to fall asleep in the hotel room doing a vertical front split, that is, one leg up against the wall, leaning into the wall. 

Hard mattresses are preferred for back support, and on occasion some of the guys have just taken their beddings to the floor and slept there, leaving the plush sinkable beds cold. 

Some don't use any pillows; others arrange all eight pillows from both beds in some kind of sandbag bunker formation. 

Most of the ladies don't use pillows, but many bring a stuffed animal. 

A few dancers have mini humidifiers, especially for dry Canadian hotel rooms. 

Napping at the theater has its own set of tricks:
Three chairs and a shirt over the face is a typical method. 

Dragging the flipping mats into a quick-change room and napping there is another. 

One time last year, a dancer took an empty costume suitcase and used that as a base for the torso and upper body, basically sleeping in a suitcase with legs outside of it. 

Others have special inflatable German camping mats. 

And then there are those dancers who don't sleep much and are just up after four hours raring to giddy up. 

Speaking of which, my roommate has now joined us in the lobby ready to go to theater for training on a non-show day. Let me go ask his permission to post this.
Jan 6.
Wherever we go, the local presenter provides delicious catered meals for us, often with home cooked specialties. Getting enough to eat on tour is not the problem, quite the opposite. HOWEVER, what happens when you take a group of people that every day have their food provided for them, and give them one day off to choose what to eat on their own?

I went to Whole Foods and got a huge salad. I topped it with tofu, falafel, and of course, macaroni and cheese. Here's a mini-survey of what our ORCHESTRA members had today:

Big Smoke Burger burgers
Lanzhou beef noodles
KFC
Amaya Indian food
Chipotle salad
Fish and chips
Purple rice with Korean bulgogi beef and vegetables
Instant noodles….

Meanwhile, the dancers got their physical workout today by running to the mall, as it was too close to Uber, too cold to walk leisurely.

Overall, a rare relaxing day, and back to training tomorrow.
Jan. 5
With whoops and hollers from the audience at curtain call, we finished our last performance in Montreal. Less than two hours later, we were already heading west to Mississauga. Dancer Betty Wang had just posted a blog about how mild our Canadian weather has been, so of course we hit a snowstorm half way, which added another hour to the five-hour trip. I'm not saying it's her fault. I'm not saying it's not.

Tomorrow will be our first break day since we left for tour on Christmas morning. Some of us are going to go watch the new Star Wars movie. A few dancers are still debating whether to go laser tag or archery tag. Some will have a big salad at Whole Foods. Most will catch up on sleep. Dancers will still have their training sessions, and some musicians will literally seize the day and not let it go, practicing for hours on end. Our harpist was trying to figure out a way to get her harp off the truck (parked somewhere else) and into the hotel. Violinists have it much easier.

And finally, something we take for granted but I still get a kick out of is how we keep in touch with the other groups around the world. This afternoon, during intermission I went back to my dressing room and, as I've done ever since I became a dad, checked my phone to make sure there's nothing urgent. I had a message from a friend in another group who had a question for me. They were in Stockholm. As we wrap up the brief texting conversation, he asks: "Do you have a show today?" "Intermission," I say, wishing there was an abbreviation for it. "Haha same! Last show of 2-2." Six hours a head of us in Sweden, they were finishing the Sunday evening performance of their double-double.

"Double jiayou then," I say, meaning "add oil" in Chinese. "Jiayou," he replies. And back each of us went to our second half performances, continents apart.
Jan. 4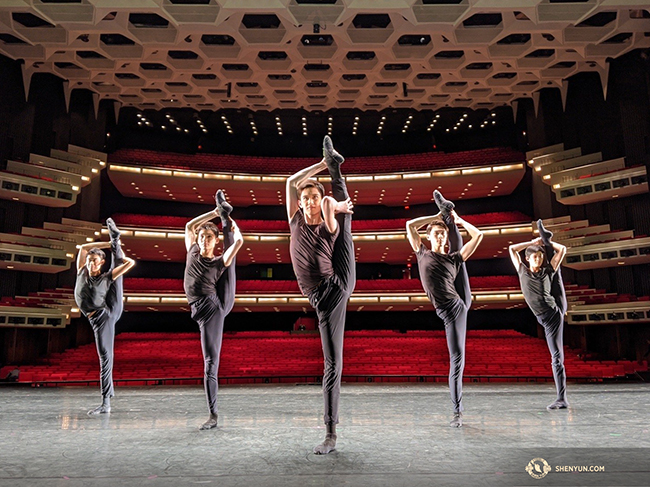 Before our second of two shows today in Montreal, dancers warm up on stage. The beautiful thing about this photo (courtesy of dancer Ben Chen), is that they actually weren't posing for a photo, they just happened to be stretching in formation. From left: Jun Liang, Rubi Zhang, Shawn Ren , Bill Hsiung, and Teo Yin.
Jan. 3
Most people have a favorite kind of day on tour. Probably break day is a popular (or maybe universal) one. There aren't many of those, though, so better not get too attached.

I've never heard anyone say their favorite day is setup day. Depending on your role, those days can go 16 hours - from early arrival at the theater to sound check, rehearsals, a performance and drive back to the hotel. The ultimate setup day is the setup-perform-strike day. Those might happen a couple times a season and, for those involved in production, run from 7:30am to past midnight. Historically speaking, we even had a handful of setup-two shows-strike days. Those behemoths usually involved entering the theater at 1:00 am, setting up until about noon, doing a doubleheader, followed by strike. I remember we did one in Prague, and another in Dublin, which was followed by a VIP reception after the second show. By the time we were mingling with the dignitaries at this reception, we had no idea what we were babbling about.

I've also never heard anyone say they like travel days best. But maybe there's a person like that out there.

Some like two-show days best. And for those in our company who do, they get to enjoy a day like that tomorrow. These people say they like the simplicity of a day that revolves entirely around performing, and the joy of interacting with the audience that much.

Others may like the days of one performance in the evening. The day slowly builds in a crescendo toward a grand finale.

My favorites are the days with the one show in the afternoon. Get up early. Have breakfast or hit the gym. Go to the theater and prepare for the show. Have a quick lunch. Go on stage. Then an early dinner, which I think is a good reason to eat a little more. And then, a nice relaxing evening that can be spent with friends, exploring a new town, just relaxing in the hotel, or even being productive at a coffee shop. Today was that kind of a day.

Bonus: For some reason, our Fridays so far in Canada have featured matinees, not evening performances. Traditionally, our weekends featured shows on Friday evening, two on Saturday, and an afternoon one on Sunday. In spite of being on Friday afternoon, they theaters have been packed and very energetic. Perhaps someone can tell me what the rationale is. But don't get me wrong, I love it.
Jan. 2
We're now getting ready for our first performance at the newly renovated Place des Arts. As the orchestra and dancers rehearse and I have a quiet moment in the dressing room, I notice they really went all-out with the dressing rooms. If someone needed a model for what a dressing room should include, this dressing room - shared by the conductor and me - is it.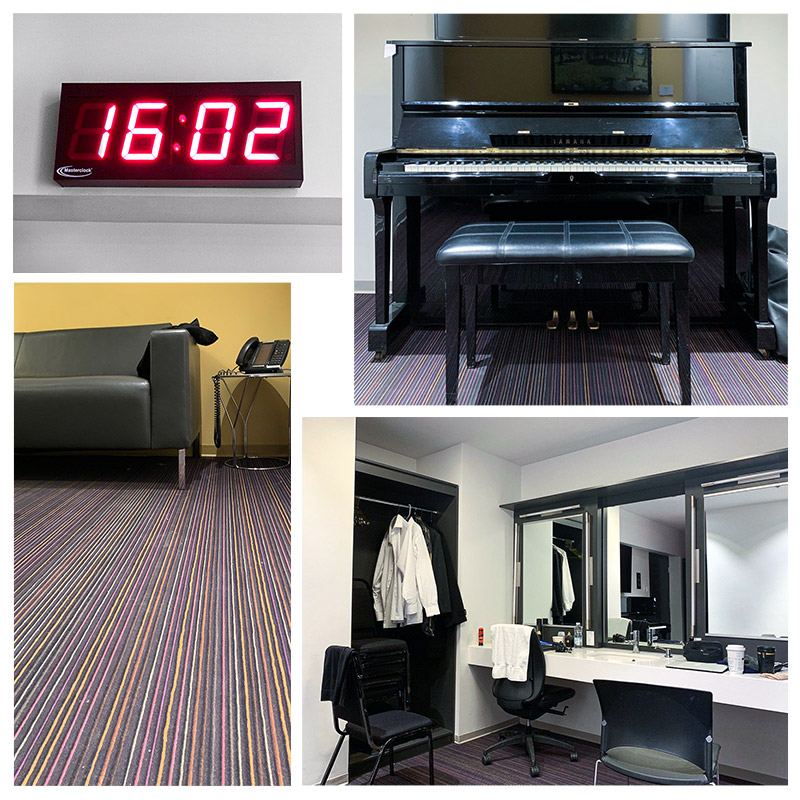 It starts with the code on the door for extra safety. Enter a sprawling, state-of-the-art room set up for two with (in our case) his and his costume racks, two granite-countertop spaces, two mirror sets framed by lighting fixtures, divided by yet another mirror above the sink. The chrome faucet allows you to control the hot water (which you definitely can't take for granted with all those sensor-activated faucets that help you save water but don't help you shave). The newly renovated bathroom features a separate sink (with the sensor) that allows for dual use of sinks at critical pre-show moments, as well as a shower and charcoal tiles. The floor is carpeted in a subtle retro-'70s motif. California closets and an elegant glass coffee table match the lush sofa that is at the just the right length for lying down. The room has its own thermostat. Conveniently located sockets for charging electronics complement the free wifi (password kindly provided for us in advance and posted on the wall). A dial moderates the volume of the stage feed, and a huge red digital clock makes it impossible to not know when it's time to be somewhere. Finally, a piano, while wasted on me, makes it a perfect room for our conductor who has been known to compose new melodies while just playing around on the dressing room Yamaha. I want to pack this dressing room and take it with us on tour.
Jan. 1
Just arrived in beautiful Montreal. A bit of snow flurries on the way, but overall we've had excellent weather for a Canadian winter so far.
Whenever we switch cities and venues, it can actually affect quite a bit. A difference of a few feet in the width of the stage can alter dance formations. The size and shape of an orchestra pit impacts how musicians hear each other.
For MCs, Eastern Canada presents a unique set of challenges.
In Ottawa, we spoke primarily English. But it being the capital and close to French-speaking regions, we also included some French, and, being a Chinese production, we had to have Chinese. So the script was something like 50% English, 25% Chinese, 25% French. So for Ottawa I partnered with Catherine Fang who did the French, while I did most of the English in Chinese.
Then in Hamilton, I was rejoined with my regular partner, Alice Liu, and we did the usual English-Chinese script.
Now in the predominantly French-Speaking Montreal, Catherine will be back on stage, and this time the script will be 50% French, 25% English, and 25% Chinese.
The challenge in saying three different scripts in three consecutive cities to start off tour is to keep track of which version you should say when.
I remember the first time we did a trilingual script. It was very ad hoc. It was our first performance in Montreal in early 2007, and I was only about 10 days into being a professional MC. My partner and I had prepared a French-Chinese script, with her doing the French and me doing the Chinese parts. Then, during intermission, the local presenter came up to us backstage. "I'm sorry," he said, "but we have a lot of audience members who came from a nearby town where they actually only speak English and they're having a hard time following you. Could you please add some English?"
Only minutes before the start of the second half, we didn't have time to rearrange all of what we were going to say. We had no time to rehearse. So in the seconds before going on stage each time, we would look at each other and say: "Ok, me-English, you-French, me-Chinese, me-English, you-French, me-English. Go!" And on we went.
Trilingual presentations are now a common part of our performances not only in Canada. As I write this, another one of our MCs is doing the same in Japan, and yet another in Sweden. We've done this for years. But still, I better get a good night's sleep.
Dec. 31

New Year's Eve... and we just finished a matinee performance in Hamilton, Ontario. It's a Shen Yun tradition that all performers participate in striking after a performance - taking down the stage, packing the costumes and gear, and loading the truck. It allows us to wrap up quickly and be super-mobile, hitting more cities on tour. It also keeps everyone, even the biggest stars, humble.
Today's strike feels extra festive. After all, we just completed the last show of the year. Soon the performers will be on their phones calling family back home and friends in other groups around the world. But first, they have a message for you in the video: Happy New Year! May you and yours have a wonderful, safe, and meaningful 2020!
Dec. 30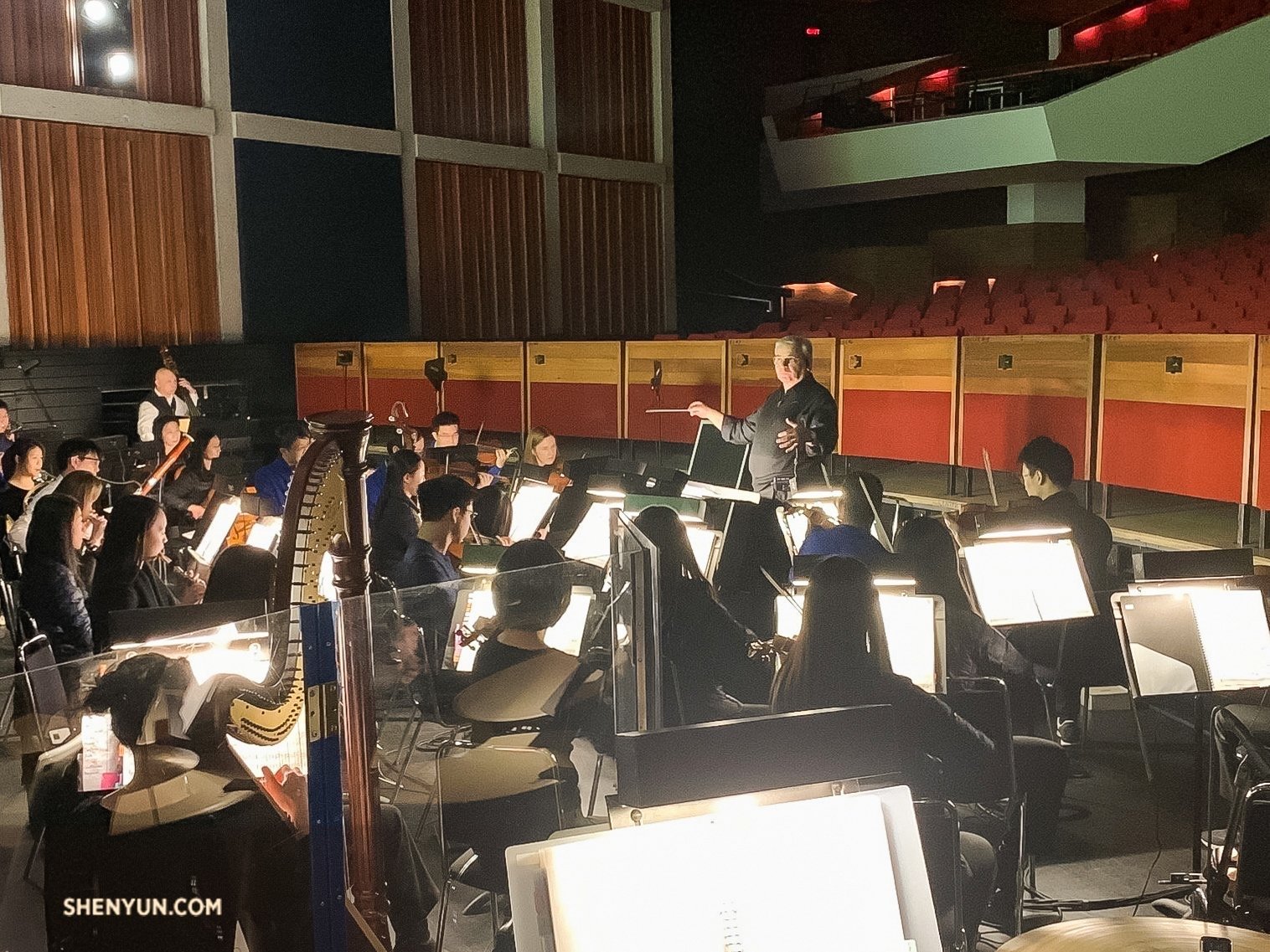 A new day in a new theater, well theatre here: FirstOntario Concert Hall in Hamilton. At every new venue in addition to setup and sound check, the orchestra rehearses with the dancers. Conductor Milen Nachev is keeping a close eye on both the orchestra and the action he has to match on stage.
Dec. 29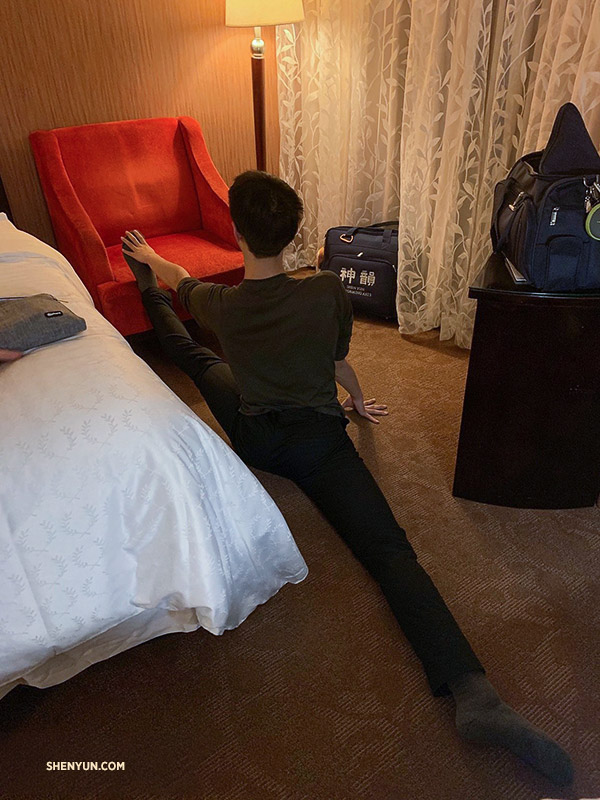 Just arrived in Hamilton after a rainy drive across Ontario. What do Shen Yun dancers do as soon as they get to their hotel after hours on the bus? Grab whatever furniture they can find, and stretch.
Dec. 28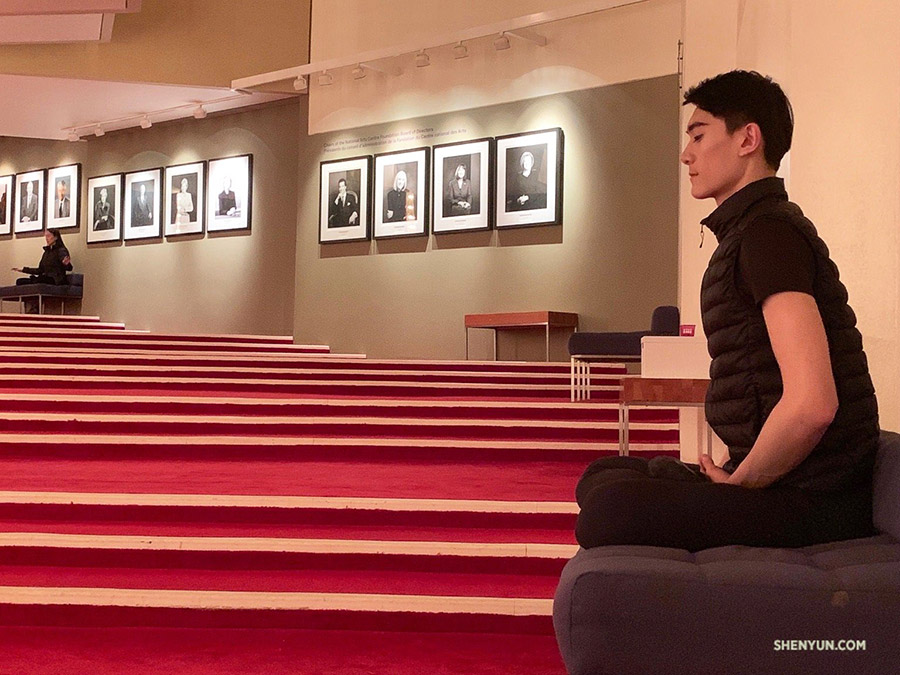 Our first two-show day of the year. We're now between shows, and at this time performers can be divided into two groups: those who first nap, then meditate; and those who first meditate, then nap.
Dec. 27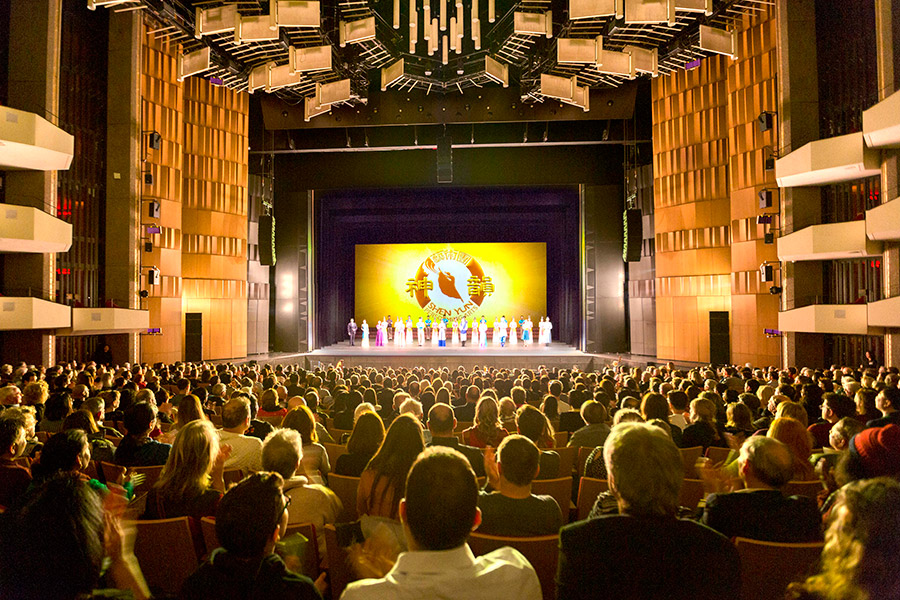 First show was terrific! Always good to get underway and be back facing the audience day after day. The audience here in Ottawa especially loved a couple of the funny storylines and some of the surprises in the animated projection, as well as our soprano, Jiang Min. Just all around a great way to start tour. Heading to the theater now for a matinee.
Dec. 26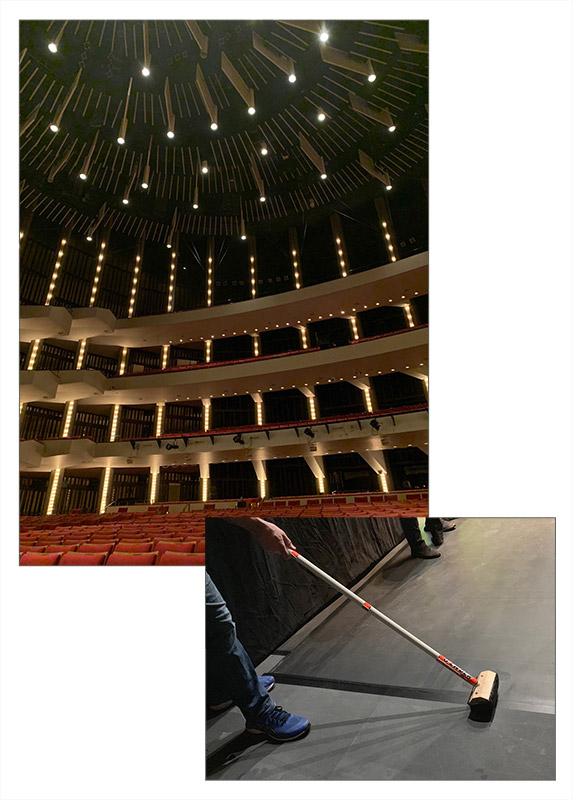 In a few hours this theater will be full of people and energy and excitement and dance and music and color. First setup on tour here at National Arts Centre in Ottawa and I've already learned something new - a Canadian theater use for a curling broom... They use it to tape down the Marley dance floor.
Dec. 25
Merry Christmas and Happy Hanukkah! Today's also our big day - this morning we said goodbye to our families, loaded five months' worth of stuff on to the buses, and hit the road. For the first time we had three of our seven companies leave at exactly the same time - one to Stamford, Connecticut, one to Dallas, Texas, and we are going north of the border to Ottawa. It's a beautiful Christmas morning, blue skies and just lovely to be outside, or on the bus. Opening night tomorrow - can't wait!

Leeshai Lemish
Master of Ceremonies