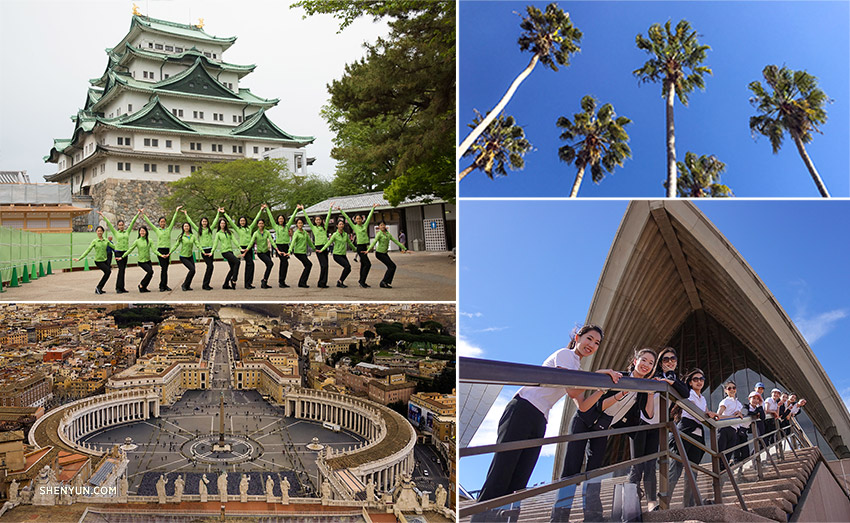 Star Survey: Favorite City
Shen Yun 2019 has come to a successful conclusion. After touring 150 cities across four continents, our performers have truly seen, explored, and, not to mention, tasted the world.
After their five-month-long adventure, we asked some of our principal dancers: What's your favorite place to visit on tour?
Michelle Lian: One of my favorite cities is Rome. I like the atmosphere of Rome. It's elegant and grand. I loved seeing all the beautiful artifacts. Also, the gelato is delicious.

Elsie Shi: Taiwan, my home country! Every time I perform in Taiwan my relatives attend the performances, which is great. I also love coming back to all the local delicacies (that's to say, street foods) of my childhood: bubble tea, braised skewers, fried chicken… stinky tofu! Plus, I like how convenient Taiwan is—there are the convenience stores on almost every block that are stocked with all sorts of little goodies, bubble tea shops (also on almost every corner), and stores like Poya or Carrefour where I can find everything I need. There's also no language barrier, either, and it feels so much like home… because it is!

Xinghao Che: There are many beautiful places that we've visited on tour, but if I had to pick one that'll be Istanbul, Turkey in 2010. I was mesmerized by the cultural diversity of this city. As you walk down the streets you can feel the layers of history unfolding before you.
Kaidi Wu: My favorite place to visit on tour is Japan. In my experience, Japanese people are so welcoming and polite, and they seem to always have a smile on their faces. Every time you enter or leave a store, you will hear the shopkeeper's greetings. And no matter where you go, the streets are always very clean. I love Japanese food too, because everything's made with the heart. The portions aren't too big. And everything's presented very nicely, which makes it look even more tempting.

I could feel that the Japanese people really value traditional culture and etiquette, and that's also why I love Japan. Being in Japan gave me a feel for perhaps what ancient China was like, when people also really valued traditions and etiquette. My experiences in Japan showed me that if you put your heart into what you do, you will definitely affect the people around you. And making others happy and seeing them happy will make you happy too.
Jaling Chen: Australia! Our accommodations there are always equipped with full kitchens. When we have time in the mornings, we can cook our own breakfasts, which is a real treat on tour. I like having a leisurely breakfast out on the balcony with my roommates, with a cool breeze blowing. I also really like barbequing on the beach, because not only is Australian lamb delicious, but we also have a lot of fun taking photos of each other doing dance poses and flips.

Hsiao-Hung Lin: My favorite place would be Honolulu, Hawaii. Maybe because it's a very popular holiday destination, but the people there are always smiling. And no matter where you go, to the beach or down the streets, there's always a happy ambience. Hawaii is usually the final stop for whichever Shen Yun company takes the Asia-Pacific leg of tour. It's when we return to America after five months and more than a hundred performances, and everything—from the beautiful beaches to the fine sunny weather to the cheerful atmosphere and smiles—makes it hard for me not to love this city.

And there you have it, some of the principal dancers' favorite destinations for tour. What are their favorite vacation destinations? Stay tuned to find out.
The 2019 season may be over, but preparations for 2020 will begin in no time. Keep up with us for updates soon!