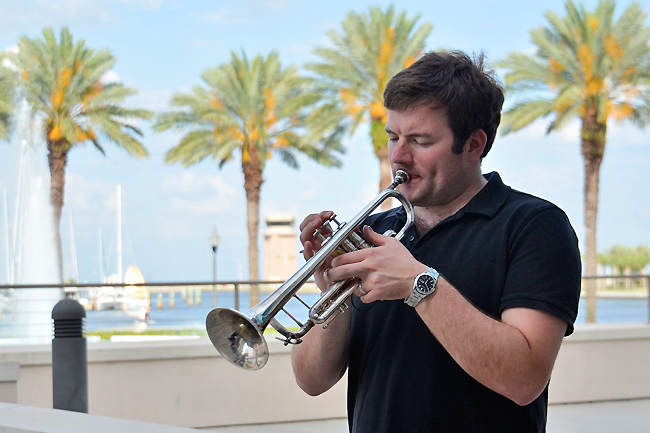 Trumpet Trekker
ERIC ROBINS' UNLIKELY JOURNEY TO CARNEGIE HALL
Trumpeter Eric Robins is the king of musical chairs—he never knows where the music will take him, or which seat he'll be in next.
Most people follow their hearts, but Robins follows his ears. When duty calls, he gets whisked away to faraway lands, from Mexico to Kazakhstan to China. But whether he's on a beach in Florida or at a Patriots' football game in Boston, his trumpet is surely nearby. It's his brass buddy that opens new doors for him, providing countless opportunities to explore the world.
His latest mission? To meld classical Western music with the melodies of the ancient East, all in a seven-city tour with the Shen Yun Symphony Orchestra. Starting at the end of September, Robins will travel with the symphony from coast to coast, performing at Carnegie Hall October 5.
The symphony orchestra is part of Shen Yun Performing Arts—the company whose dance and music production packed Lincoln Center in April. Based in New York, the company debuted the Shen Yun Symphony Orchestra at Carnegie Hall last fall. It is the only orchestra that accommodates both western and Chinese instruments as permanent members, performing classical masterpieces as well as original compositions written in traditional Chinese styles. This dulcet bridge between East and West is graced with a mosaic of musicians from all over, making Robins just the man for the job.
***
Since childhood, Robins has been surrounded by music. His mother played the piano, his sister the French horn, and his father could strum one song on the guitar. But it was his grandfather who taught him how to blow into his first horn. Every week, he took lessons in his grandfather's basement, surrounded by his grandmother's paintings and the smell of the Illinois countryside.
"It was always for fun," he recalls, "it was never a struggle."
Robins continued playing throughout high school, but didn't consider turning professional until senior year. He worked as a paperboy, a French and Italian restaurant cook, and, at one point, thought of working at State Farm Insurance, based in his hometown Normal, Illinois. But when he saw the four-by-four cubicles and windowless office setting, he knew this job wasn't for him.
So he decided to fine-tune his skills and become a professional musician. He then realized he had stumbled upon the felicitous track of turning a hobby into a career.
"I always had little blinking lights guiding me, telling me I was on the right path," says Robins. He saw how other musicians were fully immersed in what they were doing, and their dedication inspired him. "I just needed to keep going until I found a deep connection, a deep passion."
He graduated from the University of Illinois with a bachelor's in music, and went on to Boston's New England Conservatory. He then performed with several companies, including Boston Symphony Orchestra and Korea's Daegu Symphony Orchestra, his work taking him around the world.
Last year, he joined Shen Yun Performing Arts to play in the orchestra that accompanies its dance production, touring North and South America with over 100 performances. This December, he will join the company for a tour of Asia and Australia.
But first, he will join Shen Yun's accomplished trumpeters Kaspar Martig and Alexander Wilson, along with four conductors and some 100 musicians in the grand Shen Yun Symphony Orchestra. The symphony combines the company's four touring orchestras as they play mostly all-original works that have become fan favorites—pieces like A Dunhuang Dream, Dancing for the Divine, Snowflakes Welcoming Spring, and Creation.
"I like big brass sections, strings, woodwinds, a nice timpani player in the back, concert halls, the stage," Robins says of the experience. "There are so many magical things."
In these pieces, Robins uses his articulation and dynamics to portray different characters and moods, and occasionally take risks. "Always within the box, though," he chuckles. When practicing, he tells himself that "principles remain the same, but methods can change, and within those methods, I can have different approaches."
As a professional, the standards are higher, the responsibilities heavier. Trumpet playing can sometimes seem mechanical and monotonous, blaring note after note, scale after scale. There are days with endless rehearsals, when Robins finds himself glued to a fold-up chair, tongue-tied from hurricanes of sixteenth notes, eyes feverishly chasing the conductor's magic wand.
But he loves tooting his trumpet. He has no regrets, because he always finds different ways to make work fun. As soon as he puts his silver horn to his lips, a vibrant melody brightens the entire room, lingering in the air before vanishing into the walls. Each note he asserts binds his audience with subtle confidence.
Now, as the Shen Yun Symphony Orchestra prepares for its first tour, Robins is preparing for another round of musical chairs. Again the trumpet trekker won't be sitting in one seat for long, because in most cities they'll only be playing one day. And those eager for a new musical experience have a chance to join the game and grab a (concert) seat before the music stops. After all, who wants to be the last one standing?