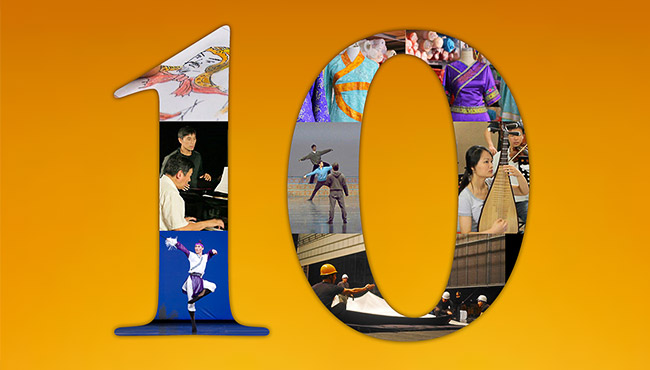 Shen Yun 2016 World Tour - by the Numbers
WHAT GOES INTO ONE SHEN YUN TOUR?
Numbers can be fascinating. Though intangible, they permeate our reality and give things we take for granted, well, values.
And here we are, at the end of another Shen Yun season—and this season is a nice round number: 10. So after five months touring five continents, let's take a look at some of the numbers that go into one Shen Yun season.
4: groups touring simultaneously.
406: performances.
19: countries toured.
118: cities.

440: years of hard work for one dancer to perform one show, according to the proverb.
1,253,000: notes played by a single violinist over the course of the season.
3,184: times the gong was struck during performances.
1,552: total handmade costumes.
1,710: times a costume change had to be seamlessly executed in under 10 seconds.
52: total beards.
1,280: pairs of dance shoes used.
1,097: woodwind reeds used in a season.
4 conductor batons used.
472: number of times a certain principal dancer threw a prop on stage (purposefully).
1,920: number of times a certain monk was hit in the head by a Red Guard.
13,098: stage lights hung.
147.5: hours spent doing sound check.
32,211: miles traveled on plane by one company.
25,000: miles traveled on bus by one company.
99: miles more than the Earth's circumference traveled by bus.
24.7: miles traveled by piano during performances.
10: languages spoken on stage.
16: languages heard spoken on a Shen Yun bus.
30: average times a performer checked into a hotel.
330: average minutes, per person, waited at hotel elevator upon arrival.
104: total restaurant buffets.
137: number of birthdays on tour.
1,936,000: total pounds lifted manually while loading and unloading the truck over the course of a season.
6,120,000: kicks performed by dancers during their basic warm up routines.
492: flips performed by one principal dancer in a season.
360: "360° sideways somersaults," or "butterfly twists" performed by another principal dancer.
0: number of sick days taken by a principal dancer.
∞: number of audience smiles.