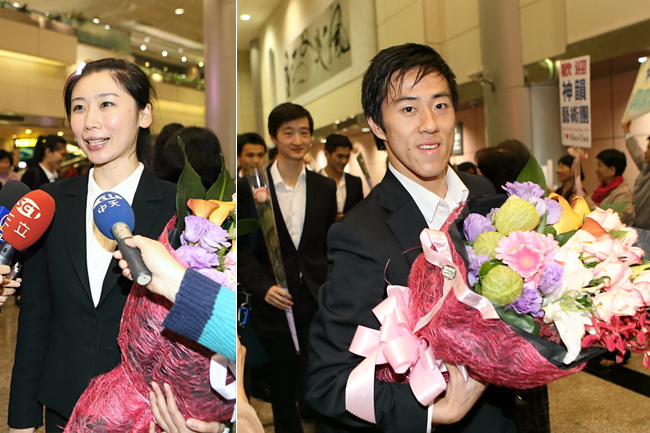 Shen Yun's Asia Tour Premiers to Full House in Taiwan
Last night, a sold-out house at National Dr. Sun Yat-Sen Memorial Hall marked Shen Yun's opening night in Taipei. The performance was the first of 45 shows in Taiwan alone, and launched the company's tour of Asia.
A day earlier, Shen Yun Touring Company was greeted at Taiwan's Taoyuan International Airport by adoring fans, flowers, homemade signs, and bubbly chants.
Several performers, including Principal Dancer Michelle Ren and emcee Leeshai Lemish were surrounded by local press, and the company paused for a group photo before checking into their hotel after a long overnight flight from Sydney.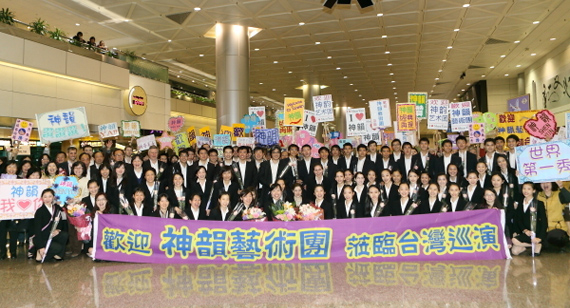 Last year, Shen Yun performed in Taiwan for over a month, each show playing to a packed house. This year, Shen Yun will perform for six weeks across Taiwan's eight major cities, making it the longest Taiwan tour in Shen Yun's history.
Ticket sales in Taiwan promise to be as strong as ever. In addition to Taiwanese in the audience, many mainland Chinese who cannot watch Shen Yun perform in the People's Republic flock to Taiwan to see the show, inspired by the company's mission of reviving their lost heritage.
The last few seasons, Shen Yun's International Company and New York Company toured Asia, while Touring Company mostly performed in North America and Europe. While several dancers have toured Asia with one of the other companies, for most of Touring Company's orchestra members, in particular, this is the first time performing in the East. What are they looking forward to?
Zeyu Tsang, Violinist:
"For my family, this is the first time watching Shen Yun with me as a violinist, so I'm eager to show them what we've been overseas working on. Over twenty-something relatives will come. Some watched Shen Yun in 2007, but our programs have changed since then—both on stage and with an even more dynamic orchestra. You know, as our flight arrived, I started to feel the anticipation. It reminded me of an old Chinese poem:
Approaching my hometown, feeling more nervous
I don't even dare to ask the neighbors about my family."
Yuen-Suo Yang, Principal Clarinet:
"It feels familiar… but distant! I'm having all kinds of complex feelings—especially excited and really happy. Since I went overseas to study music in the United States 10 years ago, this is actually the first time that I am coming home to Taiwan for professional reasons rather than just for fun. At almost every performance I will have friends or family attending—over 100 people! It feels like I'm here just for them. Because it's to share Shen Yun with them, it's a really deep and hard to describe feeling."
Elisabeth Reynolds, Violinist:
"This is my first time to Asia since I joined Shen Yun in 2006. The most exciting aspect for me is how natural it feels to perform Shen Yun here. Here, the cultural groundwork is already laid, and I can sense that our audiences receive and experience Shen Yun more on this basis. The world is big and we don't all think the same way, but Shen Yun can connect to people of all races and cultures in a way that's meaningful to them. It reminds me of why I joined Shen Yun in the very beginning. Also, because I have many Taiwanese colleagues and friends now, I'm looking forward to learning more about their culture. Just being here has already given me a new appreciation."
***
Meanwhile, Shen Yun's International Company is now touring the United States, performing this weekend in Denver, Colorado. New York Company will be in Minneapolis, Minnesota, and is getting ready for its European tour starting the first week of March.
February 20, 2013