Shen Yun Now at Kennedy Center for Two Weeks
WASHINGTON SHOWS BEGIN WITH A TRIBUTE TO U.S. VETERANS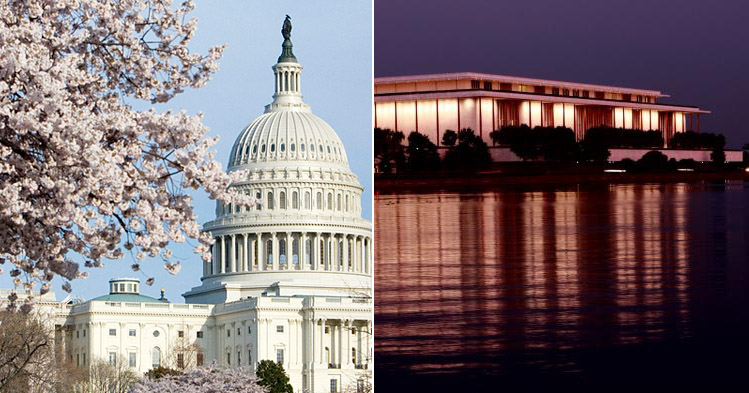 Left: Cherry blossom in front of the Capitol. Right: The Kennedy Center Opera House.
This week at the Kennedy Center, a celebration of the Cherry Blossom Centennial coincides with a celebration of 5,000 years of civilization. Outside, on the Potomac riverfront, the soft fragrance of drifting flower petals fills the air. Inside, dancing, music, and color fill the illustrious Opera House with ancient Chinese beauty.
Shen Yun Touring Company played the first of its Kennedy Center shows Wednesday. The premiere included a special tribute to Wounded Warriors, with some 200 U.S. soldiers and their families invited by the hosting organization, the Falun Dafa Association of Washington, DC, as honored guests.
Among distinguished attendees was former Secretary of the Navy B.J. Penn. "Each act has a message to it," he said, "it's a beautiful story." He said he and his wife are patrons of the Kennedy Center and regularly attend performances there, "but tonight was very special."
Noting the irony that this performance of traditional Chinese culture can only be seen outside of China, Ambassador Joseph Grover Rees said: "It's a shame when a culture as beautiful and as rich and as ancient as the culture in China has to be preserved in exile."
Shen Yun, said Institute of World Politics President Dr. John Lenczowski, "is telling the truth and accompanying it with beauty." And this, he said "is something that the ancient philosophers have taught us—that there is a relationship between beauty, truth and goodness."
And it was this power of the performers' art that touched U.S. government strategic planner Bruce Hollywood, who was impressed by how much feeling can be "expressed just through their bodies and the music."
"It's amazing that you can feel the emotion—I secretly wiped the tears."
Shen Yun will be performing at the Kennedy Center through April 1.
Come celebrate the blossoming of an ancient civilization!

March 23, 2012