European Parliament Vice-President Welcomes Shen Yun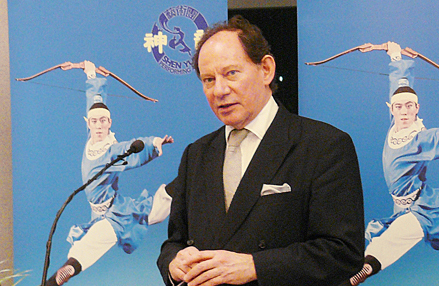 Mr. Edward McMillan-Scott hosting a reception for Shen Yun's Touring Company on
February 2nd 2011 at European Parliament Headquarters in Brussels, Belgium.
Mr. Edward McMillan-Scott, British Member of Parliament and Vice-President of the European Parliament, sent Shen Yun a letter of congratulations to honor the start of its 2012 Europe Tour.
In past years, Mr. McMillan-Scott hosted annual receptions at the European Parliament to welcome Shen Yun. He has commended the show for being a "fascinating insight into what China's culture used to be" and "a modern-day epic that can be enjoyed by East and West alike."
******
Shen Yun Performing Ars provides a fascinating insight into China before the Cultural Revolution and shows the beauty of its 5,000 year old culture. This unique performance unfortunately cannot be seen in mainland China today. I believe that anyone who appreciates the arts cannot fail to be impressed by this remarkable performance. I am happy to have welcomed Shen Yun Performing Arts to the European Parliament – the heart of democracy in Europe – on numerous occasions to launch their European tour.
The China of yesterday is represented by Shen Yun and I hope that it will also be the China of tomorrow. Democracy, human rights and freedom of speech should be available to all.
Let us hope that Europe and the rest of the world can match the courageousness of Shen Yun Performing Arts and tell the Chinese regime once and for all that we will not accept their gross and repeated violations of human rights.
These days, especially in China, it is increasingly difficult to break through the mass media and commercial messages to find something that is arresting and interesting. I think Shen Yun achieves this, and offers something entirely different and new.
I would encourage everyone to attend this very beautiful and enjoyable show.
I wish the whole team great success on their European Tour 2012.
Edward McMillan-Scott
Vice-President of the European Parliament
for Democracy and Human Rights
March 21, 2012