Feature Article: Principal Dancer William Li
Taste of Life Magazine is France and Canada's leading bilingual luxury lifestyle magazine in Chinese and English, dedicated to bridging East and West through a shared appreciation for the beauty and elegance rooted in both traditions.
In its September issue, TOL featured Shen Yun principal dancer William Li. Li has been with Shen Yun since 2007. He won second place in New Tang Dynasty Television's 2012 International Classical Chinese Dance Competition and third place in the same competition in 2014. Now principal dancer with Shen Yun Touring Company, he'll be performing across the U.S. and Latin America this season.
From TOL's A Monk and King: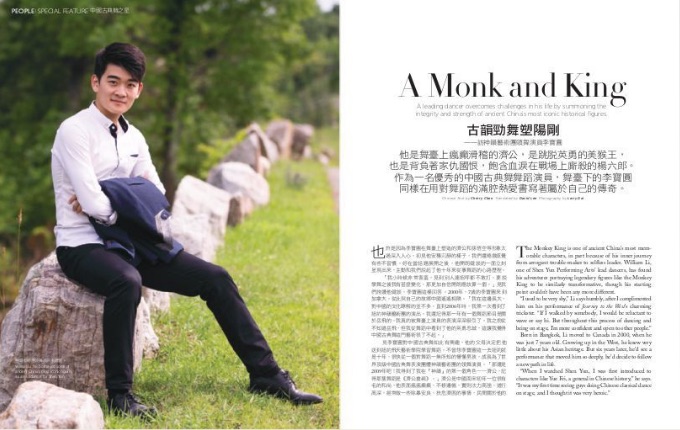 The Monkey King is one of ancient China's most memorable characters, in part because of his inner journey from arrogant trouble-maker to selfless leader. William Li, one of Shen Yun Performing Arts' lead dancers, has found his adventures portraying legendary figures like the Monkey King to be similarly transformative, though his starting point couldn't have been any more different.
Born in Bangkok, Li moved to Canada in 2000, when he was just 7 years old. Growing up in the West, he knew very little about his Asian heritage. But six years later, he'd see a performance that moved him so deeply, he'd decide to follow a new path in life.
Li never understood the masculinity and power that could be depicted by male dancers until he saw his first Shen Yun show… His understanding of the heroism, honour and virtue he saw in that first Shen Yun performance would soon deepen as he began embodying China's most iconic historical figures.
For those children who want to become dancers, Li sincerely advises them to "definitely keep working very hard, because the results take a long time for you to see. You can't give up halfway. It takes a lot of dedication. You will have to make a lot of sacrifice, but if you endure it, it's worth it."
"During curtain call at the end of the show, where you see the audience smiling and clapping and applauding—that is probably one of the best feelings for me. You can tell they loved the show," Li says. "It's something that nobody else can experience unless they go through that process, the training, the hard work."