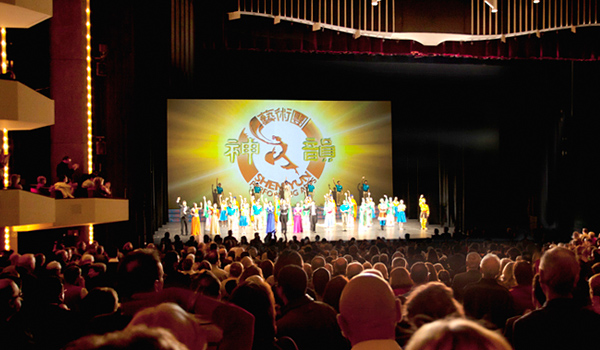 Ottawa Celebrates Holidays with Chinese Dance and Music
SHEN YUN'S CANADA SEASON PREMIER DRAWS ACCOLADES FROM THE CAPITAL'S ELITES
Shen Yun's International Company kicked off its 2012 season at Ottawa's National Arts Centre Monday as VIPs, including Prime Minister Steven Harper, Governor General David Johnston, and Ottawa Mayor Jim Watson sent in heart-felt greetings.
Established in 2006, Shen Yun Performing Arts draws upon ancient values distilled from China's 5,000 years of "divinely inspired culture." Audiences worldwide have been touched by the depth and beauty presented on stage through classical Chinese music and dance.
Parliament Member Garry Breitkreuz of Saskatchewan watched Shen Yun for the first time Monday and was amazed by the performance's beauty. "The costuming, the choreography, everything that's been put together here is really very well done," he said.
"The underlying message that we need to allow for that religious freedom, that spiritual development within people," the Parliament Member added, "will enrich our society in just a very, very helpful way."
Others were impressed by the expressivity of classical Chinese dance and its aptness for sharing traditional Chinese culture with a broad audience.
"Seeing it in dance really gives a feeling and a sensation of the deep history," said author Nerys Parry. "From Tibet all the way down to Tiananmen Square, it's absolutely amazing how big the culture is, how much it has to offer. I'm really excited."
This season Shen Yun will have three equally large companies simultaneously performing around the world. Shen Yun's International Company will continue the Canadian leg of its 2012 tour in Hamilton, Montreal, Kitchener-Waterloo, Toronto, and Mississauga.
Following a successful debut in Dallas, meanwhile, Shen Yun's New York Company will continue to grace theatres in the Lone Star State's Houston and Austin. And next Monday, Touring Company will premier at the Palace Theater in Waterbury, Connecticut, before returning to New York's Lincoln Center January 11.
Audience members in Ottawa, where Shen Yun has three more performances, say it's a show not to be missed. "I don't think there's another show in the world," said Parliament Member Breitkreuz, "that compares to this."
Surprise your loved ones with the perfect holiday gift by visiting the Tickets page today.
December 21, 2011