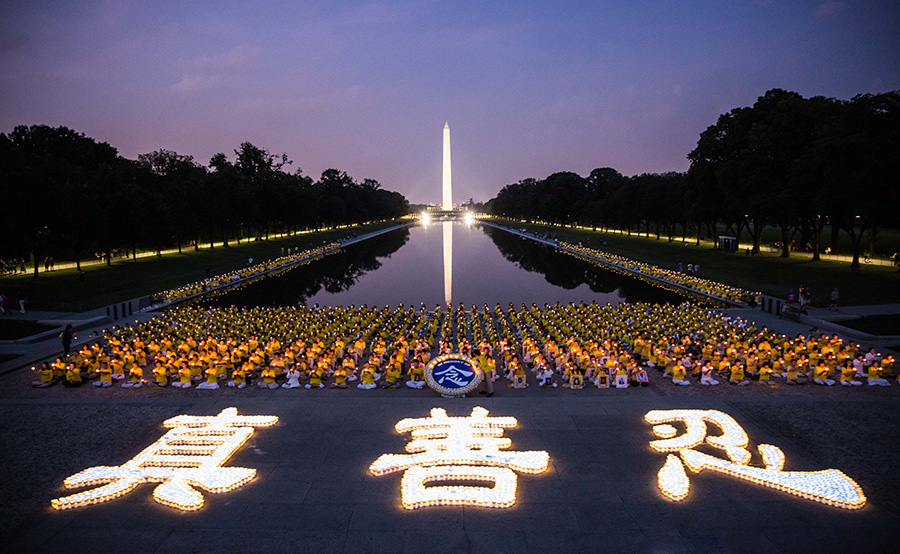 On Somber Anniversary, Shen Yun Artists Recall Persecution
TWO SHEN YUN ARTISTS SHARE THEIR EXPERIENCE OF PERSECUTION IN CHINA, AND HOW IT INFLUENCED THEIR ARTISTIC CAREERS.
As an American-based company, Shen Yun has become the new home for many talented artists from China who were once persecuted for their beliefs. Today, we sit down with two of those artists—choreographer Gu Yuan and pipa player Yu Liang—to hear their stories.
On this day 21 years ago—July 20, 1999—millions of peaceful practitioners of the spiritual practice Falun Dafa in China were turned into enemies of the state. Ever since, untold numbers have been detained, tortured, and even killed for their faith.
Falun Dafa, also known as Falun Gong, is a practice of gentle qigong exercises guided by the principles of truth, compassion, and tolerance. In the '90s, it became the most popular form of meditation and qigong in China. Many people recovered from their illnesses through the practice and also benefited from the teachings, which took improvement of one's character as the basis of wholistic development.
By 1998, one government survey found that 100 million people in China were practicing Falun Dafa, going to parks in the morning to do exercises, or practicing at home. Out of paranoia, the top Communist Party leader began to see this practice as a threat to ideological control, and set out to eliminate it completely.
An extralegal security force, which has been compared to the East German Stasi, was formed to carry out the persecution. Across the country, thousands of people from every walk of life were rounded up and jailed. Books were confiscated and burned by the mountain. State-run media ran propaganda hit pieces around the clock to justify the surging wave of violence.
A Celebrated Choreographer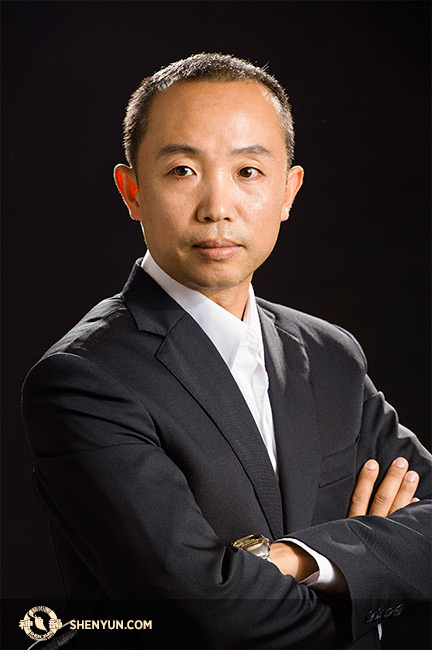 Today, Gu Yuan is one of Shen Yun's most accomplished choreographers. Every year he is responsible for some of the most fascinating stories that have become a staple of the performance. But you wouldn't know from his quiet demeanor the ordeals this unassuming man had endured.
"I had been enjoying the best three years of my life before the persecution," he recalls about the late '90s. "I had started practicing Falun Dafa. When I first studied the teachings, I felt a sense of enlightenment. I no longer felt lost in life."
"Professionally, I had already reached the peak of my artistic career as one of the top choreographers in China. I was versed in every style of dance," Gu Yuan says. "I was already at a point where I desired nothing. I had all the accomplishments I could ever want."
But then came July 20, 1999.
"After that, everything was lost in an instant," he says. "Higher ups from the Ministry of Culture came to speak with me. They told me I had a choice—either give up my faith, or lose everything. I didn't even hesitate."
Immediately they confiscated his job. His company. His salary. His house.
"My wife and I knew our careers in China were over. We knew the arts were always used to serve the Communist Party."
For many years, Gu Yuan was unable to pursue an artistic career, and resorted to other businesses to make a living. All the while he was constantly evading special agents trying to arrest him.
In 2007, hearing that a performing arts company called Shen Yun was being established in America, he saw a glimmer of hope of being involved in the arts again—this time for a much higher cause. In 2012, Gu Yuan immigrated to the U.S. and joined Shen Yun.
Contemporary stories of the plight and courage of Falun Dafa practitioners in China appear on the Shen Yun stage. When Gu Yuan choreographs these mini dance-dramas, he often draws upon his own experiences.
"In China, many times we went to petition the government. We've been held in detention centers, where the conditions were worse than even regular Chinese prisons," he says. "These things you see on stage—we experienced them. My wife, to protect the Falun Dafa book in her hand, was beaten by a gang of seven policemen, until they finally snatched it from her on the ground—just like you see in the dance."
"I remember clearly the image of a prison doctor threatening us with a huge syringe, saying, 'if you still continue to practice, I'll give you a shot of this!' This was the basis for the character of the prison doctor I designed that appeared in one of the dance stories."
Still today, many of Gu Yuan's family members are in China, living under the constant threat of the Communist Party and suppressed for their beliefs.
Plucked Strings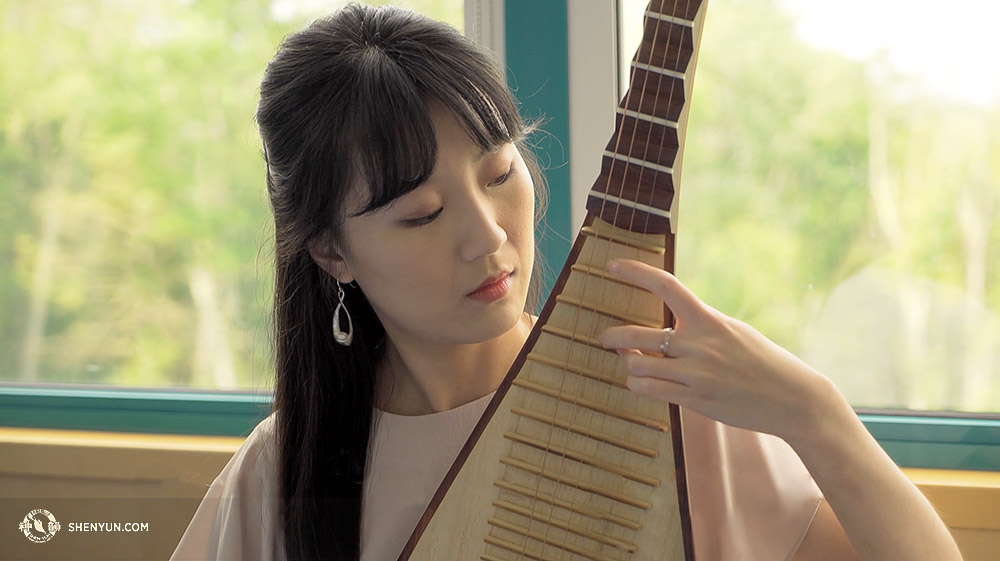 Shen Yun pipa player Yu Liang recalls the first time her mother was arrested for her faith.
"One morning in August 1999, my mother woke me up and asked if I was willing to head out and practice the Falun Dafa exercises with her, like we did in the past," she remembers.
"I said, 'Alright.' As a little kid, whenever we meditated I was fidgeting nonstop. But whenever I opened my eyes and looked over at my mom and the serene faces of all those people meditating around us, I was able to calm myself and close my eyes again."
But after just a few minutes of tranquil meditation, Yu Liang was suddenly disturbed by loud sounds all around her.
"I opened my eyes and saw a swarm of secret agents and policemen coming our way. Their vehicles were parked all over the place. Soon, my mother and the aunties in the exercise group were forced into their van. And just like that they were gone. I was the only one left."
Yu Liang was not even four years old.
The following year, her mother was released from detention. Her mother then went to petition the government over these abuses. Again and again she was arrested and detained.
"I saw her off many times, at night and during the daytime, in snow and sunshine. Each time, I eagerly awaited her return," she said.
By 2001, only Yu Liang and her father remained at home. Since she was not old enough to braid her own hair, her father took on this task, and her hair became a constant "bird nest."
"I asked him so many times, 'When is mommy coming back?' Each time, in a low voice, he replied with the same answer, 'Soon, soon. Mommy will be back soon…'"
Years passed. While Yu Liang attended elementary school, middle school, high school, and then college, her parents were the constant targets of bullying in their workplaces. At school, Yu Liang also faced harassment and interrogation for not wanting to join the Communist Party.
"The news of fellow practitioners—those uncles, aunties, grandpas, grandmas, big brothers and sisters I had known since I was a child—how they were illegally arrested, sent to labor camps, or jailed… it seemed endless."
"Each day in China, I lived in deep fear that those nightmarish times would come back to haunt us. I constantly wondered whether I would be next in line."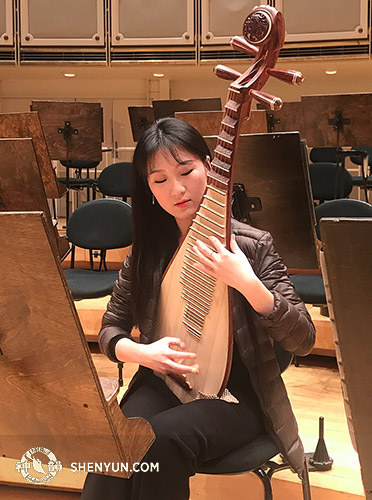 In 2015, Yu Liang, who by then was already an advanced pipa player, left China to join Shen Yun's orchestra and to continue her music studies at Fei Tian College. But sometimes, while rehearsing or watching the performance, her mind drifts back to her experiences in China.
"The brutality that has lasted for 21 years should have ended long ago. It's time for justice to be restored."