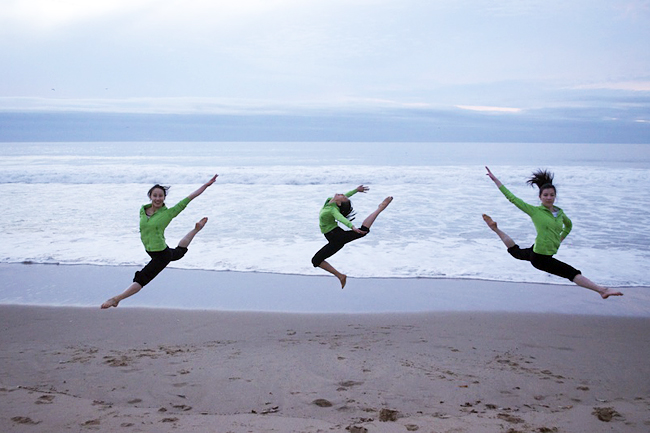 Shen Yun's Warm California Return
Having traveled across wintry North America for performances in Cleveland and Vancouver, Shen Yun Touring Company has returned to Southern California for over a week of performances in Costa Mesa, Thousand Oaks, and Los Angeles.
The 70-degree weather is not the only warmth welcoming Shen Yun—for many of the shows, tickets have quickly sold out. In Costa Mesa, an additional performance was scheduled only a week before the show to meet the demand.
This weekend, Touring Company has four final California performances, at L.A.'s Dorothy Chandler Pavilion, before leaving for Asia-Pacific.
And for several Shen Yun performers who hail from the Los Angeles area, the return to So-Cal is especially gratifying. We found a few moments to chat with two of them about what it means to perform in their hometown.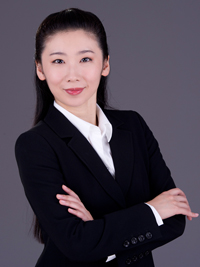 Michelle Ren, Choreographer and Principal Dancer
Q: Before you joined Shen Yun, you lived in Los Angeles for several years. What were you doing at that time?
MR: I taught dance to students of many different backgrounds and also took university courses. It was a long time ago, but I still have some friends here, and when I come back to perform here, the environment just feels so familiar.
Q: What do you like to do for fun here?
MR: I used to go to visit a lot of Taiwanese and Vietnamese restaurants. And sometimes my friends and I would go to special places to relax—my favorites include hot springs and the beach.
Q: It seems like the 2013 season just started, and yet you've already performed about 30 shows. When you're on stage, what's on your mind?
MR: On tour right now, most of my roles are in group dances. So the main thing I'm focusing on is how to cooperate and coordinate with the other dancers to form one body.
Q: What can you expect from the Los Angeles audience?
MR: I know our Los Angeles audience is always very warm. Our Chinese and Taiwanese audience members understand the cultural meaning in a more systematic way because of the cultural context that we share. But people without this background can relate to it just the same and often say they can feel our energy on stage.
I think this is because, when it comes to classical dance, it's not just about the movements. Each gesture, each move, each glance has a meaning behind it. It's a very rich art form with immense cultural meaning. That's why we really have to use our hearts to dance.
And I can feel how people appreciate it. I have to say I'm really happy to see how people here have supported us and I hope those who haven't yet seen Shen Yun will come out and see us!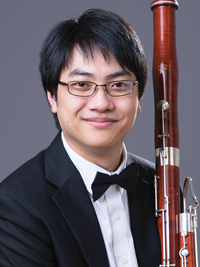 Steven Louie, Bassoonist
Q: How does it feel to be back in the L.A. area?
SL: Very nostalgic to be home! The Civic Arts Plaza here in Thousand Oaks was actually my first symphonic performance, and I've also played here a few times with other groups, so now I'm returning to the first theater I've ever played in. Pretty cool.
Q: This is your first tour with Shen Yun. What drew you to Shen Yun's orchestra?
SL: I saw a flyer at my school in Chicago, and it said Shen Yun was looking for bassoonists. I knew very little about the company, but when I decided to go through with it, it's funny, it's actually turned out to be the best job I could have imagined.
Q: One of your parents is Chinese, right? Did this have any influence on your decision to play with Shen Yun?
SL: Not really. I've grown up with some Asian traditions in some ways, but I was born here and always identified myself as being American. I can say, though, that being in Shen Yun actually opened up a whole side of my heritage that I didn't know a lot about. I've even started learning Chinese.
Q: So why do you say it's the best job you could have imagined?
SL: It's more along the lines of what I've wanted to achieve in my job and in life. I had a lot of things that I wanted to accomplish but didn't know how. When I was still a student, I thought: "When I get out of school I'll work really hard and get an orchestral job." But that didn't really satisfy the part of me that wanted to make other people happy. And, actually, the first aspiration I ever had in life was to make people happy. So I was thinking: "When was the last time I felt really happy watching a classical music concert?" And I've seen many great performances by top symphonies, especially living in California and Chicago.
Shen Yun aims to not just touch the surface, but also people's hearts. And you can feel it in the moments after the performance when you stand up and wave to the audience members. You can see they enjoyed a performance that touched more than just the surface senses. Seeing their smiles makes me happy.
Q: Any family in the audience this time?
SL: My family is here—including my grandmother, who actually came from China when she was 12. She hasn't been back since. But I guess you could say a lot of her traditions were in her cooking. My grandparents used to own a Chinese restaurant, so I grew up eating a ton of their Chinese food! I very much hope that, for her, because she hasn't been back to China in 60 years, maybe I'll see that happiness in her eyes—that she'll finally see the culture that she hasn't had in a long time.
January 25, 2013