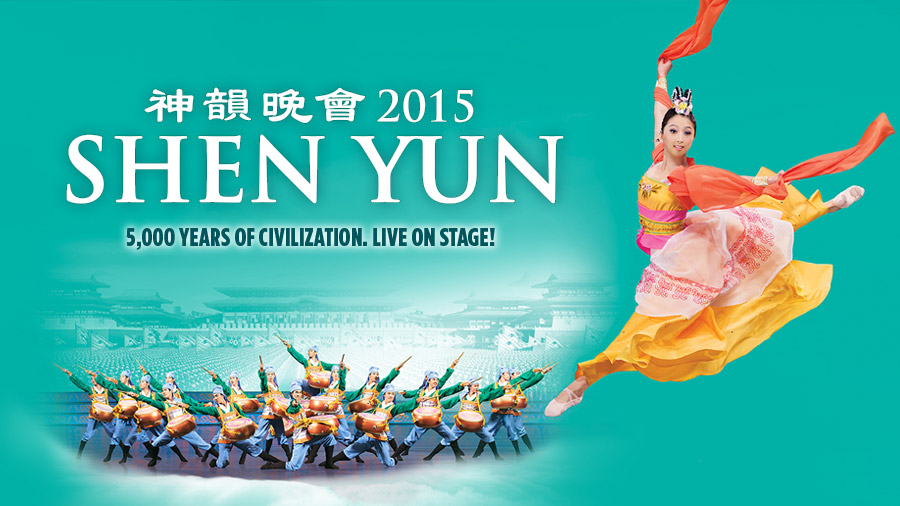 Shen Yun 2015 Season Begins
OVER 400 PERFORMANCES IN MORE THAN 100 CITIES
Prepare to relive ancient Chinese legends as we embark on our 2015 Shen Yun world tour! For the next five months, we'll be presenting an all-new production at cities across North America, Asia-Pacific, and Europe.
This will be Shen Yun's ninth season. It will kick off after Christmas in Texas, Florida, and Ontario (Canada). The first performances will be Dec. 26 in Austin, TX and Ft. Lauderdale, FL.
We'll also be returning to San Francisco's War Memorial Opera House (Jan. 8-11), New York's Lincoln Center (Jan. 9-18), and the Kennedy Center in Washington, DC (April 17-26), as well as several dozen other U.S. and Canadian cities (see schedule).
We're excited to be performing at many new locations, like Berkeley, CA (Jan. 6-7), Corpus Christi, TX (March 21-22), and Baton Rouge, LA (March 24-25).
In Asia-Pacific, we'll first be heading to the land down under, starting with Gold Coast's Arts Theatre (Jan. 31-Feb.1), followed by five other Australian cities before heading to Taiwan, Japan, and Korea.
In Europe, we're coming back to England, France, Germany, Ireland, the Netherlands, Spain, Sweden, and Switzerland. In addition to Austria's Vienna, Shen Yun will be also performing for the first time in Salzburg, Mozart's hometown.
Wherever we go, our goal is the same: to revive traditional culture and values through classical Chinese dance and music. With a trove of 5,000 years of civilization to draw upon, each year's production is different from the last. From ancient stories to contemporary tales, from ethnic dances to mini dramas, you should expect a familiar new experience.
One of the things we look forward to the most is seeing our audience and hearing your reactions. After you watch the performance, we invite you to come back to the website and sign our guestbook. Tell us what you think.
And if you're new to Shen Yun, find out what audience members are saying here.
After months of preparation, we're finally ready to share a new season with you. Happy Holidays, and see you soon!