Off to Korea
AND WHY TWO SHEN YUN PERFORMERS ARE ESPECIALLY EXCITED
The past five weeks have been action-filled both on stage and off, the packed schedule matched by night-markets packed with delicious food. But now Touring Company will say goodbye to double-double shows, oyster omelets, and lotus seed ice creams. There's no time to dally. Everyone is ready and excited for the next Asia-Pacific destination.
Annyeonghaseyo!
From April 5 to 14, Shen Yun is touring in South Korea. And, with tonight's opener in Daegu, this season marks the company's seventh visit.
Two performers, in particular, have long been awaiting this trip: Emcee Kelly Wen and Principal Dancer Seongho Cha.
We managed to catch a few words with them before the first Korea show.

Emcee Kelly Wen
Kelly Wen, who has been with Shen Yun since its 2006 inception, will be the first to tell you that many people mistake her for a Korean. She is really Chinese-Canadian, but has a soft spot for Korea and its culture. For her, hosting performances here is one of this year's highlights.
SY: Kelly, this is your third time touring Korea. What do you enjoy most about performing here?
KW: I started learning Korean a few years ago in preparation for my first time hosting here. During the shows, I found the people here genuinely friendly. When they see you making an effort to learn their language, they feel sincerely happy.
When they watch the show, they can relate to a lot of the stories. Either they heard of them from their parents when they were young or they've read the books. So they can really grasp the inner meaning behind the dances, and they're able to talk very deeply about the cultural aspects of the show. They're often quite in awe, which is nice to see.
SY: What is it that you love most about Korean culture?
KW: It's the fact that they're able to combine both the traditional aspects along with the positive parts of Western modernization. Korea is a very modern country, but at the same time it keeps true to its roots. Their whole nation is really in accordance with the principle of 'one is between heaven and earth.' So in their everyday life, they try to embrace these traditions and principles.
SY: Have you had any unusual experiences in Korea?
K: Well, one time we went to a tourist site where they were selling some snack by the street. We looked closer and found that it was silkworms: fried silkworms that they were selling like popcorn. Then someone from our orchestra bought it and offered us some, saying: "Very good. Crunchy. Lots of protein..." I didn't dare try one. I don't think I'll ever try one.
SY: But other than silkworms, you must be a fan of Korean cuisine?
KW: To be honest, I don't like Korean food all that much, which is very ironic. I love their culture, I love their people, but I can't take their spiciness. It's a particular spiciness that I can't handle. So usually in Korea I just stick to their pancakes… And no kimchi. Can't do the kimchi."

Principal Dancer Seongho Cha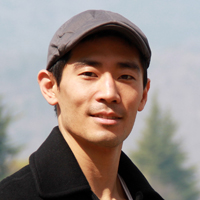 Seongho Cha actually is Korean. Born there before moving to the United States, he still has extensive family on the peninsula. And, being the only ethnic-Korean Shen Yun dancer, he is somewhat of a celebrity.
SY: Are any of your Korean acquaintances going to see the show?
SHC: I sent a public invitation to over a 100 people and, as soon as I arrived, I learned that many of them are going. Someone from my old high school just called me about coming to see the show, and then there's family, friends of family, colleagues of family… I think we might have our own little post-show reception.
And it seems like everyone here already knows of Shen Yun and what our show is about. They say: "Oh, this is the show everyone's talking about."
SY: It seems like you have quite a growing following among Koreans, and there've even been some articles about you in overseas Korean papers. Why do you think there's so much attention?
SHC: I guess for people here it's a big deal—we're a traditional Chinese cultural production, but we have a Korean dancer with the company. I think they find it interesting.
SY: You're famous for your role as the Monkey King, but in addition, this year, you play several leading dance roles that require a lot of acting. Do you have a favorite?
SHC: One of my favorite roles is playing the naughty little monk of the Shaolin Temple. It sort of reminds me of my childhood. You start off so serious, training hard, and then you start playing around, chasing rabbits and such. Then you get into a bit of trouble because of your innocent heart. So you have this playfulness and also discipline. And then there's also standing up for what's right.
SY: You're often bouncing around across the stage doing a string of difficult techniques. Is it very tiring for you?
SHC: It's actually more mentally tiring than physically, because you have to be right on the music—the timing with a specific bell has to be just right. And then you have to maintain the same speed throughout the techniques and at the same time coordinate well with the other dancers and adjust to the size of different stages. If you get even just a little ahead of the music or are just a little late or out of synch with another dancer than the effect is lost. It has to be just perfect.
What I find is that if I think about the movement itself it makes me more tired. But when I put myself into that character and the dance, everything flows a lot more smoothly.
The other thing is the communication between you and the audience. You have to make sure they understand what you are doing. You want to communicate directly with them, look at them when you make a specific facial expression so that they get it.
April 5, 2013