Polaroids from Chicago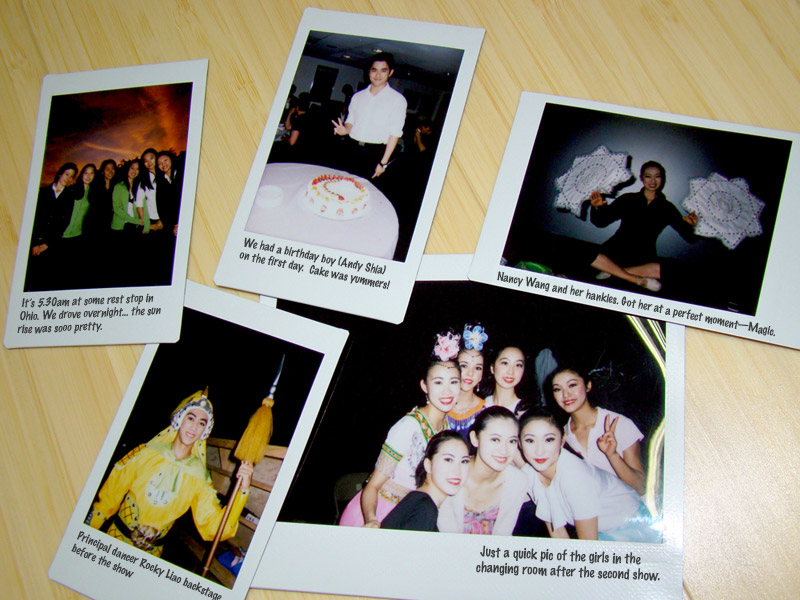 We've been back from our Chicago shows for about a week now and I thought I'd post these little treasures I took. Tripping to Chicago for two rare summer performances was the perfect opportunity to satisfy my Polaroid cravings using my beloved instant photo cameras.
Calling these Polaroids really isn't accurate because they're actually photos from my Fujifilm Instax cameras. But I still like to call them Polaroids, because they achieve that same dreamy old-school affect.
Chicago was a lot of fun. Dropped into our already hectic schedule of rehearsing for 2013, it was a blast hacking our brains and coordinating our bodies to revive last season's program—we even threw in a couple favorites from years back.
And it was all worth it! The audience was great, and the cheering from the Sunday afternoon audience was super uplifting.
I love it when we get to squish in a couple of off-season shows. The pressure of remembering both old and new programs is nothing compared to being able to get out to travel and perform in the middle of our rehearsal and training grind.
But now we're back, and it's all about rehearsals, college, and rehearsals. The 2013 show however, is looking very, very promising!
Until next time...

Seron (Guang Ling) Chau
Dancer and soprano
July 22, 2012