Great Expectations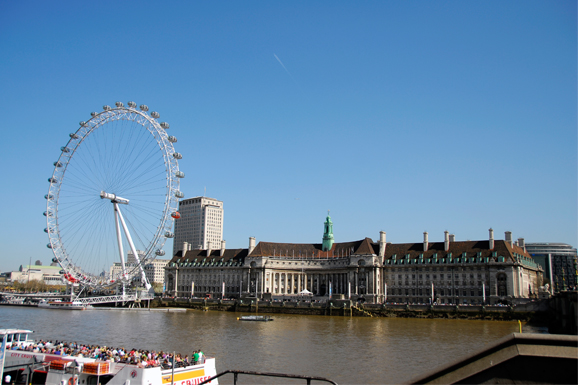 Irony bears much fruit in British wit, and England is full of its orchards. So I've humbly concluded after performing in the UK for two consecutive years in two separate locations.
It started last year when we went to Cardiff, Wales. We had a long drive ahead of us after exiting the Chunnel, and I looked forward to taking souvenir photos of the English countryside. The scenery couldn't be more picturesque: flocks of sheep grazing on fresh green pastures against rolling hills shrouded in mist. Alas, these first impressions were sorely misleading. The afternoon mists existed via the goodwill of a cloudy sky (read: poor lighting conditions), and I struggled to take pictures through the bus window without a flash. The road we drove on was lined with attention-seeking trees who couldn't resist getting their faces in front of my camera. As for the sheep, they were all the unwilling victims of country graffiti artists. Entire flocks were color-coded by a giant splotch of spray paint on their woolly sides. Divided by groups of pink, blue, or neon-green, they toddled in the fields like piles of cotton candy with bad dye jobs. A sudden rainstorm precluded further photo attempts.
With my visions of an idyllic countryside foiled, I turned my hopes elsewhere. This year's shows in London seemed to promise an authentic English experience. The first morning of our arrival, I went to the hotel breakfast with an expectant, though cautious, air. A prior encounter with "black pudding" (assuredly not made from dairy products) had taught me to be wary. Happily, everything looked like tame fare except for the last item in the buffet line. It was a large, heated, egg-shaped container, filled to the brim with some sort of white soup.
Milk or melted cheese were my prime suspects. Perhaps it was even a giant pot of white chocolate fondue. Yet none of these items had the thick, lumpy texture of Mystery Liquid X. Then I spotted the bowls of condiments nearby. Peanuts. Pickled vegetables. Dried fish flakes. Freshly chopped onions and a bottle of soy sauce.
Could...could this be a giant pot of congee?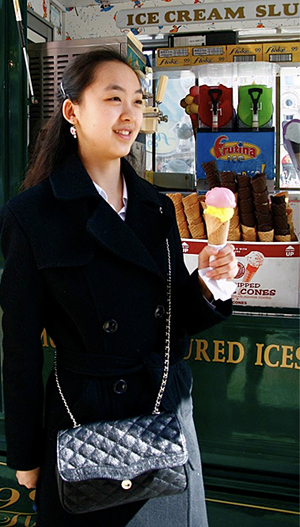 Sitting placidly between the bacon and prepackaged Weetabix, the porridge of the East was indifferent to its utter incongruity. Neither did anyone else find it strange. Impossible. Had Chinese rice porridge become a permanent addition to British hotel breakfasts?
Well, no. It just turned out that our hotel had a (Singaporean) Chinese restaurant.
All right. The scenery wasn't what I anticipated. The food wasn't what I expected. But these were trifling details and did little to mar my memories of Great Britain. Between our shows at the London Coliseum in the heart of London adjacent to Trafalgar Square, my friends and I decided to do some souvenir shopping. Things turned out a bit differently.
My group entered a lovely English tea shop and left with Brazilian instant coffee and Japanese tea leaves. Another group found themselves entranced with the local Chinatown. A third ended up sipping Starbucks frappuccinos as they wandered the streets.
After getting two postcards, some key-chains, and a waffle ice-cream cone, I was convinced that the English pound had the toughest reputation in the currency exchange office. With a month left in Europe and still countries to see, it made sense to spend prudently. Yet just before leaving England, we stopped at the duty free shops on the border. I resisted the urge for frivolous goods, resolving to put my money in a safe place—and ended up buying a brand new wallet. In my defense, I have to say that it was made by an established London company. Thus, it's authentically English while being astonishingly cute and agreeably tax-free—or as the British call it, a sheep deal.

Jade Zhan
Contributing writer
April 21, 2011