'Fish Light?'
"Fish light"—it's a dancer's magic weapon. If you are unsure, it keeps you from lagging behind; if you are overconfident and venturous, it pulls you back in line. Whether you're performing solo or in a group, in a studio or onstage, "fish light" will always come in handy.
So… any guesses at the meaning of this mysterious term?
Well, when dancing, you need to be able to see out of the corners of your eyes. This is called yu guang (余光)in Mandarin, which literally means 'extra light,' or 'extra vision.' But Chinese can be tricky, as different characters can share the same sound. Yu guang (余光) sounds just like yu guang (魚光), which translates to 'fish light.' Tada! I think it should go down in the Essential Dancer Dictionary.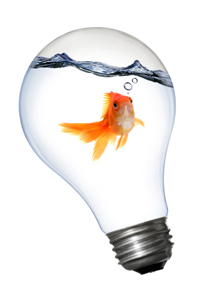 Why? Well, if you think about it, "fish light" is actually a pretty legitimate concept in the world of dance. For one thing, fish are always on the lookout. With eyes on the sides of their heads, they can look left, right, up, down, forward, and backward. Fish can even sense objects by detecting small vibrations in the water. This is especially useful when swimming in schools, as they can feel when other fish are about to change directions.
Most fish like to stick with a crowd, especially ones of the same species. It's important for fish to stay synchronized, not because it keeps them from crashing into other fishies, but because it increases their chances of survival. Synchronizing makes it harder to be singled out by predators. In fact, fish are more organized when a bigger fish is trying to gobble them up. The more agitated they are, the more sensitive they are to each other's movements. By sticking together, they can fool the predator into thinking that the school of fish is actually one humongous fish—one that doesn't look so tasty anymore.
Likewise, we dancers are constantly aware of our surroundings, especially when performing ensemble pieces. Our movements have to be exactly the same, and for each formation, everyone must be in a certain spot, or else the picture will be ruined. However, it is totally taboo to turn our heads left or right just to check whether we're in line, which is why we must use our peripheral vision! This skill usually develops through much practice in the dance classrooms, but it also relies on our tacit understanding, or mo qi, of each other. Sometimes, we don't even need to see each other to know what the other person is doing, or where he/she is standing. The stronger our connection, the more synchronized we are, and the easier it is to go with the flow.
Thank goodness dancers don't need to run away from hungry predators, since survival isn't the issue here (only sharp-eyed dance teachers to be wary of). But I love how fish see the world, and how their range of view includes everyone else. One fish could never claim an entire ocean, just as one of us could never stand on stage alone. It's this synergy that pulls us together, the belief that "a whole is greater than the sum of its parts," just like how millions of little fish can become one big fish.
Now do you see the "coral-ation?"
Want to learn about another Chinese homonym? Click here!

Alison Chen
Contributing writer
September 2, 2013