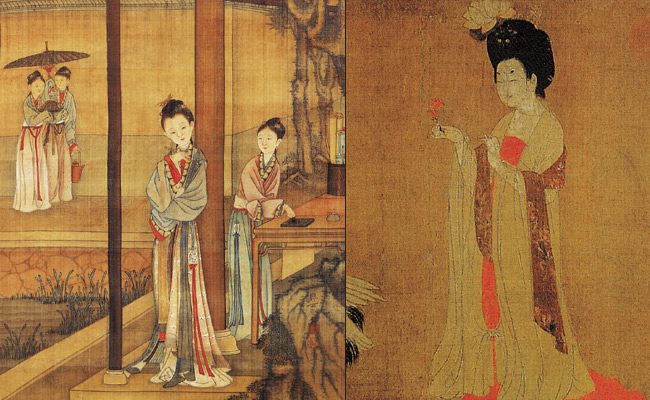 Ancient Lifehack: Haute Coiffure—Fashion Dos & Don'ts
The Ancient Lifehack series draws upon the wisdom of 5,000 years of Chinese civilization for inspiration and ideas we can apply today.
As early as millennia ago, ladies' hairstyles held a language all their own, sending silent messages to the world like public Facebook profiles. Do you fancy announcing status updates the old-fashioned way? Read on.
Young and Single
In ancient China, young women wore their hair down or in simple styles to show they were unmarried. Maidens traditionally kept their hair in braids until their fifteenth birthday, when they went through a coming-of-age ceremony call the ji-li (笄禮) or Hair Pinning Ceremony. During the ritual, the girl's hair was washed, combed into a twist, and held together with a pin, called a ji (笄). A girl who completed the ceremony was considered an adult eligible for marriage.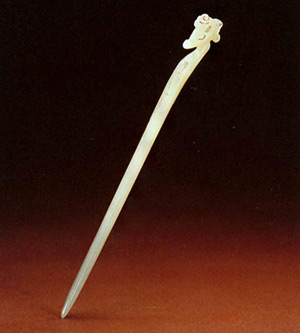 Since long, lustrous black hair was a sign of health and considered attractive, these young ladies, having never cut their hair, styled it in a way to let their tresses shine. A simple hairdo from the Han Dynasty (206 B.C.E. – 220 C.E.) consisted of a long, low ponytail, tied loosely so that hair framed the face on both sides and showed off the forehead. Hair was parted down the middle, as beauty ideals favored symmetry. Alternatively, girls could leave most of their hair loose while gathering a portion into a twist or bun at the back of the head, held in place by pins or other dangling ornaments. This gave the wearer an elegant profile while showing off her locks.
Tied the Knot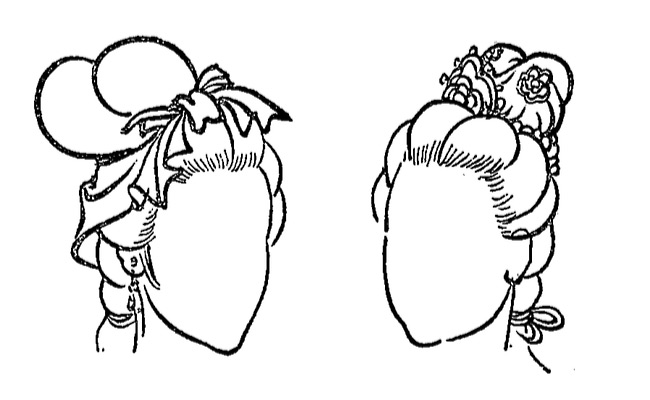 Once a girl married, propriety and pragmatism took precedence. Now busy with family and household affairs, she had no need to parade her hair in front of strangers. Married women in ancient China wore their hair tied up in a variety of styles ranging from the practical to the elaborate, depending on social rank and contemporaneous fashions. The simplest was a knot of hair tied at the nape of the neck. More elaborate versions from the Tang Dynasty (618-907 C.E.) included wigs, ornamental combs, pins, and even fresh flowers.
A simple married updo starts with combing the hair up into a high ponytail near the top of the head. Then, carefully arrange it into a large, loose bun so that it sits in the center of the head, above the forehead. In the past, Chinese women steeped strips of wood in hot water to produce a sticky gel. They would use this with a combination of wire to keep their hair in place.
Nowadays, a can of extra-strong hairspray works just as well. You can also tie a ribbon at the base of the bun to give it a colorful border. Tasseled pins and hair ornaments are typical accessories, but use hair sticks—not chopsticks—to decorate the hair, lest your hairstyle become the next entrée. Hair sticks are easily found online or in some Asian stores—or even off a tree, if you're going green.
Gainfully Employed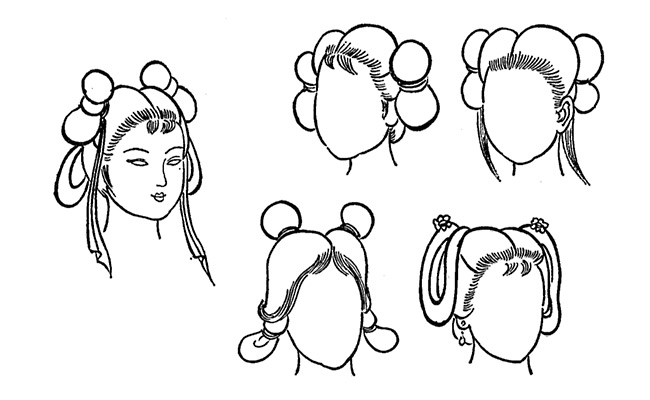 Behind the scenes of every efficient, wealthy household were the maids, palace ladies, and general help that kept things running. From making the beds to serving tea, these multitalented maidens were skilled at many jobs. But with all that hair, what's a girl to do to keep stray strands out of the soup? She can't just tie it up and tuck it back if she's part of a distinguished family, but neither can she style it like the ladies of the house; that would be a breach of etiquette.
If you're soup-er fond of cooking over a pot, one solution lies in these sensible (but charming) twin twists from the Tang Dynasty. Part your hair down the middle and put it into braids. Next, twist the braids into figure-eight coils on either side of your head, pinning them in place behind the ears. On special occasions, you can braid in a strand of ribbon for a splash of color.
Thus coiffed, girls in ancient China would be ready to take on the world—or that extra load of laundry—with nary a hair out of place. Done up today, they make a cute fashion statement for a hassle-free day on the town.
It's Show Time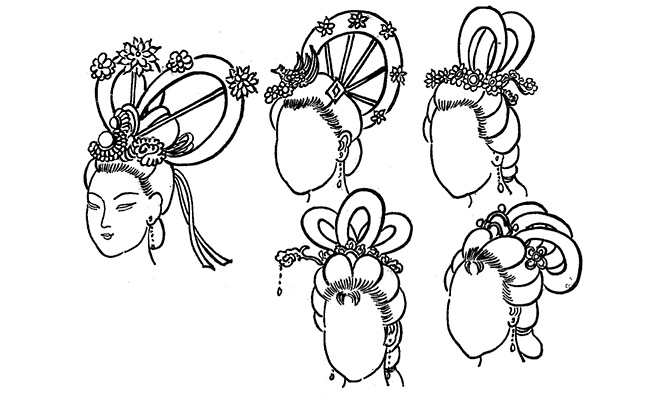 If you wish to put on a performance, the last thing you want is hair getting in your eyes. In ancient China, dancers were the highlight of imperial banquets and ceremonial rituals. Their movements were delicate, their costumes sublime, and their hair kept firmly in place.
You can approximate a style of Shen Yun's fairy dancers with a simple twin-looped hairstyle. First, start with a high ponytail atop the head. Next, split the hair into two segments and form each into a loop, then wrap the ends around the base of the ponytail. Use hairpins to keep the coils of hair in place, and reinforce with another hair tie as needed. For variation, the size and location of the ponytail can change. And of course, decorate generously with hair accessories. Semiprecious stone pins, jade combs, and delicate ornaments of metal were popular choices of the past. Buyao (步搖) accessories—a type of dangling hairpin often adorned with pearls or jade—were especially popular. Their name came from the fact that they swayed (or yao) with the wearer's every step (or bu).
Not So-Cutting Trends
By now, you've probably noticed that all of the styles above require long hair. That's no surprise—Confucian values in ancient China held that hair is a gift from the parents to be treated with utmost respect. For both men and women, haircuts were considered a serious breach of filial piety, only done under special circumstances. You could give a lock of your hair as a promise to your lover, for example, or shave your head entirely when entering a religious order. Prisoners and criminals had their hair cut and left to grow wild as a form of punishment, so unkempt hair became a sign of dishonorable ways.
No matter the occasion, the ancients knew the style to fit—and while these varied widely with the dynasties, they can still turn heads hundreds of years later.

Jade Zhan
Contributing writer
May 10, 2015