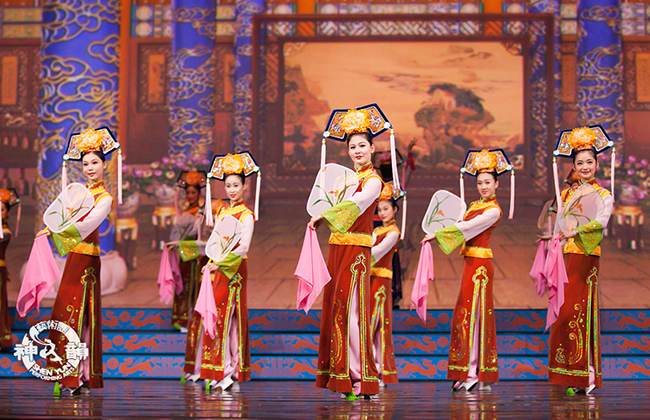 Modish Manchurians
Do you have what it takes to be a chic, Manchurian princess?
Over five thousand years, China's dynasties have come and gone. Some survived a couple centuries, while others lasted only a bit over a decade. But as they say, out with the old and in with the new—each turn of the tide brought about a new culture with unique tastes in music, poetry, cuisine, and…couture.
Then how did the ladies of China's last dynasty keep up with the latest fashion trends?
Dressing Up
Manchurian women wore long gowns called qipao (pronounced "chee-paow"). These dresses had lavish embellishments along collars, hems, and slits, and were made of heavy satin or silk. In the winter, qipao were inlaid with cotton or fur, which kept this outfit in season all year-round.
Qipao were modestly designed to reveal only the hands, head, and toes; they hung straight down or flared slightly in an A-line, and pants were worn underneath. Over time, the qipao became tighter with smaller sleeves.
Now, don't confuse the Manchurian qipao with its granddaughter, the cheongsam, which was popular during the 20's. The cheongsam was a spiffy Shanghai-nese party dress, but due to western influence, it was tight-fitting and almost equivalent to a Chinese corset.
Strutting in Style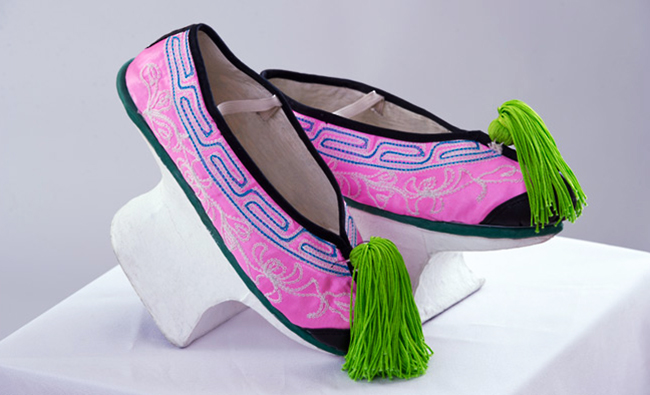 Flowerpot shoes were a must-have for every Manchurian lady's wardrobe. Each slipper was embroidered with exquisite floral designs, and fastened atop a pedestal bottom (hence the name 'flowerpot'). Best of all, these "heels" came in all different sizes, which meant that Manchurian women didn't have to bind their feet.
Topping it Off
Last but not least, the aristocratic women were crowned with elaborate headdresses. These fan-shaped hats were wrapped in silk or velvet, ornamented with tassels and flowers, and then anchored to the back of the hair, completing the look of the Qing dynasty. With their Manchurian tiaras, lavish gowns, and signature shoes, the ladies of the Forbidden City were sedately striking from head to toe.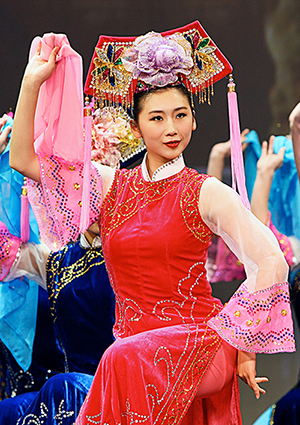 Perhaps for every fashionista, beauty comes at a price; for Manchurian women, fashion was a restraint. As soon as they put on their headdresses and qipao, they had to maintain perfect posture. To balance on their pedestal shoes, they had to walk in itty-bitty steps while gently swinging their arms to and fro. What's more, court ladies had to be mindful of their every move in order to stay gracious.
Manchurian princesses, however, weren't molded to be little miss mannequins. After rehearsing and performing this year's Manchurian piece, I've learnt that there's more to Manchurians than the hair, the shoes, the stride, and the pride. We want to present young ladies with genuine sincerity. Perhaps we Manchu ladies don't do high-flying techniques nor intensive dance combinations, but there is an abstract challenge that is even harder to overcome. After all, how do you grasp that regal air while staying sweet and not snobby?
Most importantly, I've learnt that princesses aren't perfect, and even the elite make mistakes. We've had our fair share of bloopers in our rehearsal halls, with tassels tangling, shoes flying, and girls stacking it*. However, as soon as we step onstage, it's time to put all of that behind us. It's a momentary upgrade from plebeian to princess, with 4 minutes to stand 4 inches taller, walk around in someone else's shoes, and look out from a "higher" perspective.
But to be honest, I still think the best part of my day is when I get to pull off those pumps.
*stacking it: a phrase that belongs in Helen's Essential Aussie Dictionary. This is Australian slang for tripping, falling, or crashing... something you don't see princesses doing everyday.

Alison Chen
Contributing writer
January 22, 2014