5000-Year-Old Siblings: Chinese Dance & Kung Fu
"I know kung fu!" Neo's famous line from The Matrix may sound cliché 13 years later, but it's an archetype of the action genre that portrays flashy fight scenes and shrouds it with the mysticism of Eastern martial arts. With films and TV shows featuring stylishly choreographed kung fu fight scenes, many people may have a hard time discerning between Chinese martial arts and some of the classical Chinese dance moves seen in our Shen Yun program.
But fear not, for despite some uncanny similarities, there are key traits that set the two apart.
Chinese martial arts and classical Chinese dance can be thought of as twins conceived 5,000 years ago by the earliest progenitors of Chinese culture. Although spawned from the same roots, these siblings with vastly contrasting personalities served very different purposes. Whereas Chinese martial arts fulfilled the practical purpose of fighting and defending, classical Chinese dance entertained dignitaries of the imperial court as a performing art.
One way to explain the differences between the two is to look at the three main components of classical Chinese dance: form, bearing, and techniques.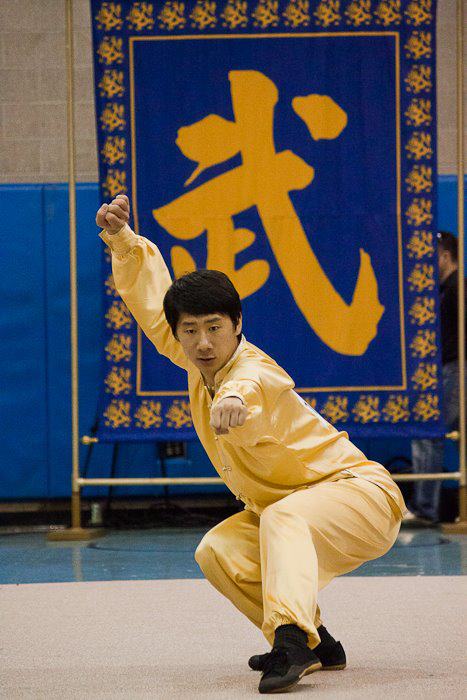 Shen Yun violinist Kevin Yang practices Chinese
martial arts in his spare time and took 3rd place in
NTD's International Martial Arts Competition.
Form refers to Chinese dance's repertoire of movements and postures. These are standardized but can be chained together an unlimited number of ways to be visually appealing. They are limited only by the choreographer's creativity. Chinese martial arts, which also have sets of standardized movements and fist forms, differ greatly from dance—they are dictated by practicality, and used only if they serve a purpose in attacking or defending. They would not be applied just for the sake of looks.
If form is Chinese dance's skeleton, bearing is the flesh and blood—it's the art form's unique defining element. Bearing can be described as the process in which the entire body, including the gaze and breath, is integrated in a series of movements. For even deceptively simple movements, a dancer's intent directs the breathing, and the breathing directs the body. Bearing helps deliver the desired message, its mood and tone, forming an ethereal mental and emotional bond between performer and viewer.
Bearing functions like a spoken language with an array of punctuations and accents. Its expressivity is boundless, highlighting the true beauty of classical Chinese dance.
Chinese kung fu has its own type of bearing, though it's not emphasized as in Chinese dance. In traditional forms of Chinese martial arts, bearing is again used only if it allows provides the martial artist with a way of attacking or defending more naturally and efficiently.
Finally, there is technique. Many jumps, flips, and tumbling techniques are shared by both kung fu and Chinese dance. In Chinese dance they are used to delight the audience, adding sparks of excitement. Execution must be smooth and graceful to enhance its aesthetic qualities. The dancer's body must be kept extended, creating long lines. Even in a simple dance kick, the leg must be extended perfectly straight in a long line for visual appeal.
Kung fu takes a different approach. In a martial arts kick, the leg moves along a short line; the kick must be explosive and direct. Often, an extended line can get in the way of the martial artist attacking or defending effectively, and movements are sometimes completed using short, direct paths. If bodily extension is used, it's to enhance reach and attack power.
To the untrained eye, external similarities can make Chinese dance and Chinese martial arts seem almost identical. But hopefully by now, you've developed the maternal eye to discern between the 5000-year-old, seemingly identical, siblings of Chinese culture. Kudos to you!

April 12, 2012