Miss India International: 'very energetic and powerful'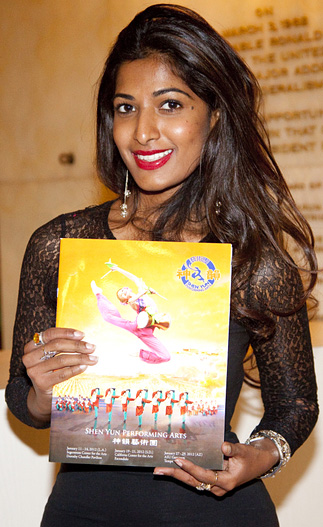 LOS ANGELES— Ms. Preity Uupala, an actor, model, and the current Miss India International, attended the Shen Yun performance at the Dorothy Chandler Pavilion on Jan. 13. Ms. Uupala has appeared in feature and short films in Australia and Europe, and has won numerous beauty titles all over the world.
"It was so magical and colorful. I didn't realize China was so diverse," she said, "There were so many different regions with different music and costumes. It gives the viewer an amazing perspective about China. Much bigger than what we think of."
"I have a very dear friend who invited me. I'm originally from Australia. The Falun Dafa are quite big in Australia, especially Sydney. They have a lot of support and many people are aware of them," explained Ms. Uupala.
"I know the background. Despite all the persecution and everything, they continue to think positive and radiate love and light. That's amazing. We can take from that and use it in our own life despite the negative. Think positive and be happy and give love to everybody because it only comes back to you."
"It's very inspiring and very spiritual. Some of the pieces, I just closed my eyes and I felt like it was a meditation. The energy was very powerful in the room. It's not just some dance and music, it's more than that. It's very healing actually," Ms. Uupala said.
She continued, "This is so inspiring and very spiritual. As you're sitting there watching, you get this amazing energy transmission. I meditate a lot so I could feel it was very energetic and powerful, and I felt this energy moving through me. I think it's very healing."
"It's a very inspiring and powerful spiritual performance show. Come and experience it and you will feel the energy moving through you."
She offered her best wishes to Shen Yun Performing Arts saying, "Keep doing the great work you're doing. Keep inspiring and healing people. I look forward to watching this show many more times."
January 19, 2012