Shen Yun Reviews: Designer Norma Kamali and Vogue Editor Jill Spalding Praise Shen Yun Costume Design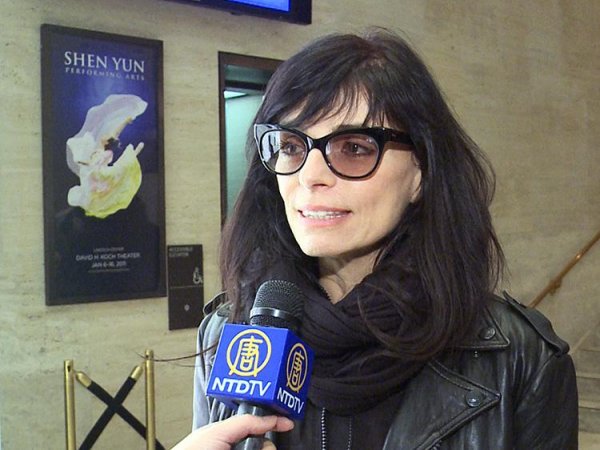 Fashion Designer Norma Kamali
Celebrated designer Norma Kamali saw Shen Yun Performing Arts as part of a sold-out house at Lincoln Center's David H. Koch Theater on Jan. 16 in New York City.
"I was very impressed with the clothing and costumes," said famed designer Norma Kamali after seeing the over 400 hand-made costumes donned by Shen Yun Performing Arts New York Company dancers. Jill Spalding, a writer and editor for Vogue Magazine, was also in attendance at Sunday's sold-out performance. Both appraised the colorful garb of the different regions of China.
"I saw here the best example about how fabric, clothing, and sleeves can enhance the movement and tell the story," remarked Ms. Kamali, who also designs costumes for dance. Ms. Kamali is better known, however, for her bathing suits, which have been featured on the cover of Cosmopolitan Magazine, and for her parachute designs, on display in the Vanity Fair permanent collection at the Metropolitan Museum.

"When the sleeves became a part of the rhythm and a part of the overall design of the set, it was very impressive!" said Ms. Kamali of the long, cascading sleeves found in several of the ShenYun dance pieces.

Ms. Spalding commented on the unique costumes that bring the viewer to the Manchurian court of the Qing Dynasty in the piece titled Manchurian Elegance.

"It was very interesting to see the Manchurian fashion," noted Ms. Spalding. Over the course of her career, which includes decades as an editor for the U.K., U.S., and Australian editions of Vogue at different times, Ms. Spalding has also used her place in the media to raise awareness on issues that concern her.
Ms. Spalding, who recently returned from a trip to Shanghai, said she appreciated the way the ShenYun performance portrayed current realities in China. While most ShenYun dance pieces showcase China's history, traditions, and legends, a few give a glimpse into modern China, where followers of the traditional spiritual discipline FalunDafa are persecuted for their faith. Via the arts, ShenYun has set out to lead a renaissance of traditional Chinese culture, much of which has been systematically destroyed under decades of communist rule.

"You know the human form can only do so many things, but the differences of the interpretations are really quite spectacular," enthused Ms. Kamali. "The Chinese interpretations of form, dance and elegance, and what the body can do [are] quite beautiful."
January 17, 2011