Shen Yun Reviews: Actor Martin Freeman: 'You just know when you see good performances'
THE EPOCH TIMES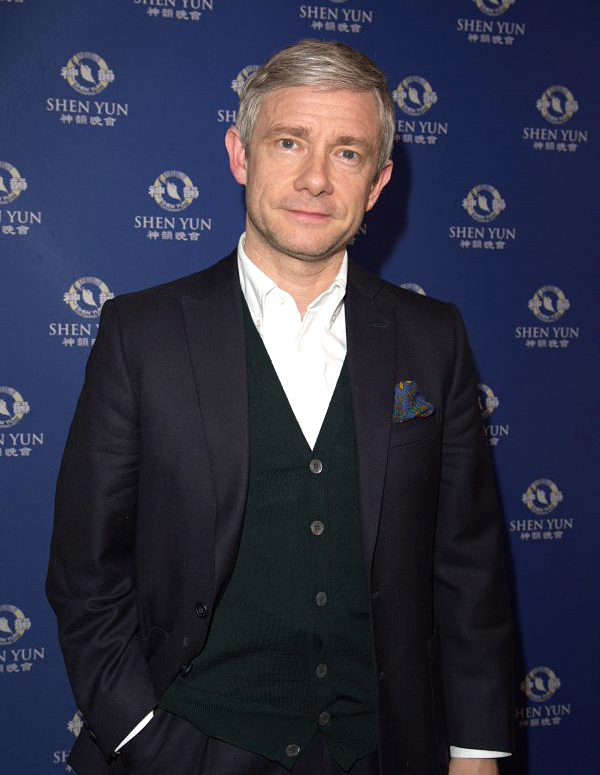 LONDON, UK—"Sherlock" and "Fargo" actor Martin Freeman said he was "very impressed" by Shen Yun on its opening night at London's Dominion Theatre.
The British actor, who most recently featured in the movie "Black Panther," said he loved both the music and the skillfulness of the dancers.
"I like seeing people do things that I can't do, and everyone on that stage could do things that I couldn't do," Freeman said.
The classical Chinese dance and music company was set to perform just 10 shows at the Dominion—the first time it has appeared at the venue. But when those shows sold out, the company added another four shows.
Shen Yun was founded in 2006 with a mission to revive traditional Chinese culture through the arts. Five touring companies travel the world, performing in Europe, Asia, South America, and North America simultaneously.
Freeman said, "Watching professional dancers from a background that I'm not familiar with, like classical Chinese dance, it was lovely to see that skill on show, it was very beautiful."
The actor is noted for playing Bilbo Baggins in Peter Jackson's adaptation of "The Hobbit" and Arthur Dent in "The Hitchhiker's Guide To The Galaxy," among many other starring roles.
He said he attended the Shen Yun performance with his daughter and they were both "riveted".
"It held us for two hours and that's a good thing!" he said.
He added he was especially impressed with the quality of the performances.
"You just know when you see good performances. It's commitment and it's skill!"
Shen Yun is performing at the Dominion Theatre until Sunday, Feb. 25 but will return to the UK in May for performances in Birmingham and Edinburgh.
February 17, 2018