Shen Yun Reviews: Former Ballet Dancer Takagi Reiko: 'I listened with a humble and adoring heart'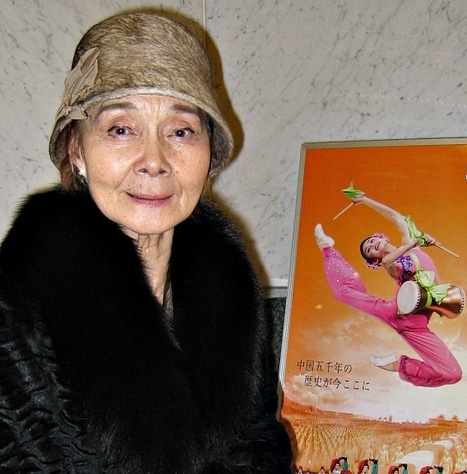 HIROSHIMA, Japan—Shen Yun Performing Arts New York Company performed at the Hiroshima City Cultural Exchange Hall, Feb. 19. Hiroshima has invited Shen Yun to perform three times since 2009.
Takagi Reiko, a renowned former ballet dancer with nearly 60 years of dance experience who has performed in famous ballet shows such as Swan Lake and The Nutcracker, was in attendance.
"I dropped my own notions and watched Shen Yun as a sheet of blank paper."
Ms. Takagi said she had bought the best seat in the theater and could see clearly the expressions and movements of every performer. "It's fabulous! The performance of male and female actors was just fantastic. The most interesting program for me was the young monks. They made me quite cheerful."
Ms. Takagi has participated in and watched a variety of ballet performances, but she was still amazed by Shen Yun's animated backdrop, saying: "Wow! Where do they get such wonderful and creative ideas? I wanted to jump into the backdrop, too. It's really extraordinary.
"I was really stunned by the program of the Monkey King [How the Monkey King Came To Be]. I was awe-struck by how he jumped out of the backdrop and then to his movements. I was just overwhelmed, wondering how these could be made. It was really magnificent."
Ms. Takagi said that every Shen Yun program was refreshing and incredible for her. "The voices of the vocalists were just amazing. I was wondering where the voice came from. Was it really a human voice? It's just incredible. I listened with a humble and adoring heart."
Ms. Takagi said of the erhu solo performance by Xiaochun Qi, "Wow, It was very beautiful. It's the first time I have heard the performance of an erhu. The melody was really wonderful. I felt happy that I could listen to such a performance."
Ms. Takagi is the owner of a dance institute. She has taught many students, including Yoko Morishita and Junko Abe, renowned and active ballet dancers in Japan.
February 20, 2012