Shen Yun Reviews: The Simpsons Animation Producer Becomes Fan of Shen Yun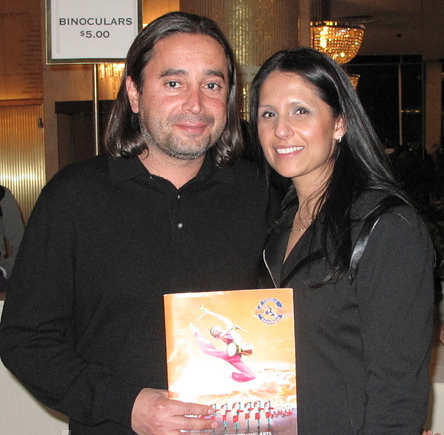 LOS ANGELES—Shen Yun finished its sold-out Southern California season at the Dorothy Chandler Pavilion, Los Angeles, Saturday, Jan. 14.
Amongst the audience were entertainment executives Ramy Katrib, CEO and Founder of Digital Film Tree, and his wife, Jaspreet Dhillon, the animation producer for The Simpsons.
"It was great," Mr. Katrib said.
"It's gorgeous, stunning, very well done," said Ms. Dhillon.
Mr. Katrib is a legend in Hollywood production circles and has developed a prized film editing application. Mr. Katrib and Digital Film Tree recently worked with the crew from the NBC's popular television series Scrubs to simplify the show's production process using this technology.
Mr. Katrib noted the Shen Yun's application of digital technology to enhance its performance.
"The background projection was cool," he said, "The visual and the lighting was also very pleasant to look at."
It was, however, the show's deeper themes that particularly interested Mr. Katrib.
"It was really surprising … the show is more on substance, in terms of the ideas and culture," he said, "the theme of good vs. evil, also history going 5,000 years back in time."
Mr. Katrib commented on the cultural mix in the show noting that there was a "sprinkling of culture, Chinese dance and music from all across China, including Taiwanese."
Jaspreet Dhillon, Mr. Katrib's wife and a Hollywood celebrity in her right, agreed with her husband's observations of the depth in Shen Yun saying the company "definitely had a lot to say."
Ms. Dhillon declared she had "become a fan of the production."
"I want to explore where all of it comes from, what it means, the history," she said, "[Shen Yun] makes me reconnect [with] the history where I'm from, what happened way back. All of it."
"It was great."
January 15, 2012