Shen Yun Reviews: Chinese Trade Official Travels to New York to Watch Shen Yun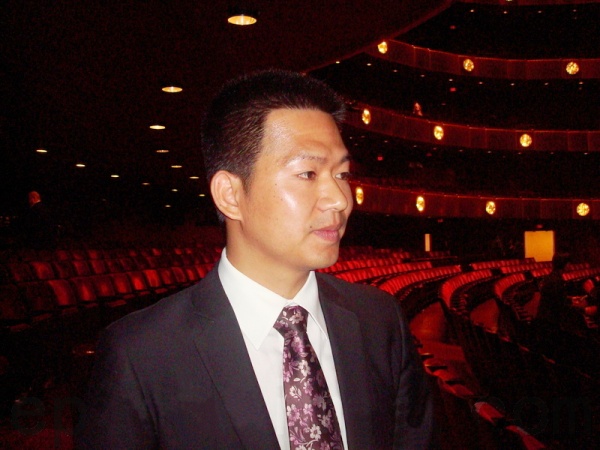 NEW YORK—Shen Yun Performing Arts returned to New York City for a seven-show run, following-up to its five sold-out performances this January. At the full-house April 18th were many audience members who traveled from China especially to see Shen Yun. Among them was a Chinese trade official, Mr. Guo.
"Best Show"
"It's a magnificent performance and the Chinese leaders need to see it," Mr. Guo said, "I waited for two months to come here and watch the performance in April!"
Guo had learned about the Shen Yun show when he was in the U.S. this February. He made a special trip to New York to attend the Lincoln performance.
"I took leave and came here from China just to watch the show. I waited for two months to see the show!" Guo emphasized.
"This is the best show I ever seen and I will remember it for the rest of my life. It is so beautiful, compassionate, and traditional. I see hope in it."
A Heartfelt Performance
Mr. Guo said the way Shen Yun tells the divine stories of Chinese lore was "very pure, upright, and lovely."
"The songs come from the hearts of the soloists and echo in my heart," Mr. Guo said of the Shen Yun vocalists, "It's their sincerity that touches the deepest levels of my heart and connects with me.
"I believe Shen Yun's performance is also their pursuit of Truthfulness, Compassion, and Tolerance," he said, "This is the first time in my life that I'm seeing such an incredibly beautiful and sincere performance that so inspires and educates me."
"Chinese people need to wake up"
Guo condemned the Chinese regime's persecution of Falun Gong. "It's soul-stirring! Truly soul-stirring! I tried so hard not to let my tears pour down during the performance, but my heart was pounding and trembling."
Mr. Guo felt that the Chinese people should "know what a brutal suppression Falun Gong practitioners have suffered in the past dozen years."
"The Chinese regime does not allow them to practice their beliefs and forced a crack down on them, even stealing their organs alive.
"Looking at the internal struggles among the core leaders in China, I believe that they need to watch Shen Yun's performance carefully and rethink their ruling. They need to give democracy and freedom back to the people.
"Once the Chinese people know the truth, the persecution of our fellow citizens will stop," he said, "The Chinese people need to wake up. They need to know that for the past dozen years, Falun Gong practitioners have suffered such horrible suppression!"
Hope for China
"The traditional Chinese culture Shen Yun manifested is enough to let the Chinese people live a blessed and happy life… It's a shame people in China cannot see it.
"Shen Yun will definitely go to China soon," Mr. Guo said, adding that he will tell his relatives and friends about "such a fantastic and unique performance."
"I see today how mainstream western society cherishes and values traditional Chinese culture… I see today the audience was inspired, and I also see the hope of China.
"Shen Yun leaves me with a memorable gift that is worth cherishing my entire life."
April 20, 2012