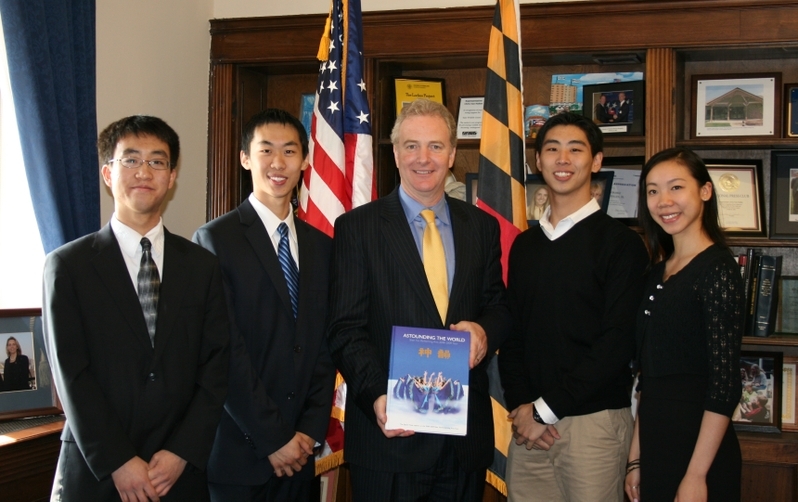 Performers Receive Proclamations from Maryland Congressman
Just after Shen Yun's three companies finished their 2011 world tours, four Shen Yun performers from the Washington, DC area returned home to receive honors from their congressman.
Maryland Congressman Chris Van Hollen received the Shen Yun artists from his district in his congressional office May 25. He presented each with an honorary citation.
The four performers—Shen Yun New York Company's principal dancer Tony Xue and violinist Jeff Lai, and International Company's principal dancer Faustina Quach and dancer Brian Nieh—are ethnic Chinese who grew up in Maryland. They each joined Shen Yun Performing Arts, which is based in New York, in 2007 or 2008. They have since toured dozens of countries, performing Chinese dance and music in some of the world's most prestigious venues, including Washington's Kennedy Center.
The proclamation is written in recognition of "your contribution in bridging Eastern and Western cultures through your outstanding work with Shen Yun Performing Arts and your effort to restore and revive performance of traditional Chinese arts."
Congressman Van Hollen listened to the young artists' stories from traveling and performing around the world. He praised their ability to use the arts to promote traditional Chinese heritage, and their reaching out to people of all cultures and ethnicities.
In return, the four presented Congressman Van Hollen with a Shen Yun Performing Arts Tour Album. Congressman Van Hollen said he would continue to support Shen Yun and its young artists. He expressed hope that more young Maryland talents will be selected to join the company in the future.
June 3, 2011