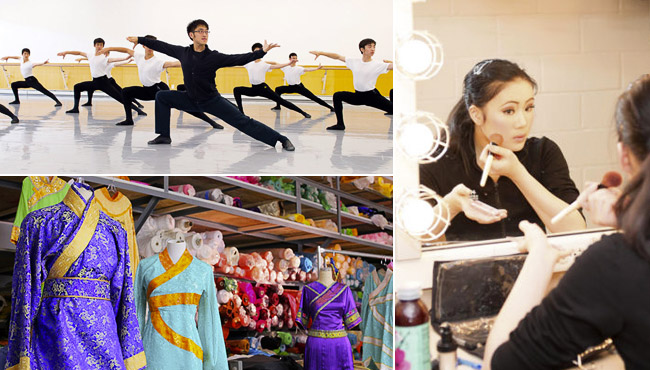 By the Numbers – Making a Shen Yun Season
Last May, we told you about all the numbers that go into one Shen Yun performance season. But what about the inaptly named "off-season?"
For our performers and artistic team, there's nothing "off" about the non-tour months. After a short vacation, we come back ready to hit the ground running. The choreographers introduce their new creations for the upcoming season and the dancers work hard to master them. The composers wrap up over 20 new scores that will continue to be repeatedly modified in the coming months. The digital backdrop team works, sometimes around the clock, to create new animations. And the wardrobe department puts needle to fabric to launch a marathon of production.
By the time we're out the door heading to our first city (next week), tour hasn't even started, but much of the hard work is already behind us. It's hard to capture in a few sentences how much effort by how many people actually goes into a new season. So, here's just a tiny glimpse, expressed through numbers from the rehearsal season.
If you were to join us this week, you could expect to see, in one dress rehearsal for one company:
52 aerial tumbling techniques performed
386 costume changes
208 hairpieces
4 instances when a particular dancer gets "knocked out"
7 different families depicted in story dances
If you were to take a peak into our wardrobe department, here's some of what you would see:
19,800 holes drilled and sanded by hand into the hairpieces of one dance
4,200 plastic spokes added into one set of props for reinforcement
2,040 total costumes produced this season
9+ meters of fabric used to make a single large skirt
And if you were to watch a day of training, you would be able to count:
500 handkerchief spins by each female dancer
8,100 kicks by one group of dancers
600 back handsprings by another group of dancers
9 languages spoken by conductors during rehearsals (Chinese, English, Taiwanese, Bulgarian, French, Armenian, Spanish, Italian, and Russian)
17 countries represented in our orchestras (United States, Canada, China, Bulgaria, Russia, Armenia, Spain, Germany, Slovakia, Poland, Australia, Taiwan, Japan, South Korea, United Kingdom, Ukraine and Belgium)
5 companies of 80-plus performers each eager to hit the road with 1 all-new show for millions of people!
Happy holidays from all of us at Shen Yun, and we'll see you soon!
Find your city.