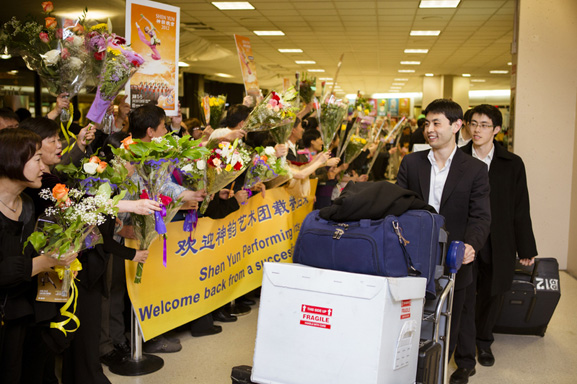 Back from Europe, Shen Yun Opens Chicago Shows Tonight
MONTH OF TOURING EUROPE'S CAPITALS LEAVES BOTH AUDIENCES AND SHEN YUN WANTING MORE
Shen Yun International Company is launching the second phase of its North America tour with the first of five Chicago shows tonight. The company returned from London Monday after a month of performances in Europe.
International Company, featuring principal dancers Michelle Ren and Tim Wu, began its Europe tour in the Netherlands March 12, and completed it in England April 15. Visiting five countries, the group performed in the capitals Berlin, Paris, Stockholm, and London, as well as The Hague, Zurich, and Frankfurt.
"I wish we could have stayed in Europe longer," said Tim Wu, who stars in The Qing Imperial Guards. "The audiences were fantastic, there's so much culture and history there. We can't wait to be back."
Wu and the rest of the company are now getting ready for opening night at Chicago's Civic Opera House. The Chicago shows will run Thursday through Sunday, and then the company heads to Tennessee's Chattanooga, Ohio's Columbus and Dayton, St. Petersburg, Florida, and San Antonio, Texas.
Meanwhile, Touring Company opened to a full house at New York's Lincoln Center, David H. Koch Theater, last night. In addition to the six original shows, with tickets going fast a seventh has been added for Sunday night.
Finally, Shen Yun's New York Company is actually not in the Big Apple but in Asia Pacific, shuttling back and forth between Australia and New Zealand, with upcoming performances in Auckland, Wellington, Sydney, and finally Hawaii.
Only three weeks left in the 2012 season. With a new show every year, this season's program may never be seen again.
April 19, 2012