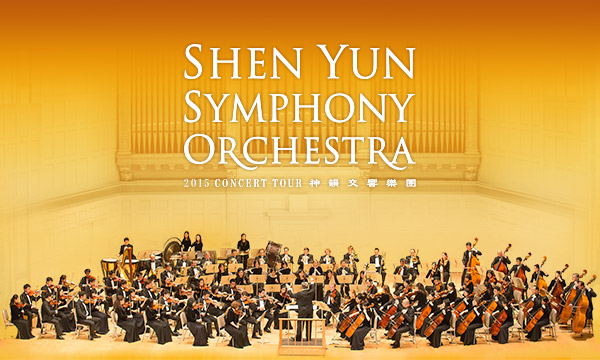 This October—Discover a New Musical World
THE SHEN YUN SYMPHONY ORCHESTRA IS BACK!
Imagine a musical experience that opens new horizons of emotion and excitement. In October, the Shen Yun Symphony Orchestra presents this experience at concert halls across North America.
In its fourth concert season, the Symphony Orchestra will be performing at Carnegie Hall, the Kennedy Center, Chicago Symphony Center, and eight other celebrated halls from Miami to Toronto.
From the elegant and soothing music of imperial courts to lively folk melodies, Shen Yun Symphony Orchestra takes you to the soul of an ancient civilization.
"It is beyond anything I can put into words. It's the most amazing, uplifting, spiritual journey."- Margaux Brooks, executive film producer
Most of the concert features original works composed for Chinese instruments, leading the melody on top of a full Western orchestra. The music captures the spirit of five millennia of Chinese civilization in a way never heard before.
Experience the Music of Shen Yun
Traditional Chinese music emphasizes bringing out inner feelings. Western music, meanwhile, focuses on the overall effect of the ensemble—and to achieve that, arrangement and harmony are of the utmost importance.
"Somehow it transcends all cultures, all languages… It makes you celebrate humanity."- Dale Robertson, audience member
This is the first symphony orchestra to seamlessly combine the distinct sounds of Chinese instruments with the foundation of a Western orchestra. Harmoniously uniting these two very different musical forms is no easy task. It requires a combination of great versatility and deep understanding of both musical traditions. The result is a rich, vivid sound that leaves an impression on everyone who hears it.
"Music unlike any I have ever heard in my 77 years. I'm very moved."- Ruben Bertolio, audience member
The concert also features solo performances by a few of the world's top classical Chinese singers. Traditional Chinese drama and early European opera shared the same singing technique, believed to produce the most beautiful and pure tone of voice. Using this highly regarded traditional technique on the modern stage, Shen Yun's singers transcend boundaries of ethnicity and culture.
In addition to the original compositions, the orchestra performs favorite works of Western classical music, including masterpieces by Tchaikovsky and Sarasate.
"The orchestra is phenomenal. They're very, very on top."- Roger Tallman, 7-time Emmy-winning composer and producer