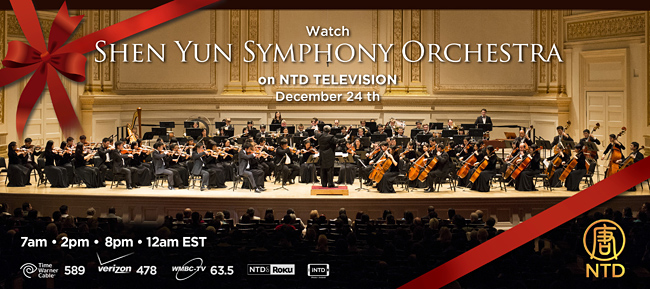 Exclusive Broadcast of Shen Yun Symphony Orchestra
This holiday season, music-lovers should be sure not to miss a special event. A performance by the Shen Yun Symphony Orchestra will be broadcast via New Tang Dynasty Television on Christmas Eve.
The Shen Yun Symphony Orchestra made its international debut at Carnegie Hall in October. Now, the same program that played at Carnegie will be available by broadcast for the first time.
In the broadcast, conductors Milen Nachev, Keng-Wei Kuo, and Antonia Joy Wilson will lead a musical journey along with 90 musicians from around the world, tenors, sopranos, and a sophisticated program that showcases the music that has inspired millions on Shen Yun Performing Arts' world tours.
The program presents Shen Yun's Chinese-inspired musical compositions and pays tribute to the origin of the musical form by performing some of the most celebrated works of Western classical music.
Program Includes:
World premiere works by Shen Yun composers
Beethoven: Egmont OvertureRimsky-Korsakov: Procession of the Nobles from the Mlada Suite
Vivaldi: Concerto for Two Trumpets
Special new arrangements for solo voice and orchestra
Shen Yun favorites, incl. Ladies of the Manchu Court, Creation, No Regret, and more
Broadcast times (U.S. EST):
December 24, 2012
7:00 am
2:00 pm
8:00 pm
12:00 am
How to watch the broadcast:
On the web: //e.ntd.tv/NTDLive
Download NTDTV's iPhone App: //e.ntd.tv/iNTDapp
Or visit www.ntdtv.org for Cable TV Broadcast Schedule
December 22, 2012