Feature Interview: Principal Dancer Madeline Lobjois
SHEN YUN'S FRENCH-CHINESE STAR FINDS EAST-WEST HARMONY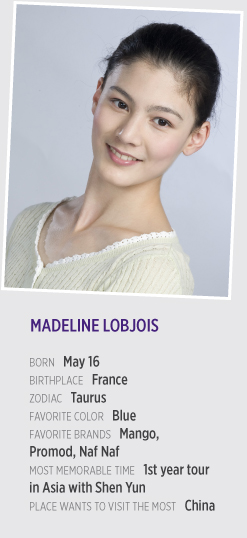 Born and raised in the French capital of romance, principal dancer Madeline Lobjois has roots stretching all the way to the land of the Forbidden City. Since joining Shen Yun in 2007, she has brought traditional Chinese culture to audiences around the world. How did this union of East and West come to be?
Q: You were born in Paris and have chosen a career in classical Chinese dance. How did you become interested in Chinese dance?
ML: My father is French and my mother is Chinese, so I grew up in an environment where these two cultures collide. When I am around Chinese people, they think I'm French. But when I'm with my French friends, they say I'm Chinese.
I've been to China three times, and always felt a deep yearning for Chinese culture. Being half Chinese, I feel like Chinese cultural was always deep within me; I just needed to uncover it.
When I saw Shen Yun perform in France for the first time, I was captivated by the dancers' beauty. When I learned that the company's mission is to revive 5,000 years of traditional Chinese culture, I felt this was something I just had to be a part of.

Q: What's a dancer's life like?
ML: Many would say dancing is hard work, but I don't really feel that way. I like to dance, and I've never thought of it as a burden.
My teachers say I am especially coordinated, and I can pick up new techniques very quickly.
Growing up in France, sports was a big part of our education, so I love being active.
Q: Doesn't all the travel get tiring?
ML: Sometimes, but one of our greatest privileges is getting to go around the world meeting new and old friends. I even had a chance to go back to perform in Paris, my hometown, and my dad and grandfather came to see the show. They were really proud of me, and had a deeper appreciation for what I'm doing.

Q: In show business, there's often a lot of competition between performers trying to land a leading role. Has that been your experience?
ML: Shen Yun is quite different. I don't feel any pressure from others—everyone strives to work together. We really help and encourage each other. Every dance is meticulously arranged with the goal of having an optimum overall effect for the audience.
So every role is of equal importance, and synchronization is most critical. During rehearsals, we emphasize the togetherness of a dance. Although this is time consuming, the process is critical. Every detail is scrutinized, and after countless hours of practice, we become so familiar with the music that I don't even need to look at others to know where they are in relation to me.
Q: What was your greatest difficulty learning classical Chinese dance?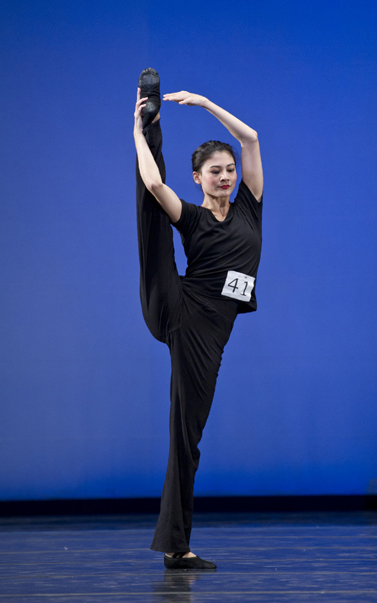 ML: I would say mastering all the different moves within the different branches of Chinese dance. I think the most unique thing about Chinese dance is how many styles it has. And each style has many branches, which makes classical Chinese dance one of the most rich and extensive dance systems in the world.
So, to be a classical Chinese dancer, you need to acquire a broad range of movements and techniques. If, say, you're good at jumping, but you're not good at doing flips, then you're not really a complete dancer.
And mastering a technique goes beyond just completing the move—you have to really be able to control the movements from beginning to end. For example, say you do the splits in the air. You have to get your split to 180 degrees, your feet must be in exactly the right position, and you need to have good hang time. Every aspect is important for it to really be a dance movement.
Q: What are you working on now?
ML: Besides preparing for our new 2013 program, I plan to participate in New Tang Dynasty Television's 5th International Classical Chinese Dance Competition. When I came back from previous competitions, people told me I had improved a lot, and I also found it to be the case. While preparing for the competition, I would go over all the techniques I know at least three times a day. This training increases strength and endurance.
Q: You joined this competition in 2009 and 2010, winning silver both times. What did you take away from the experience?
When performing with Shen Yun, we mostly do group dances—rarely are there any solos. But the competition requires a solo dance, and you need to cover the entire stage yourself. Our acting needs to have the ability to touch each audience member.
Through these competitions I became much more comfortable and confident expressing inner thoughts and feelings by extending my movements.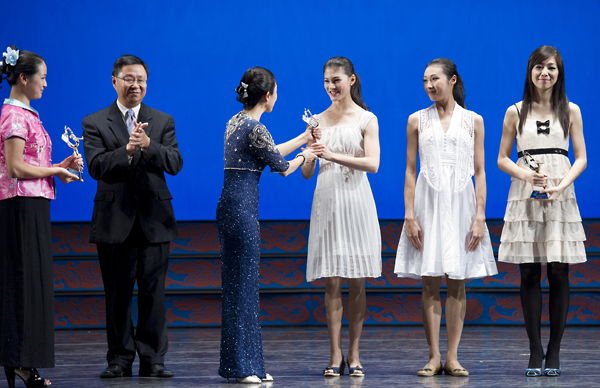 Q: How have you changed, personally, since joining Shen Yun?
ML: My biggest gain after joining Shen Yun, I would say is that my heart and mind have changed. Of course, after I started dancing, my figure definitely improved! Also, because classical Chinese dance is so rooted in 5,000 years of divinely inspired culture, the dance training helps you cultivate inner beauty and refine your temperament.
For example, the dances with those long, silky water sleeves express an ideal of a Chinese lady's grace and elegance. My understanding is that ancient Chinese women's beauty was quite subtle; their attractiveness was restrained and gentle. So after joining Shen Yun, I also became aware of being more refined. I now treasure inner beauty in everyday life. If a person only looks beautiful on the outside, but does not have beauty on the inside, it shows. It can be seen on stage as well. A dancer's distinctive bearing and form can even be seen just when standing. Any glance or move can reveal ones inner thoughts and feelings.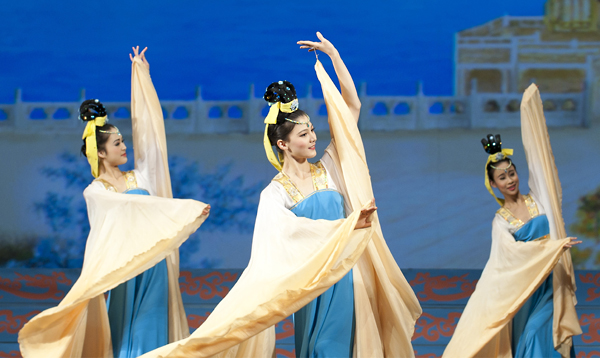 August 21, 2012