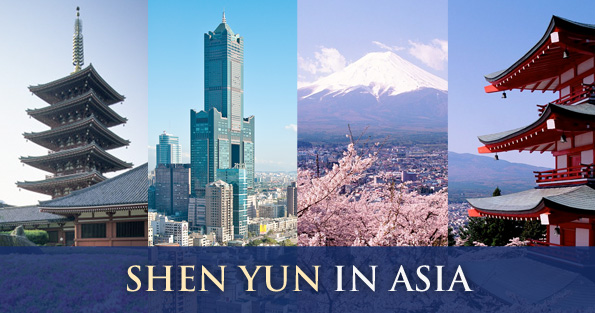 Shen Yun Begins 2012 Tour of Asia
CELEBRATION OF TRADITIONAL CHINESE CULTURE RETURNS TO ITS GEOGRAPHICAL ROOTS
Shen Yun's New York Company landed in Japan February 11 ready to kick off its Asia-Pacific tour. Having begun its 2012 season with full houses in cities throughout the United States, the company premieres in Asia at the prestigious Tokyo International Forum February 14.
Tokyo Governor Shintarō Ishihara sent a warm greeting to Shen Yun, welcoming the company and wishing the performances a great success. After two shows in the capital, the group of over 80 dancers, musicians, and soloists will perform in the Japanese cities of Nagoya, Hiroshima, and Nishinomiya.
"Unfortunately, our Japan shows were cancelled last year because of the earthquake and tsunami ," said principal dancer Nancy Wang upon arriving in Tokyo. "We're thrilled to be back this year and are looking forward to sharing the performance with Japanese audiences."
After Japan, Shen Yun will continue to top venues in Korea and Taiwan, followed by Australia and New Zealand.
In March, the group will perform over a month of shows across Taiwan, where the deep spiritual core of traditional Chinese culture thrives—the island was spared decades of the Communist Party's cultural suppression on the mainland. Since its first Asian performances in 2007, Shen Yun has enjoyed tremendous popularity in Taiwan. All shows are typically sold out well in advance, and encore performances are often added to accommodate audience demand.
Down under, Shen Yun's Australian shows will begin in Melbourne and Canberra, followed by 11 shows at the celebrated Capitol Theatre in Sydney. Finally, in early May, after six continuous months on the road, the group will return to America, stopping on the way in Hawaii for performances, and maybe some down time on the beach.
Meanwhile, Shen Yun's two other equally large companies are also well into their seasons. Touring Company is on its way to performances across the U.S. heartland, starting with Pittsburgh and St. Louis, returning to the East Coast and Washington's Kennedy Center in March followed by New York's Lincoln Center in April.
International Company, which is now also touring North America, will head for Europe next month, with its first stop at the Hague, Netherlands. The group will play in seven European countries, including Germany, France, and a return to England's London Coliseum.
Would your friends and family love watching a Shen Yun performance? Find a show in their area and give them an experience they will never forget.
February 13, 2012