Shen Yun Debuting in Mexico
As demand for Shen Yun performances grows worldwide, each year new venues and cities are added to an already-tight touring schedule. This season, for the first time, Shen Yun will be performing in the world's largest metropolis: Mexico City.
Mexico City may not immediately come across as a bastion of Chinese culture, but it actually is not Shen Yun's first Hispanic connection. The company has previously performed in Argentina and Chile, and includes among its members musicians from Spain, like Javier Alcaraz León, recently featured in the Latin publication Impacto News.
Like its diverse touring schedule, Shen Yun's artists come from different backgrounds across the globe. They have become enamored with the culture and message of ancient China and now bring their talents into the mix.
We spoke with two non-Chinese members of Shen Yun Performing Arts as they prepare for their Mexico shows (May 6-8)—trumpeter Eric Robins, and sound engineer Jacob Wallenberg.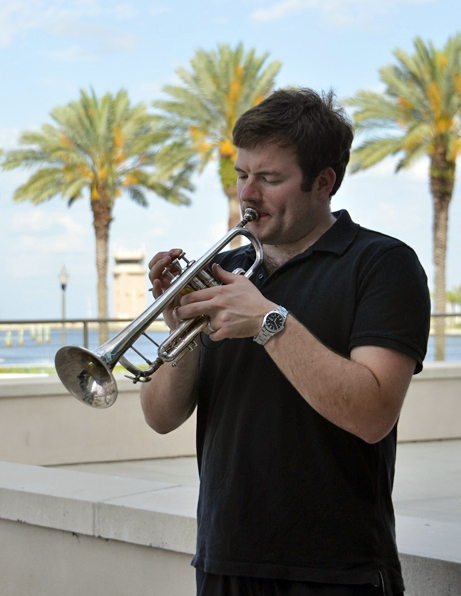 Eric Robins: 'Enjoying it More and More'
Robins, who joined the company only two months before this season's tour, has a unique background: he obtained his master's degree from the New England Conservatory of Music, spent two years as principal trumpet with South Korea's Daegu City Symphony Orchestra, and now will be performing in the traditional Chinese culture show in Mexico.
Q: So Eric, how do you feel about being in an environment with such different language and culture?
ER: Well, being in music school for many years I hung out with groups of friends from all over the globe, so I'm used to just "going with the flow" even if I don't understand exactly what's going on. This is especially easy with Shen Yun, because the group always has the well-being of its performers in mind.
Q: Are you excited about going to Mexico?
ER: Absolutely! I've never been and am pretty excited. I always like experiencing new cultures, and using the medium of performing arts as a cultural exchange is especially rewarding.
Q: What's your impression of life on tour with Shen Yun so far?
ER: Well, on the surface, food! We always eat amazingly well and plentifully. But more profoundly, it's working with a company of people who are genuine to the heart about what they do and how they do it.
Q: How do you like playing the music of Shen Yun?
ER: It's great. I'm actually quite surprised that after five months, I'm not only enjoying it more and more, but also getting more into it from multiple standpoints. There's the aspect of trumpet technique, and also trying to get more and more into the Chinese feeling and experience. It's an evolving artistic pursuit, which is really fulfilling.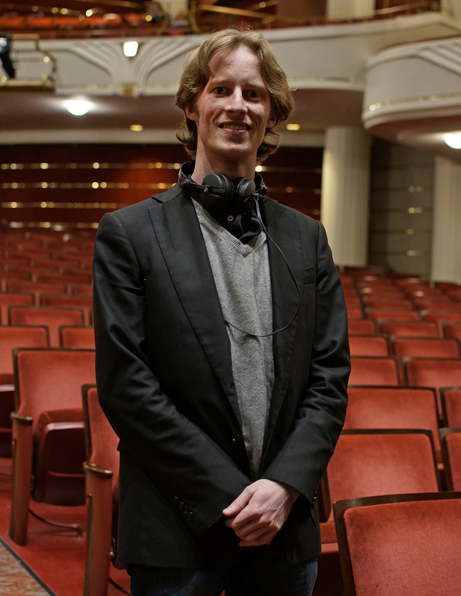 Jacob Wallenberg: 'A Gateway'
Wallenberg, who is on his fifth tour as Shen Yun sound engineer, is of Swedish descent. He split his youth between England, Sweden, and the United States. After graduating from Brown University with a degree in East Asian Studies, he attended Berklee College of Music in Boston. He is also a linguist—fluent in English, Chinese, and Swedish, as well as conversational in several other European languages, including Spanish.
Q: Jacob, how would you introduce your role as sound engineer?
JW: My job is to make sure the audience can fully enjoy the music without altering the authentic sound of the instruments. Modern sound engineers often add a lot of effects and actually become part of the sound themselves. I try to do the opposite and stay completely out of the way and let the composer's vision be realized through the orchestra in its purest form. This really ties in to Shen Yun's mission of reviving traditional culture. We are using modern means to bring it to the audience but keeping the essence of the culture as pure as possible.
Q: Are you excited about performing in Mexico?
JW: Incredibly excited. I've traveled all over the world but never been to Mexico, so it's been on my list for a long time.
Q: Over the past few years, your ability to speak so many languages has helped the company translate, say, between English and Swedish in Stockholm, or from Chinese to Spanish in Buenos Aires. Why do you enjoy studying languages so much?
JW: Languages are a gateway to interacting with another portion of humanity and the key to getting to know different cultures. This, to me, is one of the most rewarding things one can do.
Q: When you traveled with Shen Yun to Latin America before, what struck you about the culture?
JW: Well, the openness and hospitality of Latin America is well known. But actually I noticed subtle differences between Chile and Argentina, with Chileans being somewhat more reserved, perhaps due to the colder climate and more remote geography. So, I'm curious to see how the Mexican audience will be in this regard.
Q: How do you expect the show will be received in Mexico?
JW: Mexico has such a rich culture of music and dance, and it also has an ancient history that their modern civilization is built upon. I believe this gives Mexicans a strong base for appreciating the depth, richness, and long history of classical Chinese dance, as well as the beautifully composed music that blends Western classical and Chinese melodies. I'm sure they'll love it!
Have friends or family in Mexico? Share this link above, or send them information about Shen Yun's Mexico shows in Spanish.
April 29, 2013