Behind the Notes: Poets of the Orchid Pavilion
Trekking up the mountains of southern China, not far from the picturesque coastal city of Hangzhou, our attention is arrested by the sounds of the ancient gu qin. This seven-stringed zither was the favorite of ancient Chinese scholars, honored for its humble, yet expressive tones.
These sounds are featured in Shen Yun's original composition Poets of the Orchid Pavilion, which is presented during this fall's Symphony Orchestra concert tour. The music, originally written for the dance production, has been reorchestrated and is separated from dance and costumes to spark the imagination and create a mesmerizing experience.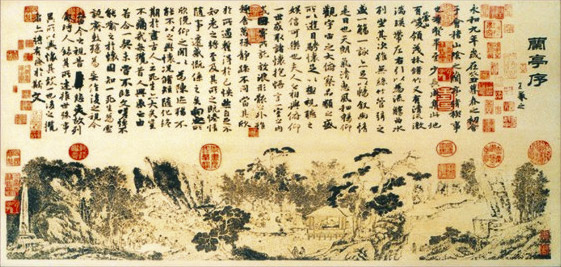 Music of the Scholars
As a dance piece, Poets of the Orchid Pavilion expresses the beauty of Chinese calligraphy and poetry, as well as the strength and unparalleled grace of the creative mind. In the year 353, a group of scholars gathered at the Orchid Pavilion on Mt. Huai to share in convivial drink and play. Competing to outwit each other with lilting verse, the group created some of the most celebrated works of Chinese literature.
In exploring the music, one can go beyond the poetic drinking party to a general celebration of scholarly reflection. In particular, the andante section is replete with sounds imitating the qin, an ancient plucked zither. The forerunner of many Chinese instruments that emerged later, it was critical to the development of plucked music throughout East Asia.
Also called "the father of music," the gu qin enjoys status as the scholar's instrument along with the vertical bamboo flute, or xiao. These ancient instruments are masters of subtlety. Neither are loud. Gu qin music is known for being slow, deep, and contemplative.
Because of its reserved nature, combining the gu qin with a symphony orchestra would be an exercise in futility. Instead, Shen Yun composers adapt pipa technique and lower strings to imitate the slides, harmonics, and stylish vibrato of the gu qin, while retaining the resonance needed for a symphonic setting.
The most personal and introspective music in this piece is a reflection of the minds of the scholars. Poets of the Orchid Pavilion pays homage to what it once meant to be an intellectual in China.
* * *
Shen Yun Symphony Orchestra presents classical music from the Chinese tradition. This October, it is performing at Carnegie Hall, the Kennedy Center, and several other venues across North America. Click here for calendar and tickets.