Voice of Shen Yun Performing Arts Tenor Conveys Hope
BY THE EPOCH TIMES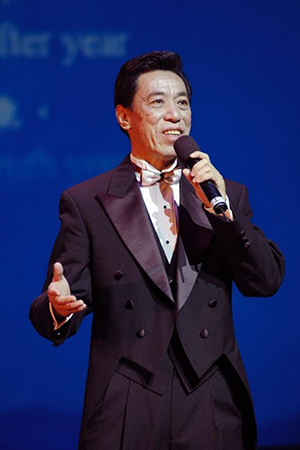 When Guimin Guan sang his first note on stage at a Beijing concert in 1979, his voice marked the rise of a star.
Mr. Guan is one of China's most celebrated tenors of recent decades and has recorded soundtracks for over 50 movies and television shows. As his popularity grew, he became the first artist named as a "National First-Class Performer" by China's Ministry of Culture.
Once the judge for numerous national-level vocal competitions in China, he now serves as a soloist for Shen Yun Performing Arts (SYPA) Company. In 1996, Mr. Guan decided to begin a new life in America. After that, his early fans in China heard little from him.
"Those in China haven't seen me for a while and thought that I disappeared," said Mr. Guan. "Actually, I'm still around, it's just that my singing is quite different from before. Some fans knew that I was in America, and they missed my songs from before."
Mr. Guan said that due to the political circumstances in mainland China back then, he sang a lot of songs praising the Chinese Communist Party (CCP).
"However, those songs were sung in mainland China, which is ruled by the Chinese Communist Party. They force politics on everyday activities. These songs are all plagued by political messages. Although on the surface they don't seem to carry those messages, in the end you will have the implied impression that the communist leaders are good."
Refusing to use his talent to praise the CCP, he now sings new songs that he himself has composed. One of them is Let Me Not Regret, a song he sings in the SYPA 2009 World Tour.
"These songs tell people some situations," he says. "These songs tell people what to do in the modern world, and the meaning of life. I hope my fans from before [in China] may come and listen to my current songs."
Mr. Guan said that in China artistic freedom does not exist. Although some fans really miss the old songs he sang, those are not real art. SYPA receives recognition from people of all ethnicities and ages because it brings a new way of thinking and presents art that genuinely uplifts and inspires. True artists should "carry the responsibility to uplift moral values," he said.
"People are dignified and noble when they have morality. When people don't have morality, they are like animals… As society progresses, with personal and material interests and money, people no longer believe in divine beings. Moral corruption is very serious. Some people still talk about morality on the surface, but in reality they don't care about it in their hearts. They are all after money, and will do anything to achieve that."
The singer wants something more than to entertain his new and old fans.
"People in China usually call the arts community the entertainment community. I think arts should belong to culture, and are a part of a culture. So I don't really think it should be referred as the entertainment community. We hope people's morality will ascend again, so that mankind will become nobler. I started to practice Falun Gong. It really is a very good spiritual practice; it is a practice for improvement of morality. The CCP slanders Falun Gong, and many people are deceived by the CCP propaganda and blind their own eyes."
Mr. Guan explained that when he is on stage, he wants to "reveal the truth" to the audience.
"I hope that they are not going to stay deceived. Mankind has its moral standard, yet the CCP does not follow any moral standard. You can see the current Chinese society, on the surface, economically it is very glamorous, yet people don't have morality. People don't believe in one another. Embezzlement and corruption are everywhere."
During the SYPA 2009 World Tour's four-month span, Mr. Guan's voice will be heard by hundreds of thousands of audience members in some of the 20 countries that the three DPA companies visit. Many of his early fans have seen the performance, recalling the familiar voice that they loved and still love.
Mr. Yuan, a Chinese folk music expert visiting the United States from mainland China, attended the final SYPA show at the War Memorial Opera House in San Francisco on January 11. Mr. Guan is a favorite of Mr. Yuan and his family and he was very happy to have heard him sing.
"We have enjoyed his singing since the start of his career in the 1980s. Guan's voice is very bright and unique. I wished he would sing a few more songs at today's performance," Mr. Yuan said.
In the audience in Cupertino, California on January 13 was Cheng Kai, a veteran Chinese journalist. He was immensely moved by the song, Let Me Not Regret. He said that through his singing, Mr. Guan was conveying an important message to the Chinese people to implore them not to accept the CCP's lies and deception.
"[The song] saves this ethnicity, this country [China], for our people to be no longer deceived by CCP. I absolutely love this song."
Westerners were touched, too. Ms. Strauss, Arts Commissioner of the City of Milpitas, was enthralled by the message of the tenor's song. She heard him when SYPA visited Cupertino.
"The messages were beautiful, also giving hope. I felt it giving peace back to the world, making you feel very good in your soul... I think that message is very important," she said.
Mr. Guan is touring with SYPA International Company. Like his fellow singers, contralto Jiansheng Yang and tenor Yuan Qu, Mr. Guan's desire is reflected in the last two lines of his song, "There is nothing we seek in return/ We wish only to share with you a hopeful tomorrow."
"I hope those who listen to my songs at performances can truly benefit, rather than watching an ordinary performance where you are simply entertained and when you return home you have not learned anything. I hope this does not happen. I hope all of my fans will harvest something new in this New Year, especially about human values."