More Shows to Meet US Demand
PHILLY, BUFFALO, ST. PETE, AND SAN ANTONIO SHOWS ALL RECENT ADDITIONS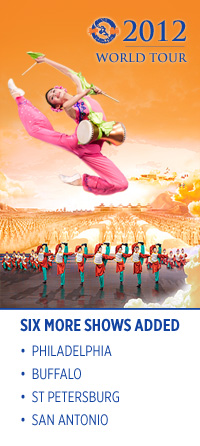 Demand for Shen Yun performances is reaching new peaks in North America. Following a successful run of seven New York Lincoln Center shows, Shen Yun has been invited to perform in six more U.S. cities in May.
All three Shen Yun companies have witnessed a season of Shen Yun fever, with sold-out shows around the world. As audience members have been telling their friends and family in other cities about the show, additional shows have been added last-minute to meet the demand.
In New York, when tickets for the six originally scheduled performances quickly ran out, a seventh show was added only days before opening night. In Tampa, where Shen Yun was to perform two shows, local organizers added a third, and it was also sold out.
Now, Shen Yun Touring Company is adding performances in Philadelphia (May 8-9), and Buffalo (May 11). International Company saw its schedule suddenly also feature St. Petersburg, Florida (May 5) and San Antonio (May 8-9). New York Company still has Honolulu (May 8-9).
With the 2012 season drawing to a close, these are a few last chances to visit the ancient splendor of the Middle Kingdom right here in America. With Shen Yun putting on an all-new show each season, this year's production may never be seen again.

May 3, 2012