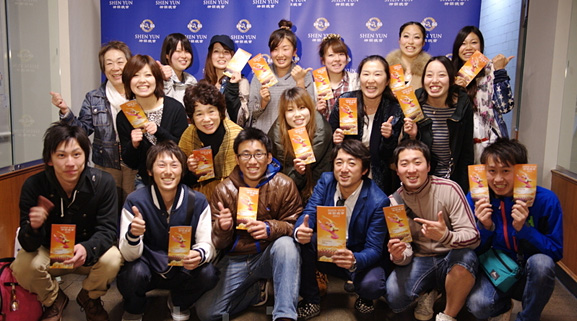 Asians Flock to Taiwan to See Shen Yun
In 33 days from March to April, Shen Yun's New York Company performed in Taiwan 37 times. Wherever it took the stage— Tainan, Kaohsiung, Taipei, Taichung, Chiayi, Taoyuan—the company was greeted by full houses.
But a new phenomenon emerged this year—audience members flew in from all over Asia to watch Shen Yun in Taiwan. Some came from Japan and Korea, where Shen Yun just finished performing, but in countries where the company has yet to appear, Asians formed traveling groups and flew in to watch the show from Singapore, Malaysia, Indonesia, Thailand, and India.
Mainland Chinese who could afford the trip, as well as many from Hong Kong and Macao, represented a large contingent of the Taiwan audience. Among them were mainland corporate VIPs and artist groups who took advantage of the recent lifting of travel restrictions to Taiwan and the island's democratic freedom to see Shen Yun.
Although Shen Yun is a performance of classical Chinese dance and music, the show cannot be seen in today's China, where the Communist Party has worked for decades to destroy traditional culture. Until recently, mainlanders' only exposure to Shen Yun came through obtaining forbidden, though widely circulated, DVDs of the performance, or catching it via satellite dishes during New Tang Dynasty Television's Chinese New Year broadcast.
In Taiwan, mainland Chinese audience members spoke of Shen Yun's current popularity in the mainland, describing something of a "Shen Yun fever." Some even disclosed that the Chinese Communist Party had secretly sent officials to watch Shen Yun in Taiwan. They were to keep a low profile in an effort to "investigate and imitate" the show.
One Beijing entrepreneur, who would not give her name, brought her parents to Taiwan. She said after the show that both she and her mother had shed tears throughout the night. "It's astonishing."
Mr. Xi, a Chinese-born professor living in Hong Kong said the experience was "so exciting! Every program was wonderful!" He spoke of having lived through the Cultural Revolution and seeing how mainland Chinese performances have completely lost the essence of traditional Chinese culture. "This is true Chinese culture!"
Shen Yun's New York Company is now performing in Melbourne, and will continue from there to Canberra and Sydney in Australia, Auckland and Wellington in New Zealand. International Company is wrapping up performances at the London Coliseum before heading to Chicago, and Touring Company just returned from Canada for its Lincoln Center performances in New York Wednesday through Sunday.
April 11, 2012