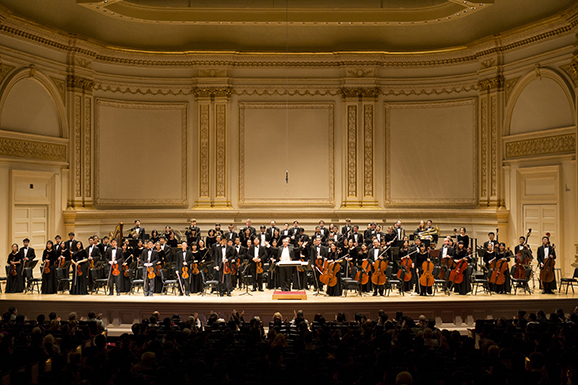 Symphony Orchestra's Carnegie Hall Debut a Great Success
Shen Yun Symphony Orchestra's international debut concluded Sunday at Carnegie Hall to three encores and a 10-minute standing ovation.
The three Shen Yun conductors—Milen Nachev, Antonia Joy Wilson, and Keng-wei Kuo—led a symphony orchestra of 90 musicians, including players of the traditional Chinese erhu, pipa, and percussion instruments.
"It was a very successful performance," said Kuo. "I've participated in some moving performances before but nothing like this one. It felt like I was between the energy emitted by the performers, and the energy sent back by the audience's strong response."
The performance included world premieres by Shen Yun's composers, classical pieces by Vivaldi and Beethoven, Shen Yun favorites like Ladies of the Manchu Court and A Dunhuang Dream, and pieces for solo voice and orchestra.
"In my 40 years of professional performance, I have never experienced an ovation like that," said George Sullivan, principal horn player of the Symphony. "Maybe only with the Boston Pops for the 4th of July when fireworks go off." This Carnegie Hall performance was special, he said. "I was very moved many times during the performance."
In New York on Sunday, even as a storm rapidly approached the East Coast, after 10 minutes of vigorous applause, multiple curtain calls and encores, the Carnegie Hall audience was still reluctant to leave.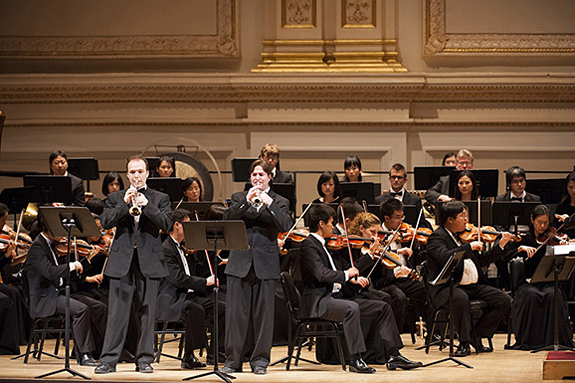 "I feel very privileged to be a part of it," Shen Yun violinist Chia-chi Lin said, adding, "this is just the beginning."
Many are wondering when the Symphony Orchestra will perform for the second time. That date is still unknown, but these musicians are now busy preparing for Shen Yun's 2013 season, which is right around the corner.
October 31, 2012