The Good, the Bad, and the "Crazy"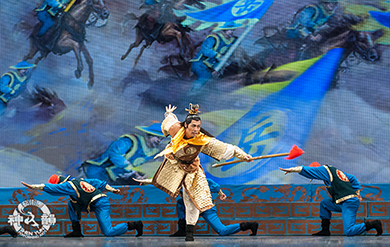 Ancient Chinese Heroes and Villains: the lionhearted warrior Yue Fei, the wicked "Deep Fried Minister Hui," and a crazy monk with magical powers.
Today, some 900 years after he became the most hated man in Chinese history, Minister Qin Hui is still being dipped in deep fried oil and served with rice porridge by millions every morning. But the shaming of "Deep Fried Minister Hui," now a twisted breadstick, doesn't end there.
Overlooking southern China's beautiful West Lake lies an ancient mausoleum dedicated to China's greatest hero, Yue Fei. Facing the tomb are iron figures of Minister Qin Hui and his wife—kneeling, hands tied behind their back, and spat on by passing visitors. How did all this come about?
The Loyalty of Yue Fei
Back during the twelfth century, toward the end of the Northern Song Dynasty, China was invaded from the north. The weak imperial court was in desperate need of capable warriors.
Yue Fei was more than capable—he studied special martial arts techniques and could simultaneously shoot nine arrows through a bull's-eye 240 paces away. However, he faced a dilemma. On the one hand, he wanted to battle the invaders and defend his country; on the other hand, he wanted to stay back and look after his elderly mother. These two virtues—loyalty and filial piety—were both treasured by ancient Chinese, and now they seemed to compete. Yue Fei was torn.
To encourage him, his mother asked him to take off his shirt, and tattooed four Chinese characters on his back: jing zhong bao guo—"serve the country loyally." Now able to fulfill both his mother's wish and his duty to the country, Yue Fei promptly went off to battle.
As he rose through the ranks to become the Song's most-celebrated general, Yue Fei never lost a battle. On one occasion, he stopped 100,000 Jurchen invaders with only 500 men.
He took great care of his soldiers when they were sick or injured—personally treating their wounds and calling on the families of those who died. He kept his troops to a strict moral code, forbidding them from pillaging or taking advantage of common folk. He became, and remains today, China's symbol of unwavering loyalty.
And yet, Yue Fei's great popularity led to great jealousy.
The Treachery of Qin Hui
In 1127, the Jurchens (also known as the Jin) attacked the capital of Kaifeng, kidnapping the emperor, officials, servants—14,000 people in all, including Minister Qin Hui. They then marched them on foot to Manchuria. The emperor's younger brother, meanwhile, fled south, crossed the Yangtze River and established Southern Song Dynasty.
A few years later, Qin Hui suddenly arrived at the Southern Song capital with a story of how he, incredibly, managed to escape. Some suspected him of being a traitor on a mission, but the new emperor trusted him and appointed him chancellor.
Qin Hui soon encouraged the emperor to open talks with the Jurchen, resulting in a treaty that reduced the dynasty to a mere tributary of the Jurchen. Qin steadily used his power to remove political opponents and censor anyone advocating a reclaiming of the north.
It was then that Qin Hui became jealous of Yue Fei's immense popularity. He convinced the emperor that the loyal Yue Fei was planning to overthrow the emperor. Yue Fei was ordered back to the palace from the battlefield to stand trial for treason.
Yue Fei and his men immediately recognized this as a trick. His soldiers begged Yue Fei to stay, but Yue Fei—loyal to the death—decided to return and leave his life in the hands of emperor and dynasty.
Back at the palace and in Qin Hui's hands, Yue Fei was stripped of his power. The front he had defended fell. "Ten years' effort destroyed in a flash," Yue Fei said. When Qin Hui, along with his wife, could not dig up any evidence or extort a confession from Yue Fei even after months of torture, they simply had him executed.
The "Crazy" Monk
As word spread throughout the country, Yue Fei's popularity only increased and Qin Hui became the most despised man across the land.
One day, Minister Qin and his wife visited the Lingyin Buddhist temple to have their fortune told. Expecting to hear servile predictions of good luck, Qin Hui instead was suddenly slapped in the face with a broom. A seemingly crazy monk—actually a sage in disguise—used his magical powers to sweep the couple away.
Thus began Qin's payback, which continues all the way to today in his serving as an iron spittoon and being scorched in boiling oil every morning.
February 16, 2014