150 Minutes in Taipei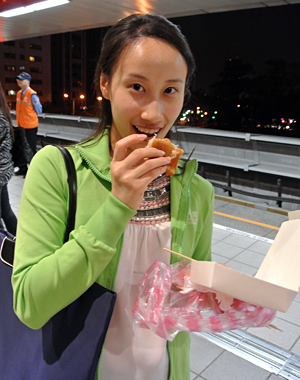 Ok, so we just finished the Taipei shows—all nine. Our last performance was a matinee, and after striking the stage and packing, we have the evening off. So what now?
Taipei is a city that never sleeps. Just like New York, but with an Asian flavor. We have a precious two and a half hours. Where should we go?
There's so much to do and see in Taipei: Bustling Ximending district, Taipei 101 (until recently known as the tallest building in the world), Tamsui Harbor... And there's shopping everywhere—Gongguan, SOGO, even the Taipei train station has a mega mall. What should we do with our 150 minutes?
Let's head out to Taiwan's top attraction—the night-market.
Since Ximending ("west gate neighborhood") is closest to our hotel, we'll start there. It's already dusk as we set out and, at first, there aren't many people on the streets. But as we get closer, it's as if the day were rewound to its busiest hours. Crowds of locals, mostly young, buzz about: shopping, eating, meeting friends, and having a good time.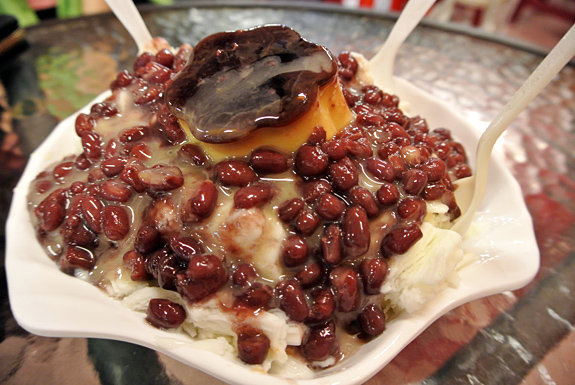 Surrounded by Taiwanese our age, we feel out of place in our black sneakers and plain T-shirts. Girls around us are dressed in leggings and skirts, colorful converse and florid tops. They all have similar straight cut bangs above dark rimmed glasses.
"Wow! There sure are a lot of people with bad eyesight," I think at first. But then we pass a few stores that sell these frames. Only the frames, without the lenses. So I realize—it's just a fashion thing.
We wander down the street, popping into interesting boutiques. Ximending is a great place to find a wide selection of clothing, shoes, and accessories. From a four-story UNIQLO to local shops with bold accents, we could stay here for hours.
But we have greater aspirations. Our next stop, food paradise.
Shilin Night Market
The famous Shilin Night Market is a 15-minute drive from Ximending, but instead of a taxi, we chose the metro to avoid traffic. As we descend into the halls of the Ximen Station, the first word that comes to my mind is: "orderly."
With Taipei being a densely populated city, it's surprising how its metro can be so clean. Using the system couldn't be easier, too. All signs are in both Chinese and English. Getting around is fast and cheap. From Ximen to Shilin cost us only $0.68 US per person.
We speed walk through the stations to conserve time… we have only 80 minutes left.
We're quite hungry as we arrive in Shilin. So we waste no time. Shilin is home to a huge underground food plaza that sells all varieties of Taiwanese snacks. We see everything from fried octopus to durian fruit smoothies. Of course there are all the regulars like red bean cake, shaved ice with toppings, scallion pancakes, etc. Oh, and, of course, bubble milk tea.
But today I also want to try something new, and I'm soon glad I did, because I discover a new favorite—coffin bread. It's essentially thick Texas toast, fried and hollowed. It's then stuffed with a special chowder along with chicken or pineapple or whatever you may choose. Then, the coffin is nailed. Well, more like sealed. If you ever visit Taiwan, this is a must-try. It's drop-dead delicious.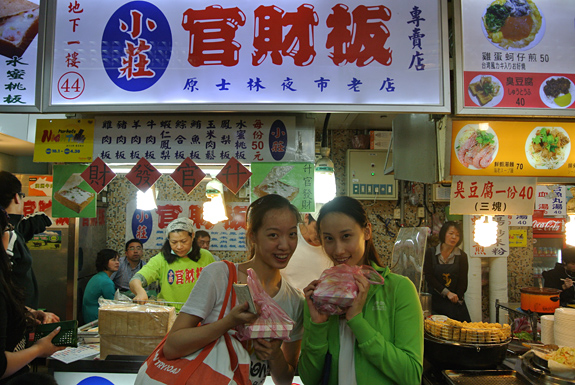 The ride back is the same except for two things: 1. I discover that eating is not allowed on the subway; 2. we run. We spent so much time picking food, buying food, and eating food that we're way behind schedule and it seems hopeless. Even running the whole way doesn't look promising.
The fact that we're dancers saved us. We leaped and bound and were back at the hotel in at 9:58 pm… two minutes early.
We must have broken some sort of record tonight. Maybe it was for most calories burned in a metro station.

Cindy Liu
Principal Dancer
March 24, 2013