Inner Peace
When was the last time you stopped to take a breath? Calmed your mind? Meditated? In the frenzy of everyday life, sometimes finding some inner peace might be just what's needed.
Ancient Chinese believed that the quality of art is not only measured by one's skill, but by one's state of mind—the purer your thoughts, the purer your art, music, or dance. That's why many artists practiced meditation before painting, as did dancers before performing. Achieving inner peace brought them an elevated mindset and enhanced focus.
This is quite similar to the feeling of being "in the zone" some athletes describe today. People in many professions now take the time to prepare their minds this way. Phil Jackson, the famous basketball coach dubbed the "Zen Master," utilizes the powers of inner peace to great success in the form of 11 NBA championships. Even some doctors meditate to prepare for a day's work, sitting calmly to let their minds drain of all distracting thoughts.
Inner peace is so powerful that, according to Master Shifu from Kung Fu Panda, "Anything is possible when you have inner peace."
In Kung Fu Panda 2, following a concept rooted in traditional Chinese culture, Master Shifu introduces Po (the panda protagonist) to the concept of inner peace, a calm state of mind and spirit, a state that engenders the ability to "harness the flow of the universe." Po ignores Shifu's teachings as he rushes to address the more immediate concern of stopping Lord Shen (the bad guy) from conquering China and destroying kung fu. The panda initially fails because of his lack of focus. It's only after discovering the truth of his origin that Po comes to terms with what is troubling him and achieves inner peace. With a pure mind free from pain, Po is able to battle Shen and save the day.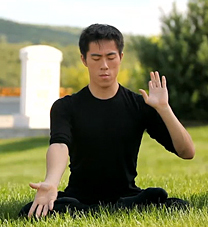 Principal dancer Tim Wu practicing
inner peace.
Shen Yun performers are no different (perhaps slightly in our diets). Though we may not spend our days fighting bad guys, many of us meditate daily. And although the peace supplies us with the support to perform at our artistic best, the greatest virtue comes from the "inner" in inner peace. Taking a lesson from our forbears, we cleanse our minds in order to perform with a purer heart, which also facilitates greater synergy amongst all the performers. As the ancients used to say, "To elevate one's mind is to elevate one's art."
Inner peace may be an ancient concept, but it's entirely applicable to anyone today. From pandas to dancers and maybe even you, a better day might be an exhale away.
Brian Nieh
Sound Engineer with Shen Yun's Touring Company
March 8, 2012