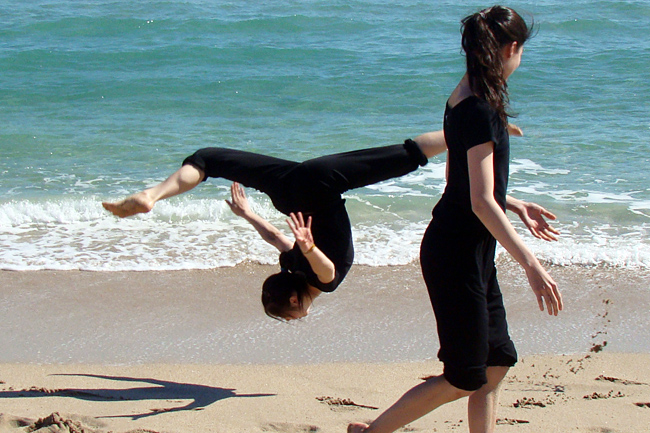 Put on Your Dance Shoes... Or Go Barefoot
On a dancer's wardrobe, watching dance videos, and posing
When we had our shows at Lincoln Center last summer, we were lucky enough to take a breather and walk the streets of New York. As we made our way towards Columbus Circle—girls just can't miss a chance to shop—a passer by caught my eye. Tall and lithe, her distinct style was unmistakable—I knew she had to be a dancer.
Dance is not just my profession, it's my life. Like our New York "street style" girl, I too dress in dance wear 24/7. We dancers just dress as dancers do, looking for comfort, convenience and lightness. Think soft, thin sweaters that offer a touch of warmth but don't get in the way, and stretchy jersey pants versatile enough to roll up when you don't want them draped around your ankles. And I always wear my dance sneakers—even though they look like combat boots—because they're light, flexible and keep my ankles and feet warm after a long day's work.
Another necessity is my beloved iPod Touch. It's handy for listening to music when I'm warming up, or for a self-practice session. And it's the best thing when I want to watch some "dance videos." Videos of top dance competitions and videos of my favorite artists are ones I can't go a day without watching.
To us, watching dance videos is like a painter visiting the Louvre for the 100th time—there's always so much to see and learn from. Seeing how other artists connect with the audience and express their character or story gives me a special glimpse into someone else's perspective. That's just what's so special about classical Chinese dance—it's the inner feeling that comes through, letting you get completely absorbed in your role. When I portray a particular character I'm not just in her shoes; I'm that person and I dance the way she would and feel the way she would feel.
And as performers, we don't shy away from the camera. We're actually the biggest bunch of posers. We just can't help but show off what we do! Think kicking your leg back to touch your head or jumping up and gliding through the air or flipping like crazy on the beach or a patch of grass just because it's fun.
I'm sure everyone's seen a couple of these pictures in some of our previous blogs. The above one is our fellow dancer (and blogger!) Alison Chen on the beach in Ft. Lauderdale, Florida.
Dance is our obsession. We're like the kids who loved doing cartwheels in the backyard, but we just never grew up. I love my life, so I don't mind being so young at heart. My days are filled with road tripping, jet-setting around the world, and sold out shows at venues that most artists could only dream of performing at.
And really, the best thing is that feeling I get at the end of the show. That satisfied feeling as we wave goodbye to our audience, knowing that all the hard work is all worth it.

Seron (Guang Ling) Chau
Dancer and soprano
February 3, 2012