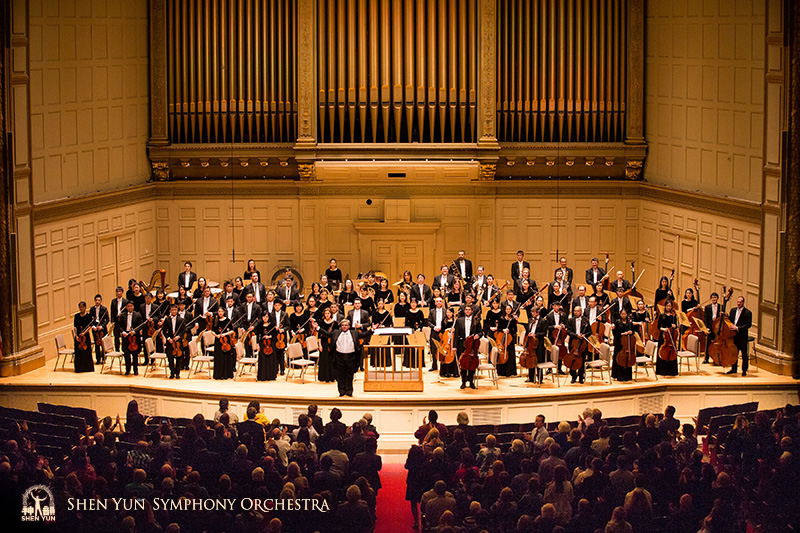 How to Have the Ultimate Shen Yun Symphony Concert Experience
Shen Yun Symphony Orchestra is nearing the end of its 2017 season, but it's not too late to catch our performance! Perhaps you have watched our dance show, or it's your first time hearing of us and you're wondering what to expect from our unique orchestra. Either way, here are some tips and facts to help you have the best possible concert experience:
Concert Etiquette and Seat Selection
If you are a regular symphony concert attendee, you already know what to do. If this is your first time, no need to worry. Classical music concerts tend to have a "sophisticated" air attached to them, but don't let that deter you from coming to enjoy some music. In fact, that is what concerts are all about—enjoying music. So don't be shy. Here's a quick summary of what to expect.
Seating is mainly up to the listener's discretion. Most concert halls are designed to have excellent to decent acoustics in any designated seat. Nevertheless, be aware of "dead spots" or less desirable seats. If you wish to see the musicians more closely or watch a particular section of the orchestra, you may want to look for seats that are in the orchestra, mezzanine, or balcony levels. Some venues also have box seats or even seats behind the orchestra (facing the conductor); however, the acoustics may not be as well balanced in these areas. If you plan to sit at a distance from the stage, it would be smart to bring a pair of binoculars if you are interested in seeing the musicians' facial expressions—I guarantee it'll be worth it.
A typical symphony concert program consists of an overture, a concerto, and a symphony. However, our program includes Shen Yun's original compositions from our dance productions, select classical Western repertoire, and vocal and instrumental solos. Generally, audiences will applaud when musicians come on stage and at the end of each piece. But don't feel obligated to applaud continuously. Save your enthusiasm for the finale and maybe we'll play an encore!
A Symphony of East and West
What makes our symphony orchestra stand out from the rest is our ability to integrate soul-stirring Chinese melodies with the dynamic of a Western orchestra. When you listen to our concert, pay attention to how we blend refined Chinese tunes from the pipa and erhu with a powerful Western ensemble. The Chinese instruments share a profound connection between Heaven and Earth, and often the melodies given to these instruments represent deities and divine realms. Reading our program notes will also help paint a picture in your mind of what our music is trying to depict. It could be a lone monk sculpting heavenly statues in a cave or gracious Manchurian ladies performing a court dance on their "Flower Pot Shoes." With 5,000 years of culture to cover, our style of music likely goes beyond anything the audience has ever experienced inside a concert hall.
Reviving a Lost Vocal Technique
What's so special about our vocalists is their ability to use traditional bel canto technique while maintaining perfect Chinese diction. Bel canto (literally "fine song") flourished in the 18th and early 19th centuries. It was known for legato phrasing (a smooth, flowing manner, without breaks between notes) and singing high registers while retaining a beautiful tone. This technique disappeared during the mid-19th century as a more fervent and heavier way of singing became the norm. Now, Shen Yun vocalists are reviving this technique on the world stage with their heartfelt songs. Our lyrics are original works written for Shen Yun performances and have inspired people all over the world.
Sit Back and Enjoy the Concert
Now that you have an idea of what to expect at a Shen Yun Symphony concert, why not get a good seat of your preference, bring a friend and perhaps some binoculars, and let yourself be carried away by the mystical and stirring music.

October 20, 2017