An Emcee's Purpose
The last note of the opening number resounds through the theater. Thousands of eyes are fixed upon the stage as the curtain closes on a magnificent scene. The audience enthusiastically applauds and eagerly awaits for the next moment to enchant them.
And then two people walk out on stage and start talking.
I imagine this moment is a surprise for the majority of our audience seeing Shen Yun for the first time. They didn't realize the performance will be hosted by emcees, or MCs—masters of ceremony. Our role is to briefly come on stage to introduce each piece, walk off stage, and then let the real artists—the dancers and musicians—do their thing.
But there may be more to this role than you suspect. After a year touring as a Shen Yun emcee, I've come to realize three main reasons why the emcee is an indispensable part of the Shen Yun experience.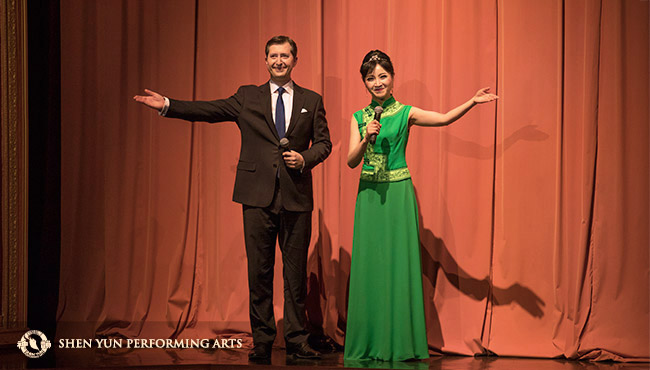 1 – Being a bridge for the audience
Let me illustrate this with a personal experience I had on tour.
It's a sunny spring day in Newport Beach, California. Two brightly decorated tour buses pull up, and out pours a large group of youthful, athletic-looking Asians in matching outfits. They head out onto the Newport Beach pier to take a group photo, and then split up to enjoy the sunshine and ocean air.
Now a few locals turn their heads to stare. They're quietly wondering: Who are these people? What group are they with? And why are they all Asian? Are they tourists? Etc, etc.
And do you know how I know what they're wondering? Because when curiosity compels these people to look for answers, they usually come to ask me.
It's rare that in the Western world a Caucasian face makes you stand out. But as a professional emcee touring with a traditional Chinese dance troupe like Shen Yun, I often serve as a cultural ambassador both on and off the stage.
And actually, I enjoy it when people come to ask me about our group. Whether I'm introducing classical Chinese dance on stage or explaining who we are to the people we meet on the road, I find that in both cases people are excited to learn about Shen Yun and its mission to revive traditional culture.
It also reminds me why I wanted to be an emcee in the first place—to be a bridge between cultures, individuals, and perspectives. To foster appreciation and excitement for our shared humanity. And to make the experience of cultural enrichment accessible and entertaining for everyone.
2- Giving the dancers time to change
This next point is so obvious, few people seem to ever think about it. In short: someone has to keep the show going long enough for the dancers to prepare for the next piece. And these dancers are super quick, they can change from a warrior to a Buddha to a Mongolian in seconds. Still, what about those seconds?
So, while preparing what to say before each piece, we need to think not only about what the audience needs to know, but also how long the performers need. Like everything else in the production, it's about the overall experience and all the pieces fitting perfectly together.
Of course, there's lots more to being an emcee than stalling for time, but without getting the basics right, the rest is out of the question.
3 – Overall Pacing
Okay, be honest here: Have you ever been to an opera, a play, or a ballet, and accidentally dozed off?
Neither have I. But if you're worried this might happen during a Shen Yun performance, fret not.
We separate the performance into bite-sized chunks of dance, vocals, and music. The show moves quickly and at the same time the audience is also able to process each piece. Meanwhile, the emcees guide you on your journey and give you the background information needed to enjoy the experience fully.
The result? A seamless production that captivates and transports you to another world; a world where divine beings coexist with mortals, beauty and magic abound, and goodness always prevails.

John Perry
Master of Ceremonies